NASA Space Station On-Orbit Status 7 June 2018 – Waiting on New Crew Members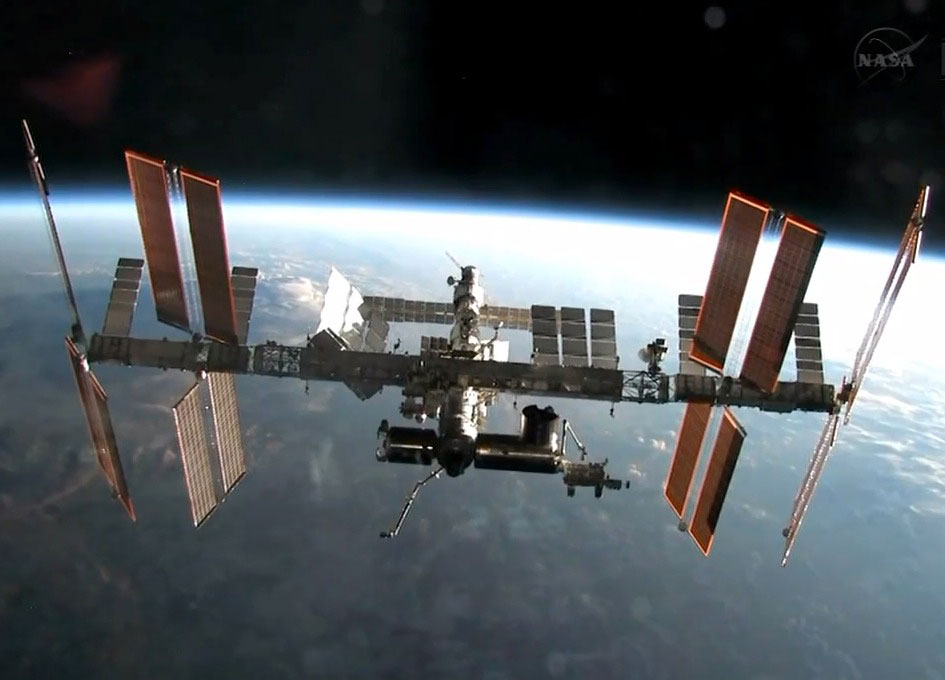 Two astronauts and a cosmonaut are racing toward the International Space Station today inside the Soyuz MS-09 spacecraft.
The new Expedition 56-57 trio comprising Sergey Prokopyev and Flight Engineers Serena Auñón-Chancellor and Alexander Gerst are due to arrive Friday at 9:07 a.m. EDT when they dock to the Rassvet module.
NASA TV will begin its live coverage of the rendezvous and docking of the new crew at 8:15 a.m. NASA TV will then be back on the air at 10:30 a.m. when the new crew opens the hatches at 11:05 a.m. and enters their new home in space where they will live for the next six months.
Waiting to greet their new crewmates are station Commander Drew Feustel and Flight Engineers Ricky Arnold and Oleg Artemyev who have been onboard the orbital laboratory since March. All six Expedition 56 crew members will gather in the Zvezda service module for a welcoming ceremony with family and mission officials back on Moscow. Next the crewmates will begin familiarizing themselves with station systems and safety procedures.
In the meantime, Feustel and Arnold are moving ahead with preparations for next week's spacewalk to outfit the station's Harmony module with new enhanced high definition television cameras and wireless communications gear. The duo organized spacewalking tools and gear, recharged spacesuit and camera batteries and reviewed procedures for the 6.5-hour excursion planned for June 14. The new cameras will improve the view of approaching commercial crew vehicles for dockings in the future. The new wireless equipment will enable data transmission from payloads mounted on the outside of the Columbus and Kibo modules.
On-Orbit Status Report
Soyuz 55S status: 55S successfully launched yesterday at 11:12:39 GMT. The vehicle is progressing toward a nominal docking to the ISS tomorrow at 8:07 CDT (13:07 GMT).
Food Acceptability: A crewmember completed a Food Acceptability questionnaire today. The Food Acceptability investigation seeks to determine the impact of repetitive consumption of food currently available from the spaceflight food system. Results will be used in developing strategies to improve food system composition to support crew health and performance on long duration missions.
Atmosphere Space Interaction Monitor (ASIM): ASIM Low Energy Detectors (LED), also called Cadmium-Zinc-Telluride (CZT) crystals detectors, are not responding as expected in daylight. As part of the on-going ASIM commissioning, science teams requested use of the Mobile Servicing System (MSS) to illuminate the foil covering the detectors and therefore check the response from a known light source. This afternoon, robotics ground controllers will position and configure the MSS to provide the requested illumination. During this task, they will also capture pictures of ASIM from different angles to identify/detect any potential damage or contamination to the instrument.
Extravehicular Activity (EVA) Preparations: Today the crew continued configuring EVA tools and equipment needed during the upcoming US EVA #51 Node 2 External Wireless Communications (EWC) planned for June 14th. They charged GoPro batteries, performed a Rechargeable EVA Battery Assembly (REBA) checkout, and reviewed detailed procedures in the EVA Briefing Package. A procedures conference with ground-based EVA specialists completed today's EVA activities.
Today's Planned Activities:
All activities are complete unless otherwise noted.
Acoustic Monitor Data Transfer and Stow
HRF 2 Troubleshoot Disconnect
Regeneration of Micropurification Unit (БМП) Ф2 Cartridge (start)
Extravehicular Activity (EVA) Tool Configuring
Review TV Coverage procedure Hatch Opening in MRM1 and Expedition 56 Arrival.
On-Orbit Hearing Assessment (O-OHA) with EarQ Software Setup and Test
Wetlab Software Check
Inspection and video recording of ВПТ, ВБП1, ВБП2 Fan Installation Location.
Spaceflight Cognitive Assessment Tool for Windows (WinSCAT) Test
IMS Tagup (S-band)
Total Organic Carbon Analyzer (TOCA) Water Recovery System (WRS) Sample Analysis
Vacuum Cleaning ВД1 and ВД2 air ducts in DC1
INTER-MAI-75. HAM Radio Hardware Activation
СТТС Configuration for MRM1
SEPARATION. Distillation in manual mode.
WRM wasterwater bus QD09 checkout and video/photo documentation
Comm reconfig for nominal ops
Water Resource Management (WRM) Resupply Tank (RST) Pumping Init
HRF2 Supply Kit Inventory
СОЖ maintenance
Wastewater Storage Tank Assembly (WSTA) Fill
Resupply Tank (RST) Pumping Terminate
Extravehicular Activity Glove Logistics
IMS Update
Photo TV EVA Go Pro Battery Charging
Food Acceptability Questionnaire
Total Organic Carbon Analyzer (TOCA) Sample Data Record
Charging EVA Camera D4 Battery
Rechargeable EVA Battery Assembly (REBA) Installation
INTERP-MAI-75. Equipment deactivation and cleanup
Rechargeable EVA Battery Assembly (REBA) Powered Hardware Checkout
CQ outfitting for the arriving crew
Extravehicular Activity (EVA) Procedure Review
Extravehicular Activity (EVA) Procedure Conference
Completed Task List Activities:
None
Ground Activities:
All activities are complete unless otherwise noted.
BCC Checkout mode configure
SSRMS Operations
HRF2 Rack Update
Three-Day Look Ahead:
Friday, 06/08: 55S docking, BIOLAB glove exchange, EVA tool config, EVA GoPro setup, ISS Safety Briefing, Plant Habitat -1 Science Carrier Install
Saturday, 06/09: Weekly Housekeeping, Crew Off Duty, ISS Crew Handover
Sunday, 06/10: Crew Off Duty, ISS Crew Handover
QUICK ISS Status – Environmental Control Group:
Component – Status
Elektron – On
Vozdukh – Manual
[СКВ] 1 – SM Air Conditioner System ("SKV1") – Off
[СКВ] 2 – SM Air Conditioner System ("SKV2") – Off
Carbon Dioxide Removal Assembly (CDRA) Lab – Standby
Carbon Dioxide Removal Assembly (CDRA) Node 3 – Operate
Major Constituent Analyzer (MCA) Lab – Operate
Major Constituent Analyzer (MCA) Node 3 – Idle
Oxygen Generation Assembly (OGA) – Process
Urine Processing Assembly (UPA) – Standby
Trace Contaminant Control System (TCCS) Lab – Full Up
Trace Contaminant Control System (TCCS) Node 3 – Off