NASA Space Station On-Orbit Status 6 July 2017 – Impact of Microgravity on Humans Research Continues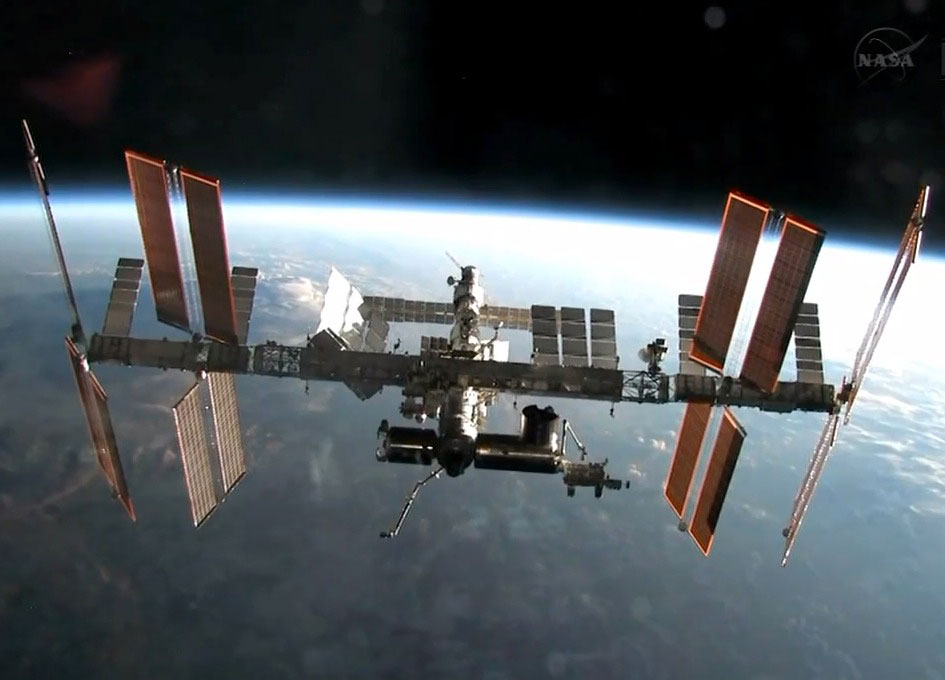 Expedition 52 continued exploring today how microgravity impacts humans and technology to improve future spaceflight and benefit life on Earth. The trio also conducted an array of maintenance activities including space plumbing.
NASA astronaut Peggy Whitson took a look today at how living in space affects her ability to work on interactive tasks. The Fine Motor Skills study, which has been taking place for over two years, is researching the skills necessary for astronauts to interact with next-generation space technologies. Observations may impact the design of future spacecraft, spacesuits and habitats.
Jack Fischer, a first time space flyer from NASA, wrapped up operations with the Group Combustion Module experiment today. The combustion study was exploring how flames spread as the composition of fuel changes in space. Results could benefit the development of advanced rocket engines and improve cleaner, more efficient engines on Earth.
Whitson and Fischer also worked on a variety of plumbing tasks including collecting water samples and swapping and filling recycle tanks on the Urine Processing Assembly. Commander Fyodor Yurchikhin connected power and network cables before moving on to activating an antenna and more plumbing work.
On-Orbit Status Report
Group Combustion Module (GCM): The crew completed closeout operations in the Multi-Purpose Small Payload Rack 1 (MSPR1) for the GCM investigation that was completed this week. The Group Combustion investigation tests combustion changes of fuel sprays as flames spread across a cloud of droplets. In the MSPR fuels are arranged randomly on thin-fiber lattice points and the flame and droplet positions and temperature distribution are measured as the flame spreads. Microgravity blocks convection, which on Earth would quickly disperse the droplets and combustion products before such measurements could be made.
Fine Motor Skills (FMS): A crewmember completed a session of the FMS investigation which studies how the fine motor skills are effected by long-term microgravity exposure, different phases of microgravity adaptation, and sensorimotor recovery after returning to Earth gravity. The goal of the investigation is to determine how fine motor performance in microgravity varies over the duration of six-month and year-long space missions; how fine motor performance on orbit compares with that of a closely matched participant on Earth; and how performance varies before and after gravitational transitions, including periods of early flight adaptation and very early/near immediate post-flight periods.
Food Acceptability: The crew completed a Food Acceptability questionnaire. The investigation seeks to determine the impact on food acceptability on ISS of repetitive consumption of food currently available from the spaceflight food system. Results will be used in developing strategies to improve food system composition to support crew health and performance on long duration missions.
Biolab: As part of the routine maintenance for the Biolab, the crew exchanged Biological Isolation Filters and the Cold Spot Sponge. The BioLab is a multiuser research facility located in the Columbus laboratory. It is used to perform space biology experiments on microorganisms, cells, tissue cultures, small plants, and small invertebrates. BioLab allows scientists to study the effects of microgravity and space radiation on biological organisms.
Potable Water Dispenser (PWD) Sample Collection: The crew collected water samples from the PWD for in-flight and post-flight microbial and coliform analysis. This is a regularly scheduled activity that is performed multiple times throughout the expedition to verify water safety.
Water Processing Assembly (WPA) Increasing Water Conductivity: As expected, there is an increasing trend in the conductivity of water measured in the WPA between the two Multi Filtration Beds (MF Beds). The increase in conductivity likely indicates the predicted acetate breakthrough of the first MF bed. When water conductivity between the two MF beds stabilizes, a sample will be collected and returned to the ground for analysis to confirm that the conductivity increase is due to acetate breakthrough. If the ground determines that the conductivity increase is due to a different contaminant that is harmful to the Catalytic Reactor, one or both of the MF Beds would need to be replaced.
Today's Planned Activities
All activities were completed unless otherwise noted.
Atmosphere Control and Supply (ACS) Nitrogen Manual Valve Close
Biolab Incubator Biological Isolation Filters and Cold Spot Sponge Exchange
Combustion Integrated Rack Alignment Guide Install
Coliform Water Processing
Potable Water Dispenser (PWD) Sample Collect
TOCA Potable Water Dispenser (PWD) Sample Analysis
Fine Motor Skills Experiment Test – Subject
Food Acceptability Questionnaire – Subject
Fluid Shifts Dilution Measures Setup
Group Combustion Module (GCM) Gas Bottle Unit Air (GBU) Closeout
Habitability Human Factors Directed Observations – Subject
Health Maintenance System (HMS) Automated External Defibrillator (AED) Inspection
Inventory Management System (IMS) Conference
JEM Camera Robot Activation
JEM Camera Robot Stow
Long Duration Sorbent Testbed Inlet Filter Change.
Multi-purpose Small Payload Rack (MSPR) Combustion Chamber (CC) Closeout/Removal
Multi-purpose Small Payload Rack (MSPR) /Group Combustion Module (GCM) Component Deactivation
Exp 50/51/52 Payloads Mid-Mission Debrief
Regenerative Environmental Control and Life Support System (ECLSS) Recycle Tank Drain Part 1 and 2
Regenerative Environmental Control and Life Support System (ECLSS) Recycle Tank R&R
RGN WSTA Fill
Rodent Research Access Unit Clean
Water Refill Kit Battery Charge
Test Video Recording for Russia Today TV Channel
VIZIR. SM Panels 114 and 116 Outfitting for C???-?? Payload
NAPOR-mini RSA. Cleaning Onboard Memory Storage ???-? vents
Preventive Maintenance of FS1 Laptop
BRI and Network Adapter (???) Power Up. Express check of nominal network configuration after monthly BRI cleaning
Monthly BRI Cleaning (start)
SM panel 229A replacement
Connecting Power Cables and Ethernet.
Network Adapter (???) and cable harness/w couplers routing fit check in MRM2 for future Payloads
Closeout ops with Network Adapter (???) and cable harness/w couplers routing fit check in MRM2 for future Payloads
RADIOSKAF. Deactivation of Tanyusha-????-1 satellite and antenna cable
RADIOSKAF. Connecting antenna cable and activating Tanyusha-????-1 satellite
Soyuz 735 Kazbek Fit Check
Preparation of Reports for Roscosmos Web Site and Social Media
Flush ????-2? Water Conditioning Unit Purification Columns [?? ???] (end)
Maintenance activation of Atmosphere Purification System Emergency Vacuum Valves [??? ???] from the Spares Kit
ECON-M. Observation and Photography
Completed Task List Items
Genes in Space/Biomolecule Sequencer Hardware Stow
Exp 50/51/52 Payloads Mid-Mission Debrief
Ground Activities
All activities were completed unless otherwise noted.
SSRMS Direct Drive tests
Three-Day Look Ahead:
Friday, 07/07: Fluid Shifts, JSSOD#7 CubeSat deploy, Meteor hard drive swap
Saturday, 07/08: Crew off duty, housekeeping
Sunday, 07/09: Crew off duty
QUICK ISS Status – Environmental Control Group:
Component – Status
Elektron – Off
Vozdukh – Manual
[???] 1 – SM Air Conditioner System ("SKV1") – Off
[???] 2 – SM Air Conditioner System ("SKV2") – On
Carbon Dioxide Removal Assembly (CDRA) Lab – Standby
Carbon Dioxide Removal Assembly (CDRA) Node 3 – Operate
Major Constituent Analyzer (MCA) Lab – Idle
Major Constituent Analyzer (MCA) Node 3 – Operate
Oxygen Generation Assembly (OGA) – Process
Urine Processing Assembly (UPA) – Process
Trace Contaminant Control System (TCCS) Lab – Full up
Trace Contaminant Control System (TCCS) Node 3 – Off