NASA Space Station On-Orbit Status 5 June 2018 – Crew Ready for Launch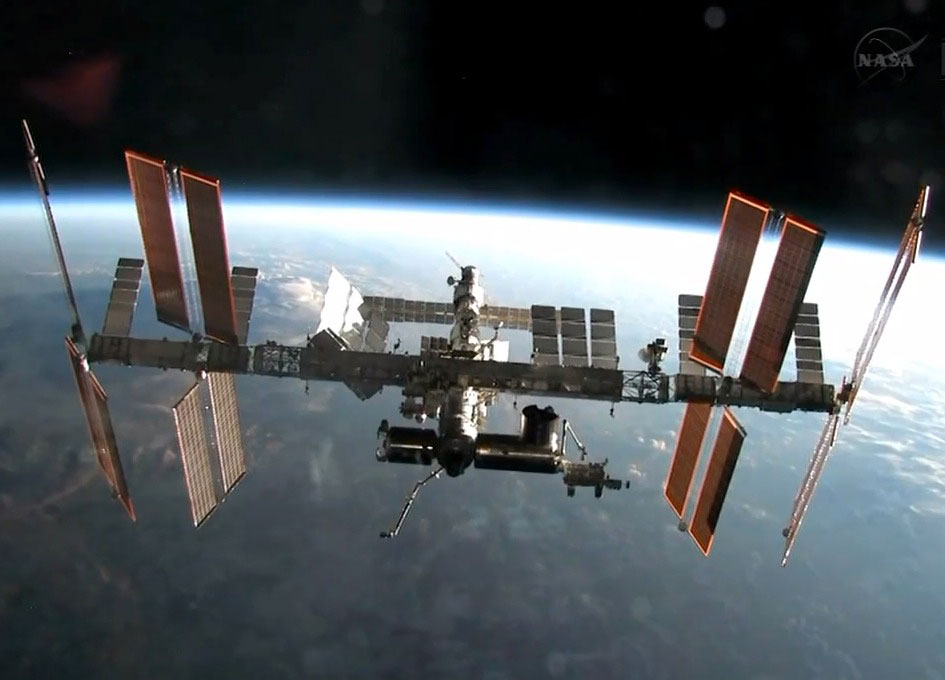 The Soyuz rocket that will launch three new Expedition 56-57 crew members to the International Space Station stands at its launch pad at the Baikonur Cosmodrome in Kazakhstan.
Soyuz Commander Sergey Prokopyev and Flight Engineers Serena Auñón-Chancellor and Alexander Gerst are in quarantine today preparing to blast off Wednesday at 7:12 a.m. EDT on a two-day trip to the station. Live NASA TV coverage begins at 6:15 a.m.
The trio representing Roscosmos, NASA and the European Space Agency will orbit Earth for two days before arriving at the station's Rassvet module Friday at 9:07 a.m. The crew will enter its new home after the hatches open around 11:30 a.m. to begin a six-month mission aboard the orbital laboratory. NASA TV will begin its live docking coverage Friday starting at 8:15 a.m.
Three veteran station residents will greet the newcomers Wednesday when Expedition 56 grows to its full complement of six team members. Station Commander Drew Feustel and Flight Engineers Ricky Arnold and Oleg Artemyev have been living in space since March 21 and will help familiarize their new crewmates with station systems and safety procedures.
Meanwhile, the three orbiting Expedition 56 crewmates managed to work on scientific gear and prepare for next week's spacewalk. Feustel cleaned samples cartridges inside the Electro-Static Levitation Furnace as Arnold readied the Plant Habitat-01 for upcoming botany research. The duo also assembled and tested spacewalking gear ahead of a June 14 spacewalk to install wireless communications gear on the Harmony module.
On-Orbit Status Report
Electro-static Levitation Furnace (ELF): Today the crew exchanged the sample holders to prepare for upcoming ground commanded operations in the ELF. ELF is an experimental facility designed to levitate, melt and solidify materials by containerless processing techniques using the electrostatic levitation method. With this facility thermophysical properties of high temperature melts can be measured and solidification from deeply undercooled melts can be achieved.
Plant Habitat-1: To prepare for Plant Habitat-1 operations the crew changed Ethylene and CO2 scrubbers, the CO2 Bottle, and inlet and outlet filters, and prepared the facility for the Science Carrier installation. Plant Habitat is a fully automated facility that will be used to conduct plant bioscience research on the ISS. The space environment is stressful for all living organisms. Understanding how plants respond will help crews on future missions successfully grow plants for food and oxygen generation. The Plant Habitat-1 investigation compares differences in genetics, metabolism, photosynthesis, and gravity sensing between plants grown in space and on Earth. This investigation is expected to provide key insights on major changes occurring in plants exposed to microgravity.
ICE Cubes Facility (ICF): The crew installed the Ice Cubes facility in the European Physiology Module (EPM) rack today. The ICF provides a simplified, low-cost access service to the ISS for commercial entities. It supports investigations contained in individual Experiment Cubes.
Extravehicular Activity (EVA) Preparations: In preparation for US EVA 51, Node 2 (N2) Forward External Wireless Communications (EWC) install, the crew assembled the Worksite Interface Fixtures (WIF) #16 and #17. Once assembled, the crew performed a pull test of External High Definition Camera (EHDC) S/N 1002 on WIF #16 and verified proper latching prior to the EVA. Both WIF booms will support new High Definition Cameras and bring additional External Wireless Communications (EWC) capabilities on N2.
Today's Planned Activities:
All activities are complete unless otherwise noted.
Treadmill 2 (T2) Exercise Video Equipment Setup
XF305 Camcorder Setup
Electrostatic Levitation Furnace(ELF) sample Cartridge Retrieval
EML Gas Valves Opening
Electrostatic Levitation Furnace(ELF) sample Cartridge Cleaning
Electrostatic Levitation Furnace(ELF) Sample Holder Exchange
Ice Cubes Facility installation into EPM rack
Electrostatic Levitation Furnace(ELF) sample Cartridge Installation
EML Sample Chamber Valve opening
A/L Adapter Plate (JCAP) Gather and Inspection
Spaceflight Cognitive Assessment Tool for Windows (WinSCAT) Test
EVA Boom Assembly
СОЖ maintenance
Plant Habitat-01 Facility Preparation Procedure Review
External High Def Camera (EHDC) Boom Pull Test
Plant Habitat-01 Facility Prep Gather
Plant Habitat-01 Dual MWA Preparation
Systems Operations Data File (SODF) EMER-1B Books (3) Deploy
Remove Satellite Operations Review
Plant Habitat-01 Facility Preparation
Wastewater Storage Tank Assembly (WSTA) Fill
Photo/TV Camcorder Setup Verification
Treadmill 2 (T2) Exercise Video Equipment Stow
Completed Task List Activities:
None
Ground Activities:
All activities are complete unless otherwise noted.
Lab MCA Zero Calibration
Three-Day Look Ahead:
Wednesday, 06/06: 55S launch, REMDEB Setup & Install on Slide Table, Plant Habitat Water Fill, SABL2 troubleshooting, Wireless Compose Install, ATOMIZATION Syringe Swap
Thursday, 06/07: EVA tool config, EVA procedures review, REBA checkout, HRF2 inventory
Friday, 06/08: 55S docking, BIOLAB glove exchange, EVA tool config, EVA GoPro setup, ISS Safety Briefing, Plant Habitat -1 Science Carrier Install
QUICK ISS Status – Environmental Control Group:
Component – Status
Elektron – On
Vozdukh – Manual
[СКВ] 1 – SM Air Conditioner System ("SKV1") – Off
[СКВ] 2 – SM Air Conditioner System ("SKV2") – On
Carbon Dioxide Removal Assembly (CDRA) Lab – Standby
Carbon Dioxide Removal Assembly (CDRA) Node 3 – Operate
Major Constituent Analyzer (MCA) Lab – Operate
Major Constituent Analyzer (MCA) Node 3 – Idle
Oxygen Generation Assembly (OGA) – Process
Urine Processing Assembly (UPA) – Process
Trace Contaminant Control System (TCCS) Lab – Full Up
Trace Contaminant Control System (TCCS) Node 3 – Off