NASA Space Station On-Orbit Status 31 October 2017 – Story Time from Space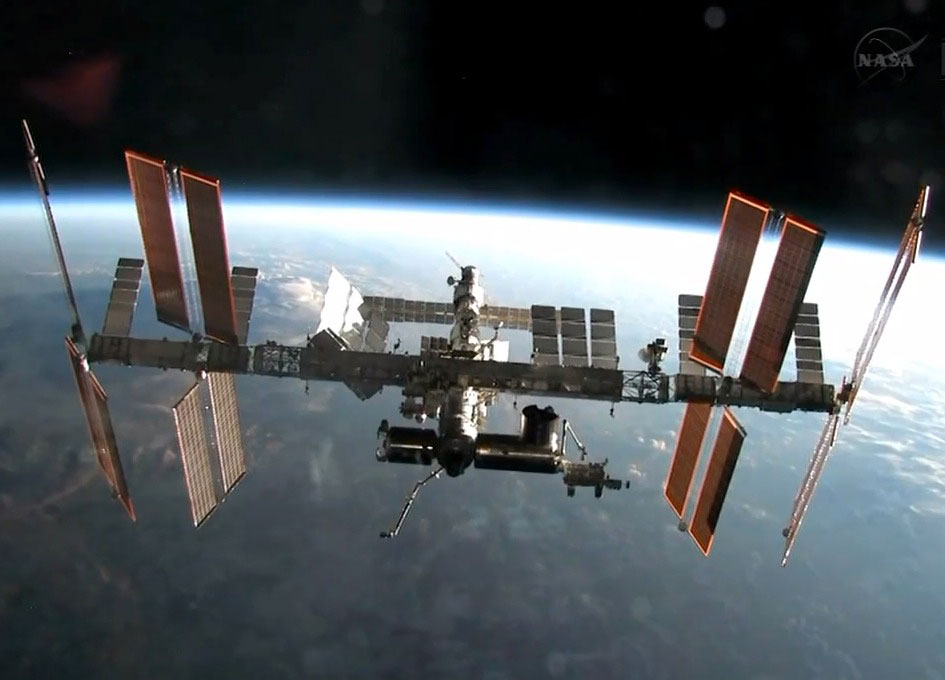 Today – Microbial Tracking-2: The crew collected body and saliva samples in support of the Microbial Tracking-2 investigation today. The Microbial Tracking series-2 continues the monitoring of the types of microbes that are present on the International Space Station (ISS).
It seeks to catalog and characterize potential disease-causing microorganisms aboard the ISS. The crew samples from pre-flight, in-flight, and post-flight times in addition to environmental samples from ISS surface and air locations will be collected to analyze any associations between the microbial content of the samples, as well as potential health effects.
ISS Non-invasive Sample Investigation and results Transmission to ground with the Utmost easiness (In Situ): The crew collected a saliva sample and processed it in the bioanalyzer for the In Situ investigation. Crewmembers are continuously monitored for health changes, and as part of these measurements, they have to take saliva samples that are stored and returned to Earth later. The IN SITU bioanalysis is a portable device that can check crewmembers' saliva on board, enabling direct real-time analysis. The device's first uses are to monitor stress levels and appetites among crewmembers. Humans living in space experience dramatic changes to their health, from weakened bone and muscle to reduced appetites and increased stress levels. The device uses disposable cartridges that check for the presence of the stress hormone cortisol. A miniature analytical device that can detect certain biomarkers using non-invasively collected samples would benefit health care workers on Earth, from emergency medical technicians on call, to small rural clinics in developing countries.
Astronaut Energy Requirements for Long-Term Space Flight (Energy): Today the subject conducted day 8 of the 11 day Energy experiment run by logging their food and drink consumptions throughout the day. The Energy investigation is conducted over an 11 day period (day 0 through day 10) and measures an Astronaut's Energy Requirements for Long-Term Space Flight, a crucial factor needed for sending the correct amount of the right types of food with space crews. Nine astronauts will be examined during exercise and rest cycles three months before launch, three months after arriving at space station and adapting to the space environment, and after return to Earth. Physicians will measure metabolic rates, urine content, and bone density to determine energy needs.
Lighting Effects: A 52S crewmember began a two week long Sleep Shift session by tracking his daily sleep patterns and wakefulness. The Lighting Effects investigation studies the impact of the change from fluorescent light bulbs to solid-state light-emitting diodes (LEDs) with adjustable intensity and color and aims to determine if the new lights can improve crew circadian rhythms, sleep, and cognitive performance.
Fluids Science Laboratory (FSL): The crew configured the FSL by releasing the Facility Core Element (FCE) to allow it to free float within the FSL rack. This configuration is required to support upcoming microgravity sensitive experiments. The Fluid Science Laboratory (FSL) is a multiuser facility designed by the European Space Agency (ESA) for conducting fluid physics research in microgravity. It can be operated as a fully automatic or semiautomatic facility and can be controlled onboard by the International Space Station (ISS) crew or from the ground in telescience mode.
Electrostatic Levitation Furnace (ELF) Operations: To prepare for upcoming ELF experiments, the crew exchanged the ELF sample holder and cleaned the cartridge. The ELF is an experimental facility designed to levitate, melt and solidify materials by container less processing techniques using the electrostatic levitation method. With this facility, thermophysical properties of high temperature melts can be measured and solidification from deeply undercooled melts can be achieved.
Story Time from Space: A crewmember participated in the Story Time from Space investigation by reading "Max Goes to the Space Station" on camera. The video recordings will be downlinked and used for educational purposes. Story Time from Space combines science literacy outreach with simple demonstrations recorded aboard the ISS. Crew members read five science, technology, engineering and mathematics-related children's books in orbit, and complete simple science concept experiments. Crew members videotape themselves reading the books and completing demonstrations. Video and data collected during the demonstrations are downlinked to the ground and posted in a video library with accompanying educational materials.
Japanese Experiment Module (JEM) Airlock (JEM A/L) Depressurization: The JEM A/L has been depressurized in order to complete the transfer of the Main Bus Switching Unit (MBSU) spare, which was installed in the JEM A/L yesterday. The MBSU will be transferred to External Stowage Platform (ESP) 2 on November 4th.
Mobile Transporter (MT) translation: Tonight, ground teams will translate the MT from worksite 3 in preparation for MBSU operations later this week.
Japanese Experiment Module (JEM) Stowage Consolidation for SpX-13: Today, the crew performed stowage consolidation in order to make space for cargo arriving on Spx-13.
Node 1 Intermodule Ventilation (IMV) Jumper Installation: The crew installed a jumper to the Node 1 Aft Port IMV Valve in order to correct reversed pin-outs due to Node 1 Galley modifications. Checkout of the IMV Valve was successful.
Portable Emergency Provisions (PEPS) Inspection: The crew performed this regularly scheduled maintenance to inspect Portable Fire Extinguishers (PFEs), Portable Breathing Apparatus (PBAs) and Extension Hose Tee Kits (EHTKs).
Today's Planned Activities
All activities are complete unless otherwise noted.
Lighting Effects Sleep Log Entry – Subject
SPLANKH. SPLANHOGRAPH Setup, Initiate EGEG Recording
SPLANKH. Photography of the Experiment Session
Verification of anti-virus scan results on Auxiliary Computer System (???) laptops
ENERGY Diet Log of Breakfast
JEM Stowage Consolidation for SpX-13
INSITU MELFI Sample Retrieve
Replacement of ???2 panel 4???2 ?2 Pump
Installation of SAMS on FSL
JEM Airlock Depressurization
Manufacturing Device Print Removal, Clean and Stow
Electrostatic Levitation Furnace(ELF) Argon gas QD connection
IN SITU Camera Setup
Regul-OS feeder line checkout prep (Radiogram review, Locate and Configure Equipment)
Electrostatic Levitation Furnace(ELF) sample Cartridge Retrieval
IN SITU Saliva Collect Operations
Electrostatic Levitation Furnace(ELF) sample Cartridge Cleaning
ENERGY Water Sample
Filling (separation) of ??? [???] for Elektron or ???-??
Energy Urine Sample Collection
Regenerative Environmental Control and Life Support System (RGN) Wastewater Storage Tank Assembly (WSTA) Fill
??? Maintenance
IN SITU Saliva Collect Finish
SPLANKH. Terminate EGEG Recording. Closeout Ops
Electrostatic Levitation Furnace(ELF) Sample Holder Exchange
FSL Facility Core Element release in preparation of scientific operations
HD Video and Hand-Held Mic setup in Node 1
In-flight Maintenance (IFM) Node 1 Intermodule Ventilation (IMV) Jumper (W3060) Installation
Electrostatic Levitation Furnace(ELF) sample Cartridge Installation
Node 2 Forward Intermodule Ventilation (IMV) Big Picture Words Review
JEM Airlock Vent
FSL Facility Core Element locking at the end of scientific operations
JEM Common Gas Support Equipment Gas Supply Start
Mass Measurement Device Hardware Checkout
Deinstallation of SAMS on FSL
JEM Airlock Vent Confirmation
Node 1 Camcorder and Wireless Microphone Set deactivation.
Microbial Tracking-2 Body Sample Collection
Mass Measurement Device Hardware Stow
Removal of EC and SWLA umbilicals in preparation of MVIS COMMISSIONING
Microbial Tracking-2 Sample MELFI Insert
JLP Hardware Consolidate
Preventive Maintenance of FS1 Laptop (Cleaning and rebooting)
Inspection of Nikon camera digital image sensors
ENERGY Diet Log of Lunch
Monthly BRI Cleaning
Payload Desiccant Consolidation
Payload Hardware CTB Cleanup 2
Photography of ??228 mockup temperature sensors on the external surface of MRM2
Story Time Book Max Goes to the Space Station Translation Read
Marrow CTB Consolidate
NAPOR-mini RSA. Cleaning Onboard Memory Storage ???-? vents
MDCA Hardware Consolidate
Preventive Maintenance of SM Ventilation Subsystem. Group ?1
Flushing Gas-Liquid Mixture (???)
FCF CTB Space Verify
IPEHG Installation Review
PEHG Hardware Install
HRF Urine Collection Kit Consolidation
Environmental Control and Life Support System (ECLSS) Portable Emergency Provisions (PEPS) Inspection
Earth Imagery from ISS Crew Preference Target Operations
ISS HAM Service Module Pass
Polar Hardware Remove from Express Rack
Node 2 Forward Intermodule Ventilation (IMV) Gather
Plan Habitat Stow
TIMER. Battery Charge
ENERGY Diet Log of Dinner
Completed Task List Activities
Trash Bag Discard
VEG-03 Plant Pillow Water
Ground Activities
All activities are complete unless otherwise noted.
Nitrogen Distribution Assembly Leak Check
JEM A/L Depress Monitoring
MT Translation
Standard commanding and support of crew activities
Three-Day Look Ahead:
Wednesday, 11/01: N2 Fwd IMV Reconfig, P/RV SAW Mast Survey, EIISS Target Ops, ER8 iPEHG Install
Thursday, 11/02: A/L PHA QD, Energy, COL WOOV8 Inspect, Miniature Exercise Device ARED, Lab Rack Swap, Hatch Seal Inspect, Storytime
Friday, 11/03: N3-PMM Leak Check, EXT MDM Build, Cygnus Rendezvous OBT, Food Consolidation
QUICK ISS Status – Environmental Control Group:
Component – Status
Elektron – On
Vozdukh – Manual
[???] 1 – SM Air Conditioner System ("SKV1") – On
[???] 2 – SM Air Conditioner System ("SKV2") – Off
Carbon Dioxide Removal Assembly (CDRA) Lab – Standby
Carbon Dioxide Removal Assembly (CDRA) Node 3 – Operate
Major Constituent Analyzer (MCA) Lab – Idle
Major Constituent Analyzer (MCA) Node 3 – Operate
Oxygen Generation Assembly (OGA) – Process
Urine Processing Assembly (UPA) – Standby
Trace Contaminant Control System (TCCS) Lab – Full Up
Trace Contaminant Control System (TCCS) Node 3 – Off