NASA Space Station On-Orbit Status 30 July 2018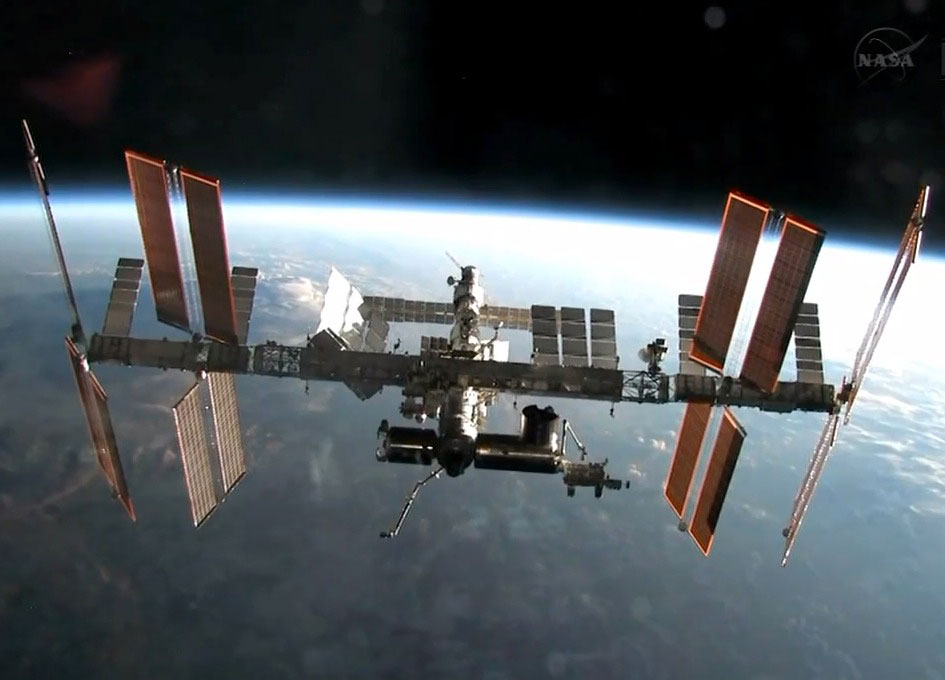 A new cancer therapy study is wrapping up aboard the International Space Station this week as an American cargo craft is packed for return to Earth. The Expedition 56 crew also researched how astronauts perceive time and distance in space and back on Earth.
NASA astronaut Serena Auñón-Chancellor has been contributing to pharmaceutical research since the arrival of the AngieX Cancer Therapy experiment July 2 inside the SpaceX Dragon cargo craft. Today, she is examining endothelial cells in space to help determine if they make a good model for targeting the vasculature of tumor cells. Results may improve the design of safer, more effective therapies targeting cancer tumors.
NASA astronaut Ricky Arnold has been loading Dragon with hardware and science samples today ahead of its return to Earth on Friday. Results from the AngieX cancer investigation will also be stowed in Dragon this week for retrieval and analysis on Earth. Robotics controllers will release Dragon from the grips of the Canadarm2 Friday at 12:37 p.m. EDT as Auñón-Chancellor monitors from the Cupola. Less than six hours later, the commercial space freighter will splashdown in the Pacific Ocean off the coast of Baja California.
Another U.S. cargo craft, the Northrop Grumman Cygnus resupply ship, released from the space station on July 15 is getting ready to end its stay in space today. The Cygnus was detached from the station's Harmony module in mid-July and has been orbiting Earth for engineering research. It is due to burn up harmlessly over the Pacific Ocean at 5:07 p.m. today.
Alexander Gerst, of the European Space Agency, worked in the Columbus lab module to help doctors understand how an astronaut's perception of time and distance is affected during and after a mission. Results will help mission planners understand how astronauts adapt to space impacting the success and safety of long-term missions.
On-Orbit Status Report
Micro-12: On Sunday, the crew activated all eighteen Micro-12 Group Activation Packs (GAPs) by mixing microbial media and inoculum. Then crew terminated one GAP by adding a microbial fixative to preserve the organism for subsequent ground-based characterization. Today the crew terminated additional GAPs. Micro-12 examines the effects of spaceflight on the physiology of an exoelectrogenic microorganism, Shewanella oneidensis MR-1. Exoelectrogenic microbes can pass electrons through their cell membranes, and so can be used in microbial fuel cells to make electricity from waste organic material. This investigation is expected to provide insight into how microgravity affects biological electron transport systems, and microbial fuel cell use in future space missions.
Space Algae: On Sunday, the crew photographed the Space Algae culture bags in the Veggie facility and then removed and placed them in a stowage bag for return. They then shut down the Veggie facility. The Space Algae investigation explores the genetic basis for productivity of algae cultivated in space and whether this requires genetic adaptations or not. Algae may perceive microgravity as an abiotic stress, which can trigger production of high value compounds. Investigators plan whole genome sequencing of the space-grown algal populations to identify genes related to growth in spaceflight and testing of algal composition for production of high value compounds.
NanoRacks Module-9: On Sunday, the crew activated designated mixture tubes for the fourth session of the NanoRacks Module-9 investigation. The experiments contained in these tubes support a variety of experiments sponsored by the Student Spaceflight Experiments Program (SSEP) National Center for Earth and Space Science Education (NCESSE). The student-designed experiments address challenges of living and working in space. The program is also a key initiative for US science, technology, engineering and math (STEM) education, educating and inspiring the next generation of scientists and engineers to work on the space program. Findings from student experiments may contribute to future experiments that benefit the space program.
Japanese Small Satellite Orbital Deployer 9 (J-SSOD#9): Today the crew brought the Japanese Experiment Module (JEM) Airlock Slide Table into the JEM from the JEM Airlock and removed the Handhold Experiment Platform (HXP), which was used for the Exposed Experiment Handrail Attachment Mechanism (ExHAM) #1 investigation. They then installed a SSOD deployer on the Slide Table. The J-SSODs are used to launch small satellites from the JEM Remote Manipulator System (JEMRMS). The crew also set up and photographed flags for Malaysia, Philippines and Bhutan on the deployer. The Slide Table was then retracted back into the JEMAL. J-SSOD#9 satellite deploys are planned for August 10th.
Microgravity Investigation of Cement Solidification (MICS): Today the crew transferred a MICS ampoule kit to the ISS Portable Glovebag, broke the seal between the upper and center ampoules in each of the sample bags, and mixed the contents with a spatula.The MICS investigation supports the evaluation of microstructure and material properties of benchmark cement samples. Different responses to thermal and mechanical loading are expected and will be characterized in detail. Positive attributes found in the hardening process due to the microgravity environment aboard the ISS will be reported with the intent of improving Earth-based cement and concrete processing.
Aerosol Samplers: Today the crew deployed Active Aerosol Samplers (AASs) in Nodes 1 and 3. The battery-powered AASs will actively pull in air and collect particles using the principal of thermophoresis. This is accomplished by flowing sampled air through a large thermal gradient in a narrow channel. During this process, particles are driven to the cold side of the channel, where an electron microscope (EM) grid is held in place by a tiny magnet. When returned to Earth, these grids are easily removed and placed directly in an EM for analysis.
Time Perception in Microgravity: The crew performed an experiment session for ESA's Time Perception in Microgravity investigation today. The accurate perception of objects in the environment is a prerequisite for spatial orientation and reliable performance of motor tasks. Time is fundamental to motion perception, sound localization, speech, and fine motor coordination. The Time Perception experiment quantifies the subjective changes in time perception in humans during and after long-duration exposure to microgravity.
Meteor: Today the crew replaced the diffraction grating of the Meteor camera and adjusted its position relative to the Lab Windowwithin the Window Observational Research Facility (WORF). The Meteor payload is a visible spectroscopy instrument used to observe meteors in Earth orbit. Meteor uses image analysis to provide information on the physical and chemical properties of the meteoroid dust, such as size, density, and chemical composition. Since the parent comets or asteroids of most of the meteor showers are identified, the study of the meteoroid dust on orbit provides information about the parent comets and asteroids.
AngieX Cancer Therapy: The crew performed microscope, sample and therapy operations for the AngieX Cancer Therapy investigation. The AngieX investigation examines whether endothelial cells cultured in microgravity represent a valid in vitro model to test effects of vascular-targeted agents on normal blood vessels. AngieX has developed a treatment that targets both tumor cells and vasculature, but needs a better model on which to test it. This study may facilitate development of a cost-effective method that does not require animal testing and which may help develop safer and more effective vascular-targeted drugs.
Dragon Cargo Operations: Today the crew continued work on the fourth SpaceX-15 Cargo Message as they continue to pack and load items slated for return on SpX-15. Specialists estimate the crew will require up to 10 hours to finish loading the vehicle prior to the planned departure date of 3 August.
Public Affairs Office (PAO) Event: Ricky Arnold participated in an Educational Event with NASA Interns from all NASA Centers. This event was a chance for interns to speak with a crew member on the ISS and make a lasting memory to add to their internship.
Advanced Resistive Exercise Device (ARED) Maintenance: The crew performed periodic preventive maintenance on the ARED. They inspected the X-Rotation Dashpots, cycled the Main Arm through full range of motion, and greased ARED Vibration Isolation System (VIS) Rails, Rollers and Upper Stop. This quarterly maintenance is performed every 90 days.
Today's Planned Activities:
All activities are complete unless otherwise noted.
KONSTANTA-2. Cassett No.3-6 removal from ТБУ-В #5 and setup on panel for 1-hour warm up.
Microgravity Investigation of Cement Solidification (MICS) Preparation
JEM Moderate Thermal Loop(MTL) Leaking Water Wipe
Microgravity Investigation of Cement Solidification (MICS) 3 Ampoule Mix Ops
Replacement of ИК0501 СО2 Filter Unit БФ ГА ИК0501.
RADIOSKAF. Set up nano-satellite Танюша-ЮЗГУ №4 for charging
Filling (separation) of ЕДВ (КОВ) for Elektron or ЕДВ-СВ
Cleanup of Columbus Bay 4
Time experiment science
KONSTANTA-2. Preparation and Carrying out Research #6.
Micro-12 Sample Activation and Termination
SPHERES Satellite Preparation
XF305 Camcorder Setup
Electrostatic Levitation Furnace(ELF) Sample Cartridge Unpack
Multi-purpose Small Payload Rack 2(MSPR2) Work Bench Deployment to secure Electrostatic Levitation Furnace(ELF) Sample Cartridge
Columbus Bay 4 Restore
EVA Procedures and Preliminary Timeline Review, DVD Review. Tagup with specialists
Environmental Health System (EHS) Total Organic Carbon Analyzer (TOCA) Water Recovery System (WRS) Sample Analysis
Electrostatic Levitation Furnace(ELF) Sample Holder Retrieval
JEM Airlock Slide Table (ST) Extension to JPM Side
Multi-purpose Small Payload Rack 2(MSPR2) Work Bench Closeout and ELF Sample Cartridge Packing
Handhold Exp Platform Adapter removal.
On-board Training (OBT) Dragon Departure Review
XF305 Camcorder Setup
JEM Small Satellite Orbital Deployer (SSOD) onto Multi-Purpose Experiment Platform Installation Part 1
Aerosol Active Samplers Hardware Deployment
MELFI Fixative Bag Retrieve
Small Satellite Orbital Deployer Checkout Prep
Aerosol Active Samplers Hardware Photography
Battery Stowage Assembly (BSA) Operation Initiation
JEM Small Satellite Orbital Deployer (SSOD) onto Multi-Purpose Experiment Platform (MPEP) Installation Part 2
AngieX Cnacer Therapy Microscope Operations
Laptops RS2, RS3 Inspection and Cleaning (ФГБ1ПГО_4_426_1, 0.5 СТВ # 1166 (006615J)).
Small Satellite Orbital Deployer Checkout Cleanup
Cargo Transfer to Dragon
JEM Small Satellite Orbital Deployer (SSOD) onto Multi-Purpose Experiment Platform (MPEP) Installation Part 3
On MCC GO RS1 laptop inspection and cleaning.
Sensors removal from exposure sites and taking Pille dosimeter readings
Environmental Health System (EHS) Total Organic Carbon Analyzer (TOCA) Sample Data Record
AngieX Cancer Therapy Ops Session
SSOD 9 Flag Set and Photo
METEOR Grating Configuration
JEM Airlock Slide Table (ST) Retraction from JPM Side
PAO Preparation
VZAIMODEISTVIYE-2. Experiment Ops
Public Affairs Office (PAO) High Definition (HD) Config Columbus Setup
Health Maintenance System (HMS) Spaceflight Cognitive Assessment Tool for Windows (WinSCAT) Test [Aborted]
INTER-MAI-75. Setup, config set-up and HAM Radio activation.
BCAT Camera Activity
Public Affairs Office (PAO) Event in High Definition (HD) in Columbus
Checking БД-2 treadmill carriage position.
MELFI Sample Return Bag Insertion
AngieX Cancer Therapy Ops Session
EarthKAM Node 1 Shutdown, Disconnect and Stow
Radio Frequency Identification Logistics CTB Review
Plant Habitat-01 Water Fill
Station Support Computer (SSC) Relocate
In Flight Maintenance (IFM) Waste and Hygiene Compartment (WHC) Full Fill
Environmental Health System (EHS) Day/Night Glasses Deploy
MELFI BioCell Habitat Insertion
Glacier Desiccant Swap
Exercise data D/L
In Flight Maintenance (IFM) Waste and Hygiene Compartment (WHC) Full Fill
Dragon Cargo Operations Conference
INTER-MAI-75. Hardware deactivation
Reminder 1 Fluid Shifts Dilution Measures
Completed Task List Activities:
WHC KTO REPLACE (Sat GMT 209)
ESA-PAO BONN (Sun GMT 210)
ESA-PAO KUBRICK (Sun GMT 210)
ESA-WASHER-WANTED (Sun GMT 210)
Ground Activities:
All activities are complete unless otherwise noted.
AngieX support
Plant Habitat Fill support
JEMAL support
MICS support
MT Translation (scheduled for this evening)
Three-Day Look Ahead:
Tuesday, 07/31: Aerosol Sampler, MICS, POLAR transfer, Micro-12, SPHERES, Storytime, AngieX, RR-7, Dragon Cargo, Dragon ROBoT OBT, Fluid Shift
Wednesday, 08/01: Dragon Cargo, Micro-12, Aerosol Sampler, Tangolab, Polar Transfer, PCG-11, STBD Solar Array imagery, Nanoracks Mod 9; EVA Tether Inspection, ACME Controller R&R, Fluid Shifts, Dragon Depart OBT, Lighting Effects, BEST
Thursday, 08/02: CIR Optics, BEAM ingress, LEE FSE Assy, Dragon LEE install, Chemical Garden, Dragon Polar Xfer and Coldbag Packing.
QUICK ISS Status – Environmental Control Group:
Component – Status
Elektron – On
Vozdukh – Manual
[СКВ] 1 – SM Air Conditioner System ("SKV1") – On
[СКВ] 2 – SM Air Conditioner System ("SKV2") – Off
Carbon Dioxide Removal Assembly (CDRA) Lab – Operate
Carbon Dioxide Removal Assembly (CDRA) Node 3 – Standby
Major Constituent Analyzer (MCA) Lab – Operate
Major Constituent Analyzer (MCA) Node 3 – Idle
Oxygen Generation Assembly (OGA) – Process
Urine Processing Assembly (UPA) – Standby
Trace Contaminant Control System (TCCS) Lab – Full Up
Trace Contaminant Control System (TCCS) Node 3 – Off