NASA Space Station On-Orbit Status 25 January, 2021 – Spacewalk Hardware Preparations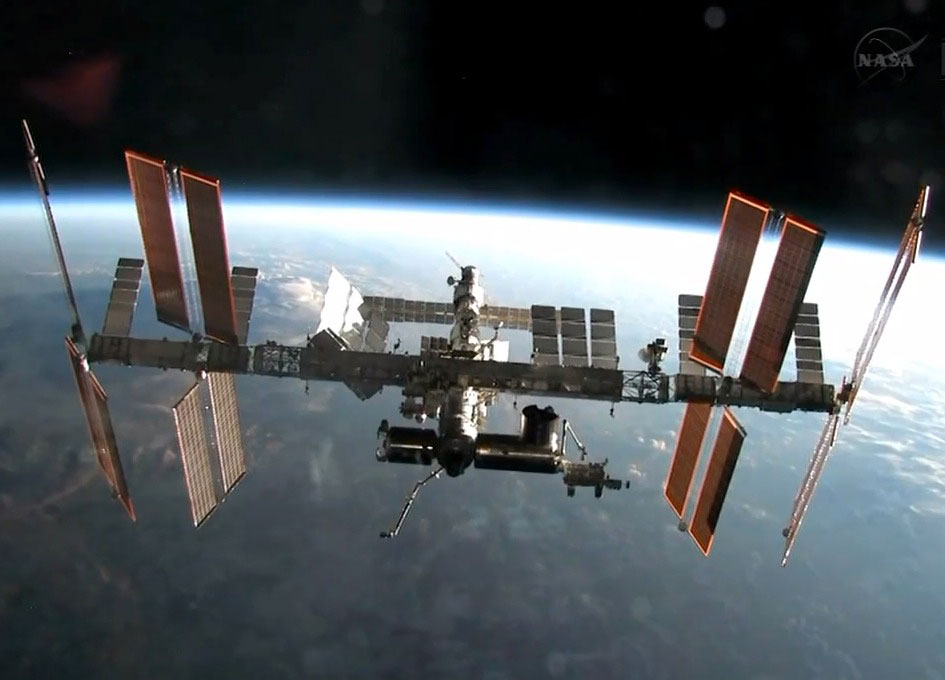 Several Expedition 64 crewmembers are gearing up for the first two spacewalks of 2021. The rest of the crew spent Monday on science and maintenance tasks aboard the International Space Station.
Flight Engineers Michael Hopkins and Victor Glover spent Monday configuring the hardware they will install on Europe's Columbus laboratory module during Wednesday's spacewalk. The spacewalkers will attach a new antenna and route cables on the Bartolomeo science platform outside Columbus.
Hopkins and Glover will set their U.S. spacesuits to battery power around 7 a.m. EST Wednesday signifying the start of their spacewalk. NASA TV will begin its live coverage at 5:30 a.m. as both astronauts prepare to exit the station's Quest airlock into the vacuum of space.
Their fellow astronauts Kate Rubins of NASA and Soichi Noguchi of JAXA will assist Hopkins and Glover during the first spacewalk. The duo practiced robotics maneuvers today on a computer and reviewed spacewalk procedures. Rubins will be the prime operator of the Canadarm2 robotic arm, with Noguchi backing her up, to assist both spacewalkers.
The second spacewalk will take place on Feb. 1 with the same two spacewalkers. This time they will wrap up battery maintenance on the port side of the orbiting lab's truss structure. The duo will then move over to the Kibo laboratory module to remove and replace high-definition video cameras. NASA TV will again start at 5:30 a.m. with the spacewalk set to begin about 7 a.m.
The three other crew members aboard the orbiting lab focused on space research and lab maintenance throughout Monday.
NASA Flight Engineer Shannon Walker explored ways to produce vitamins and other nutrients to enhance a crew member's diet while living in space for the BioNutrients study. Commander Sergey Ryzhikov joined his fellow cosmonaut Sergey Kud-Sverchkov for Russian research in the morning. Ryzhikov then moved on to packing a Russian cargo craft ahead of its Feb. 9 departure. Kud-Sverchkov worked on Earth observations then serviced computer gear.
On-Orbit Status Report
Payloads
CBEF-L (Cell Biology Experiment Facility-L): The crew greased the Front bolts and then replaced the Control Equipment within the CBEF which was then connected to the Drawer Interface Panel and cables. CBEF-L is a Japan Aerospace Exploration Agency (JAXA) new subrack facility, which is an upgraded facility of the original Cell Biology Experiment Facility (CBEF) currently aboard the International Space Station (ISS). CBEF-L provides new capabilities with additional new resources such as Full High Definition video interface, Ethernet, 24 VDC power supply, and a larger diameter centrifugal test environment. By using the original CBEF and CBEF-L as one facility for the same experiment, the payload user is provided with an upgraded experimental environment that can handle the processing of more experimental samples for a wider array of experiments.
BioNutrients: The crew performed hydration, incubation, and agitation of BioNutrients-1 Production Packs. BioNutrients demonstrates a technology that enables on-demand production of human nutrients during long-duration space missions. The process uses engineered microbes, like yeast, to generate carotenoids from an edible media to supplement potential vitamin losses from food that is stored for very long periods. Specially designed storage/growth packets are intermittently activated by astronauts over a five-year period, then frozen and returned to Earth for examination.
Antimicrobial Coatings (Boeing Environment Responding Antimicrobial Coatings): The crew touched coupons A-G (uncoated), then touched H-N (coated), then took photos of each of the coupons. The experiment was set up in early January and is planned to remain deployed for a period of 6 months. Boeing Environment Responding Antimicrobial Coatings tests an antimicrobial coating on several different materials that represent high-touch surfaces. Some microbes change characteristics in microgravity, which could create new risks to crew health and spacecraft systems as well as creating the possibility of contaminating other planetary bodies. The samples remain in space approximately six months then return to Earth for analysis.
Story Time From Space: The crew reviewed procedures for the up-coming live Story Time From Space event. Story Time From Space combines science literacy outreach with simple demonstrations recorded aboard the International Space Station (ISS). Crew members read five science, technology, engineering and mathematics-related children's books in orbit, and complete simple science concept experiments. Crew members videotape themselves reading the books and completing demonstrations. Video and data collected during the demonstrations are downlinked to the ground and posted in a video library with accompanying educational materials.
AstroPi: The crew performed a status check of the communications connection for the AstroPi hardware. Two augmented Raspberry Pi computers (called AstroPis) flown to the International Space Station as part of British ESA Astronaut Tim Peake's mission are available for use during French ESA Astronaut Thomas Pesquet's Proxima mission. The computers are both equipped with the mighty Sense HAT (Hardware Attached on Top) that measures the environment inside the space station, detect how the station moves through space, and pick up the Earth's magnetic field. Each AstroPi is also equipped with different kinds of cameras: one has an infrared camera, and the other has a standard visible spectrum camera.
Burning Rate Emulator (BRE): The crew configured the ACME Chamber Insert for the 9th day of BRE-2 test points. This involved lubrication of the water Quick Disconnect interfaces and a replacement of the Heat Flux burner. The Burning Rate Emulator (BRE) investigation is conducted in the Combustion Integrated Rack (CIR) on the International Space Station (ISS), as part of the Advanced Combustion via Microgravity Experiments (ACME) project. In this fire safety study, the flammability of solid and liquid materials is simulated by burning gaseous fuels under key conditions corresponding to the solid and liquid materials. This technique has been demonstrated for a wide variety of materials in normal-gravity and could provide an efficient way to screen and select fire-resistant materials for use in spacecraft, if the technique is similarly effective in microgravity.
Systems
Extravehicular Activity (EVA) Preparations: The crew continued preparations for this week's Columbus Upgrades EVA on Wednesday, January 27th. The crew performed an EVA procedure review, printed and incorporated EVA- specific cuff pages and configured the EVA External Television Camera Group (ETVCG). On this EVA, two crewmembers will install the Columbus Ka-Band Antenna onto the Columbus Module and route the cables for Bartolomeo PAPOS.
Environmental Health System (EHS) Total Organic Carbon Analyzer (TOCA) Waste Water Bag (WWB) Changeout: The crew replaced the TOCA Waste Water Bag (WWB) to preclude overfill. The TOCA unit oxidizes organic carbon species present in the water to carbon dioxide gas and measures the concentration using nondispersive infrared spectroscopy.
Completed Task List Activities:
Photo TV EVA Go Pro Battery Charging
Photo TV GoPro Setup
Today's Ground Activities:
All activities are complete unless otherwise noted.
Transition the Life Support Rack (ACLS) from Powerless to Subsystem OFF
TM check and if required pressure equalization of OGA O2 and H2 compartments
Robotics On-Board Trainer (ROBoT) Simulation Setup
Atmosphere Revitalization System (ARS) Lab Major Constituent Analyzer (MCA) Commanded to Full Calibration
Look Ahead Plan
Tuesday, January 26 (GMT 026)
Payloads:
Story Time – Willow-Live (FE-13) and photo (NASA)
FSL Rubi Deinstall, SMD install (ESA)
VEG-03X plant chk (NASA)
HUNCH Tape LAB ops and photo (NASA)
COL HAM antenna demate/remate (NASA)
CIR Hardware return (NASA)
Systems:
Extravehicular Activity (EVA) Tool Configuring
Equipment Lock (E-LK) Preparation
Extravehicular Activity (EVA) Tool Audit
Wednesday, January 27 (GMT 027)
Payloads:
Astrobee batt charge (NASA)
BioNutrient-1 MELFI insert and Crew Survey (NASA)
Capillary Structures Assembly (NASA)
HRF PFS Gas Cylinder Photos (NASA)
AC Touch (NASA)
MSG CTB Audit (NASA)
Systems:
SSRMS EVA Support
Columbus Upgrades EVA
COLKA IVA Cabling Connection
Thursday, January 28 (GMT 028)
Payloads:
Capillary Structures Sorbent Contactor Demo ops (NASA)
COL HAM antenna demate/remate (NASA)
AWP Data downlink and charge (NASA)
Systems:
Water Recovery Management (WRM) Water Balance
Extravehicular Activity (EVA) Debrief for US EVA
Portable Onboard Computers (POC) Dynamic Onboard Ubiquitous Graphics (DOUG) Software Review
Extravehicular Mobility Unit (EMU) Long Life Battery (LLB) Initiate
Today's Planned Activities:
All activities are complete unless otherwise noted.
BioNutrients-1 OBT Review
Photo TV Battery Charge
JEM Cell Biology Experiment Facility Alternative Grease
JEM Cell Biology Experiment Facility Alternative Reconfiguration
Antimicrobial Coatings Touch
Extravehicular Activity (EVA) Cuff Checklist Print
Environmental Health System (EHS) Total Organic Carbon Analyzer (TOCA) Waste Water Bag (WWB) Changeout
Extravehicular Activity (EVA) Procedure Review
In Flight Maintenance (IFM) Camera Port-13 External Hi Def Camera (EHDC) Prep
AstroPi IR check and reboot
Plug-In Plan (PiP) AC Inverter Secure
ARED USB Test
EDV Fill from Toilet connection Setup
ACME MWA Prep
In Flight Maintenance (IFM) External TV Camera Group (ETVCG) Assembly
BioNutrients-1 Incubation Agitation
Cold Stowage Asset Label
EDV Fill Swap to a 2nd EDV
Multi-use Variable-g Platform Desiccant Replace
Combustion Integrated Rack Chamber Open
Astrobee Off
ACME Chamber Insert Configuration
Story Time Willow Review
WebLab-2 Hardware Locate
Teardown the EDV Fill Transfer configuration
ISS HAM Hardware Consolidate
IMS Delta File Prep
Extravehicular Activity (EVA) External Television Camera Group (ETVCG) Conference
Stowage Cleanup
On Board Training (OBT) ROBoT T&C Self Study