NASA Space Station On-Orbit Status 21 June 2018 – Time Perception Study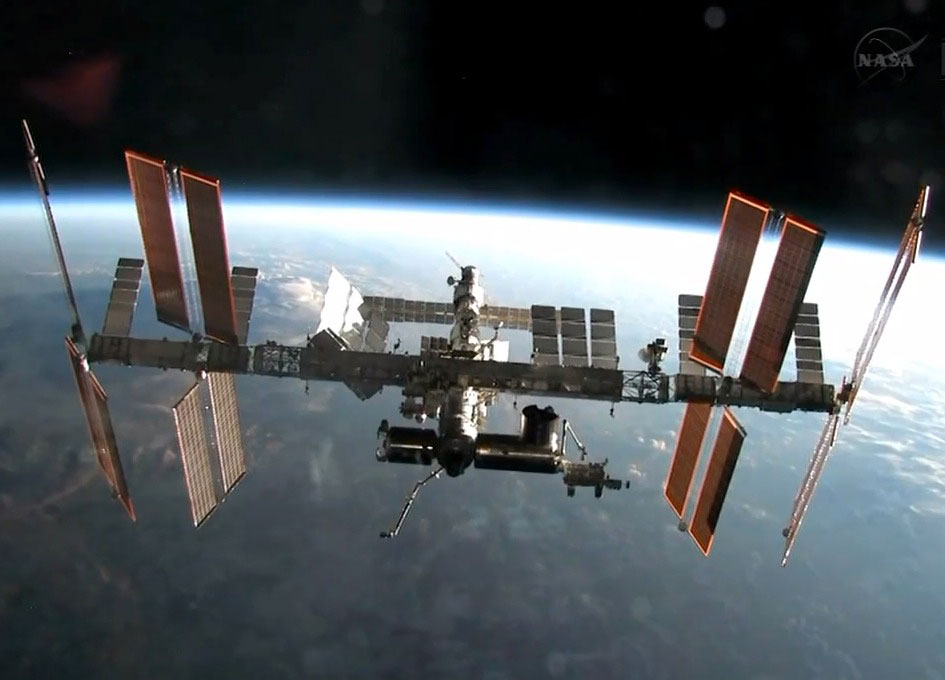 Quite a wide variety of science activities took place today aboard the International Space Station exploring time perception, exercise and eyesight.
The Expedition 56 crew members also worked on station plumbing, stowed satellite deployer gear and checked out communications gear.
Two-time station resident Alexander Gerst started his morning helping doctors understand how living in space alters time perception and impacts crew performance. Later he strapped himself into an exercise bike and attached electrodes to his chest to monitor his pulmonary function during the workout session.
NASA astronauts Ricky Arnold, Drew Feustel and Serena Auñón-Chancellor teamed up for eye exams with an ultrasound device to study microgravity's effects on eyesight. The scans were downlinked real-time to scientists on Earth observing the retina and optic nerve while monitoring the health of the astronaut's eyes.
Auñón-Chancellor started her day changing out a filter and valve in the station's bathroom located in the Tranquility module. She then checked out Wi-Fi gear connected to antennas installed during a March 29 spacewalk after assisting Feustel in the Japanese Kibo lab module. The duo stowed gear after Wednesday's successful deployment of a satellite to demonstrate space junk clean up.
Arnold was set to install radio frequency tags today to improve tool tracking but that task was postponed till after the Cygnus cargo ship departs July 15. He then moved on to emergency communication tests with control centers around the world before light maintenance work on a 3D manufacturing device.
On-Orbit Status Report
Time: The crew performed a Time perception session. ESA's Time experiment captures the accurate perception of objects in the environment is a prerequisite for spatial orientation and reliable performance of motor tasks. Time is also fundamental to motion perception, sound localization, speech, and fine motor coordination. The Time experiment quantifies the subjective changes in time perception in humans during and after long-duration exposure to microgravity.
Radio Frequency Identification (RFID): The task to install 10 RFID Logistics marker tags in PMA-1 today was postponed due to the crew not being able to easy access the required locations. This activity will be rescheduled after the OA-9 mission is complete. RFID Logistics aims to utilize RFID enabled tags on hardware throughout the ISS to assist in the tracking of the hardware as it is moved around the ISS.
JEM Airlock (JEMAL): Following the successful deployment of the NanoRacks-Remove Debris satellite, the crew removed and stowed the Kaber from the A/L Adapter Plate (JCAP) slide table adapter. The crew then installed the MPEP (Multi-Purpose Experiment Platform) in preparation the next JEMAL cycle.
Manufacturing Device (MD): Today the crew trimmed the filament of a new feedstock canister within the MD device to troubleshoot a jamming issue seen during a recent print attempt. The Manufacturing Device supports the production of components on the ISS for both NASA and commercial objectives. It is capable of producing parts out of a wide variety of thermopolymers including engineered plastics.
Health Maintenance System (HMS) Eye Ultrasounds: Today the 54S crew completed a second day of routine eye exams using an Ultrasound machine. Eye exams are performed regularly onboard in order to monitor crewmembers eye health. Eyesight is one of the many aspects of the human body that is affected by long-duration stays in a microgravity environment.
Portable Emergency Provisions (PEPS) Inspection: Today the crew inspected Portable Fire Extinguishers (PFEs), Portable Breathing Apparatus (PBAs), and Extension Hose Tee Kits (EHTKs) as part of routine maintenance.
Node 3 (N3) External Wireless Communications (EWC) Wireless Access Point (WAP) Checkout: The N3 EWC WAP will provide Wi-Fi coverage to payloads installed on the Japanese Experiment Module – Exposed Facility (JEM-EF) and is required by the ECOSTRESS payload arriving on SpaceX-15. The N3 EWC WAP is connected to two EVA antennas that were installed during US EVA 49, one located on Node 3 Zenith and the other located on Node 3 Nadir, and today's nominal checkout ensured proper functionality of each antenna.
Cygnus Cargo Operations: OA-9 Cargo Message #3 was uplinked overnight and the crew reported spending approximately seven hours on cargo operations since receipt. Despite continued issues with foam management, the crew was able to complete approximately one third of the message and will continue with cargo operations tomorrow.
Lab Carbon Dioxide Removal Assembly (CDRA) Failure: This afternoon the Lab CDRA shut down due to an Air Selector Valve (ASV) fault on valve 104. Recovery attempts were unsuccessful and startup of the Node 3 CDRA is in work. Once complete, specialists will continue with additional troubleshooting. There are currently three spare valves on-orbit.
Today's Planned Activities:
All activities are complete unless otherwise noted.
RADIOSKAF. Antennae cable connection and "Tanyusha-YuZGU-4" satellite activation in relay mode.
RADIOSKAF. Photo and video recording
Galley Rack MERLIN Transfer
JEM Airlock Press
Max Cycle Ergometer w/ Vibration Isolation & Stabilization (CEVIS) Portable PFS Partial Set Up
UPA Brine Filter Gather
[БПК] Condensate Processing Unit troubleshooting.
СОЖ maintenance
JEM Airlock Leak Check
Urine Processor Assembly (UPA) Brine Filter Changeout
Max Cycle Ergometer w/Vibration Isolation & Stabilization (CEVIS) Portable PFS Power Up
JEM Airlock Slide Table (ST) Extension to JPM Side
Time experiment science
Radio Frequency Identification Logistics Marker Tag Installation in PMA-1 [Aborted]
UDOD. Experiment ops with BREATHING-1 assembly and SPRUT-2 assembly.
KABER Hardware Stow
A/L Adapter Plate (JCAP) & NanoRacks Kaber Plate (STEP) Removal
MPEP Installation to JEM Airlock Slide Table
Crew performs Max CEVIS exercise with PPFS
MPEP Installation to JEM Airlock Slide Table Support
JEM Airlock Slide Table (ST) Retraction from JPM Side
Kaber & A/L Adapter Plate (JCAP) Stow
Transfer Cygnus Cargo Operations
RADIOSKAF. "Tanyusha-YuZGU-4" satellite and relay mode deactivation, Kenwood D700 radio station replacement with D710.
Max Cycle Ergometer w/Vibration Isolation & Stabilization (CEVIS) Portable PFS Partial Stow
Charging Samsung computer in Soyuz 738 post OBT – start of charge
FAZOPEREKHOD. Prep ops and start of experiment
Video recording of greetings
Reconfigure Node 3 BelAir Wireless Access Point (WAP) Antennas for Checkout
Public Affairs Office (PAO) High Definition (HD) Config LAB Setup
Public Affairs Office (PAO) Event in High Definition (HD) – Lab
Ultrasound 2 HRF Rack 1 Power On
Wireless Compose Base Station Power On and Battery Mode Switch
Ultrasound 2 Scan Prep
Crew Medical Officer (CMO) Proficiency Training
Digital matrix cleaning in Nikon D3X, D3S, D4 and D5
АСУ system Е-К bucket and hose R&R
Ultrasound 2 Scan
Portable Emergency Provisions (PEPS) Inspection
Ultrasound 2 Post Exam
Wireless Compose Motes Mode Switching
Biological Research In Canisters Light Emitting Diode Removal
Emergency RS ISS VHF-1 Comm Checkout from USOS
Biological Research In Canisters Light Emitting Diode Installation
FAZOPEREKHOD. Closeout ops.
Manufacturing Device Filament Trim
Charging Samsung computer in Soyuz 738 after OBT – end of charge
Team Task Switching Experiment Survey [Aborted]
Robotic Workstation (RWS) Setup
Handover of Increment 56 Crew
Wastewater Storage Tank Assembly (WSTA) Fill
Handover of Increment 56 Crew
IMS Ops
Max Cycle Ergometer w/Vibration Isolation & Stabilization (CEVIS) Portable PFS Conclude
ISS Crew Orientation
Cygnus Cargo Operations Conference
Health Maintenance System (HMS) – ESA Nutritional Assessment
Robotics Work Station (RWS) Display and Control Panel (DCP) Checkout
Wireless Compose SD Card Data Copy
Completed Task List Activities:
None
Ground Activities:
All activities are complete unless otherwise noted.
JEM RMS WVE Checkout
Three-Day Look Ahead:
Friday, 06/22: Plant Habitat plant thinning, Cygnus Cargo Ops, Crew Handover, MPCC EICL Software load, OCT Exams, Cygnus Engine Survey
Saturday, 06/23: Housekeeping, Off Duty
Sunday, 06/24: Off Duty
QUICK ISS Status – Environmental Control Group:
Component – Status
Elektron – On
Vozdukh – Manual
[СКВ] 1 – SM Air Conditioner System ("SKV1") – Off
[СКВ] 2 – SM Air Conditioner System ("SKV2") – On
Carbon Dioxide Removal Assembly (CDRA) Lab – Override
Carbon Dioxide Removal Assembly (CDRA) Node 3 – Startup
Major Constituent Analyzer (MCA) Lab – Operate
Major Constituent Analyzer (MCA) Node 3 – Idle
Oxygen Generation Assembly (OGA) – Process
Urine Processing Assembly (UPA) – Process
Trace Contaminant Control System (TCCS) Lab – Full Up
Trace Contaminant Control System (TCCS) Node 3 – Off