NASA Space Station On-Orbit Status 18 September 2017 – Gearing up for Three Spacewalks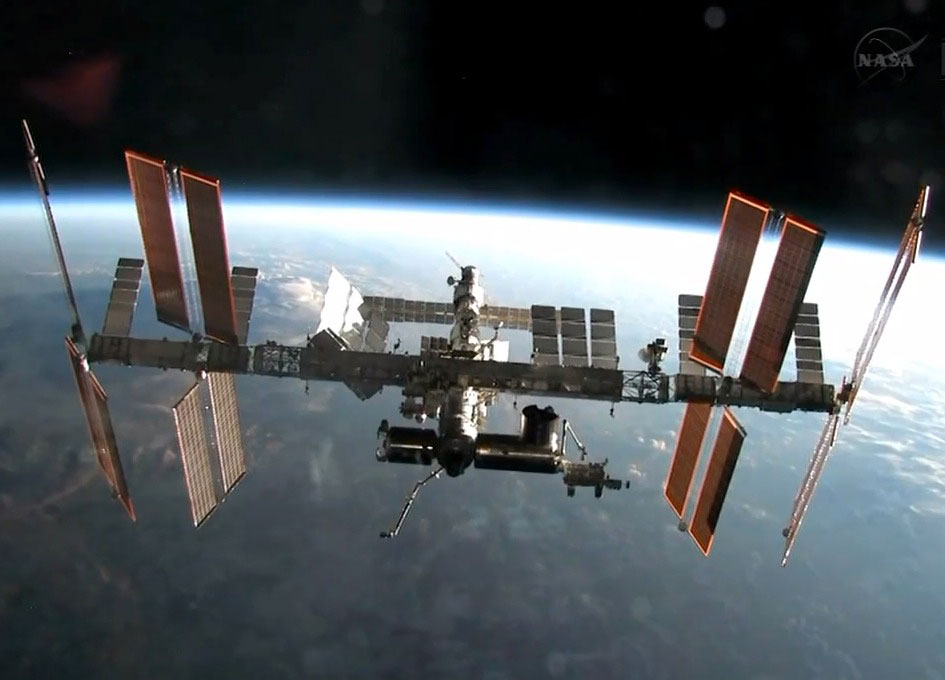 Expedition 53 is gearing up for three maintenance spacewalks set to take place in October over a period of two weeks. Meanwhile, the six-member crew continued researching today how their long-term missions in space affect their bodies.
Commander Randy Bresnik began unpacking spacewalking gear today ahead of the first of three spacewalks set to begin Oct. 5. He will lead all three spacewalks with NASA astronauts Mark Vande Hei and Joe Acaba. Vande Hei will join him on the first two and Acaba will participate in the final spacewalk. The trio will replace one of the two end effectors on the Canadarm2 robotic arm, lubricate the new component and replace cameras at two locations on the station's truss.
Flight Engineers Paolo Nespoli and Sergey Ryazanskiy are exploring how living in space impacts their bone marrow. The study takes a look at blood and breath samples with the blood being processed in a centrifuge. Bresnik is also collecting his blood and urine samples that scientists will later analyze for any physiological changes caused by microgravity.
On-Orbit Status Report
Dragon SpaceX (SpX)-12 Unberth: Over the weekend, the crew packed critical items and egressed the vehicle in preparation for Dragon departure. Dragon was unberthed from the ISS via ground commanding on Saturday at approximately 5:06 PM CDT. Ground teams then maneuvered the Dragon to an overnight park position. Early Sunday morning at 03:41 AM CDT, Dragon was released, with splashdown occurring roughly five and a half hours later.
Multi-Omics-Mouse: On Saturday, the crew transferred the Mouse Habitat Cage Units from the Cell Biology Experiment Facility (CBEF), to the Transportation Cage Units for return on SpaceX-12. Several studies have reported space flight effects on the human immune system, but the relationship between microbiota and immune dysfunction during flight remains unclear. In the Multi-Omics-Mouse investigation, food with and without fructooligosaccharides (FOS) will be used as prebiotics, to determine if they improve the gut environment and immune function. After the flight, researchers will analyze the gut environment (microbiota and metabolites) and immune system of the mice by multi-omics analysis.
ADvanced Space Experiment Processor (ADSEP): On Saturday, the Tissue cassette that was inserted into the Space Automated Bio-product Lab (SABL) on Friday, was removed and returned on SpX-12. ADSEP is a thermally controlled facility that accommodates up to three cassette-based experiments that can be independently operated. A collection of experiment cassettes is used to accommodate experiments in cell technology, multiphase fluids, solution chemistry, separation science, microencapsulation, and crystal growth. For CellCult investigations, each cassette contains a rotating filtered bioreactor, a reservoir for fresh media, two peristaltic pumps, a waste reservoir, and up to 6 sample-collection or reagent containers connected by a manifold to the reactor. Cultures can be operated in continuous perfusion, batch fed, static, or sampling modes. The removal of samples and the addition of additives to the reactor volume can be programmed or tele-operated.
Lighting Effects: Over the weekend, a 51S crewmember provided sleep log entries for the Lighting Effects investigation. The light bulbs on the ISS are being replaced with a new system designed for improved crew health and wellness. Fluorescent bulbs are being replaced with solid-state light-emitting diodes (LEDs) that have adjustable intensity and color. Investigators will determine if the new lights improve crew circadian rhythms, sleep, and cognitive performance. Results from this investigation also have implications for people on Earth who use electric lights.
Space Headaches: Over the weekend and today, a 52S crewmember completed daily questionnaires for the ESA Space Headaches investigation. The Space Headaches investigation collects information that may help in the development of methods to alleviate associated symptoms and improvement in the well-being and performance of crewmembers in space. Headaches during space flight can negatively affect mental and physical capacities of crewmembers that can influence performance during a space mission.
Marrow: With operator assistance, a 52S crewmember collected blood samples for the Marrow investigation. The breath and ambient air sample collection was aborted due to an issue with the collection hardware. After resolving the hardware issue, the breath and ambient collection operations was rescheduled for tomorrow. The blood samples were processed in the centrifuge and placed in the Minus Eighty Degree Celsius Laboratory Freezer for ISS (MELFI). The Marrow investigation looks at the effect of microgravity on bone marrow. It is believed that microgravity, like long-duration bed rest on Earth, has a negative effect on the bone marrow and the blood cells that are produced in the bone marrow.
Human Research Program (HRP) Collections (Biochemical Profile, Repository): Today a 51S crewmember performed a series of urine collections in support of the Biochemical Profile and Repository experiments. The urine samples were collected and placed in the Minus Eighty Degree Celsius Laboratory Freezer for ISS (MELFI). The blood samples will be collected tomorrow.
The Biochemical Profile experiment tests blood and urine samples are obtained from astronauts before, during, and after spaceflight. Specific proteins and chemicals in the samples are used as biomarkers, or indicators of health. Post-flight analysis yields a database of samples and test results, which scientists can use to study the effects of spaceflight on the body.
Repository is a storage bank used to maintain biological specimens over extended periods of time and under well-controlled conditions. This repository supports scientific discovery that contributes to our fundamental knowledge in the area of human physiological changes and adaptation to a microgravity environment and provides unique opportunities to study longitudinal changes in human physiology spanning many missions.
Sarcolab-3: Prior to conducting the operations segment of the Sarcolab-3 investigation, the crew completed setup activities for Ultrasound 2. Then, with assistance from a Russian operator, a USOS crewmember ingressed the Muscle Atrophy Research & Exercise System (MARES) chair in the Columbus module and adjusted pads and constraints for the Sarcolab-3 ankle protocol which is ongoing. The operator then collected ultrasound images of the subject's leg. The data collected for Sarcolab-3 will be compared to pre and post flight measurements to assess the impact of hypothesized microgravity induced muscle loss. Myotendinous and Neuromuscular Adaptation to Long-term Spaceflight (Sarcolab) investigates the adaptation and deterioration of the soleus (calf muscle) where it joins the Achilles tendon, which links it to the heel and carries loads from the entire body. Muscle fiber samples are taken from crew members before and after flight, and analyzed for changes in structural and chemical properties. MRI and ultrasound tests and electrode stimulation are conducted to help assess muscle and tendon changes caused by microgravity exposure.
Zero Boil-OFF Tank (ZBOT) Hardware Setup: Today the crew configured the majority of the ZBOT hardware in the Microgravity Science Glovebox (MSG) Work Volume and will complete the remaining setup activities tomorrow. The final configuration will be photographed for historical documentation. Rocket fuel, spacecraft heating and cooling systems, and sensitive scientific instruments rely on very cold cryogenic fluids. Heat from the environment around cryogenic tanks can cause their pressures to rise, which requires dumping or "boiling off" fluid to release the excess pressure, or actively cooling the tanks in some way. ZBOT uses an experimental fluid to test active heat removal and forced jet mixing as alternative means for controlling tank pressure for volatile fluids.
Today's Planned Activities
All activities were completed unless otherwise noted.
At Home In Space Culture Photo
Actiwatch Spectrum HRF1 Download Alternate 1
???-VE330 video endoscope H/O to USOS
Retrieve Videoscope from USOS Crewmember
Columbus Video Camera Assembly 2 Adjustment
CSA Generic Frozen Blood Collection – Operator
CSA Generic Sample MELFI Insertion
CSA Generic Refrigerated Centrifuge Spin
DOSIS Main Box Mode Switching from Mode 2 to Mode 1 after solar particle event.
Environmental Health System (EHS) Coliform Water Processing
Environmental Health System (EHS) Potable Water Dispenser (PWD) Sample Collect
Environmental Health System (EHS) Total Organic Carbon Analyzer (TOCA) Potable Water Dispenser (PWD) Sample Analysis
Environmental Health System (EHS) Total Organic Carbon Analyzer (TOCA) Sample Data Record
ASI Biomission script recording
In Situ message recording
PERSEO message recording
ESA-PAO-CORRIERE
ESA-PAO-GUGGENHEIM
ESA-PAO-RAI PRIX
Extravehicular Activity (EVA) Airlock Unstow
Extravehicular Activity Mobility Unit (EMU) Enhanced Caution and Warning System (ECWS) On-Board Training
Extravehicular Mobility Unit (EMU) Long Life Battery (LLB) Initiate
Virtual Reality Training (VRT) Extravehicular Activity (EVA) Simplified Aid for EVA Rescue (SAFER)
HRF Generic Frozen Blood Collection Double Spin Overview
HRF Generic Frozen Blood Collection Setup
HRF Generic Sample MELFI Insertion Operations
HRF Generic Urine Collection Male – Subject
IMS Update
iPad Update
Handover of Increment 53 Crew
Crew time for ISS adaptation and orientation
ISS Crew Orientation
MARES Ankle setting adjustments
MARES Ankle configuration fit check. Crew conference with P/L Developer.
MARES Ankle Shaving Preparation
MARES subject electrodes equipment
EPM Laptop relocation for files downlink preparation
EPM Laptop relocation to MARES
SARCOLAB MARES and Laptop Power OFF
MARES Ultrasound session
Ultrasound 2 Guided Data Export
Human Research Facility Ultrasound 2 set up and power on
Marrow Breath And Ambient Air Sample Collection – Aborted
Public Affairs Office (PAO) Event in High Definition (HD) – Lab
PAO Preparation
RED 960GB SSD Troubleshooting
RFID Ember Cycle
Space Headaches – Daily Questionnaire
Transfers from Soyuz 734 with IMS update
Zero Boil-OFF Tank Hardware Setup
Zero Boil-Off Tank Onboard Training
CALCIUM. Experiment Session 3
Familiarization with an onboard computer network
Preparation for Antivirus Scanning on [???] Laptops
Auxiliary Laptop Computer System Virus Definition File Update
PILOT-T. Experiment Ops
Body Mass Measurement – BMMD
??-8 ops
Photography of the ??-2 treadmill belt edge and screen form of Belt tab
Exercise Data Downlink via OCA
Preparation of Reports for Roscosmos web site and social media
Vozdukh [??? ???] valves service activation
??? maintenance
ECON-M. Observation and photography
Completed Task List Activities
HRF Continuous Blood Pressure Device Hardware Consolidate and Transfer
RED 960GB SSD Troubleshooting
Dragon 12 Cargo Ops Packing
Ground Activities
All activities were completed unless otherwise noted.
None
Three-Day Look Ahead:
Tuesday, 09/19: Sarcolab, EMU Resize, CIR Bench Config for ACME #1,
Wednesday, 09/20: Sarcolab, CIR Bench Config for ACME #2, Emergency Hardware OBT
Thursday, 09/21: Sarcolab, Mouse Habitat Closeout, Node 3 IMV Fan Cleaning
QUICK ISS Status – Environmental Control Group:
Component – Status
Elektron – On
Vozdukh – Manual
[???] 1 – SM Air Conditioner System ("SKV1") – On
[???] 2 – SM Air Conditioner System ("SKV2") – On
Carbon Dioxide Removal Assembly (CDRA) Lab – Standby
Carbon Dioxide Removal Assembly (CDRA) Node 3 – Operate
Major Constituent Analyzer (MCA) Lab – Idle
Major Constituent Analyzer (MCA) Node 3 – Operate
Oxygen Generation Assembly (OGA) – Process
Urine Processing Assembly (UPA) – Standby
Trace Contaminant Control System (TCCS) Lab – Full up
Trace Contaminant Control System (TCCS) Node 3 – Off