NASA Space Station On-Orbit Status 18 June 2018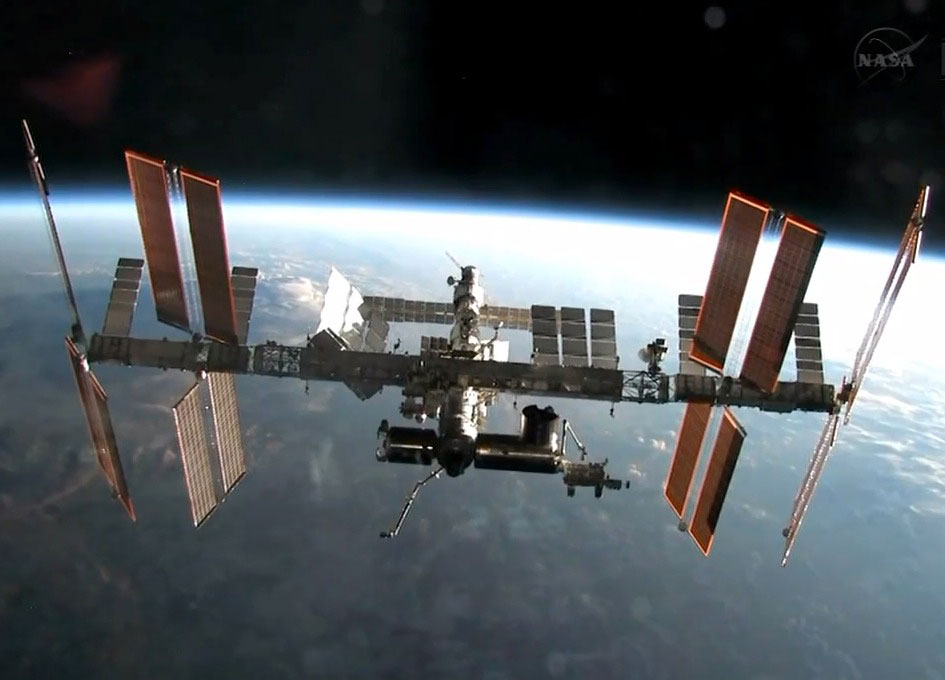 Today – Gravitational References for Sensitomotor Performance (GRASP): The crew reconfigured the GRASP equipment from the seated configuration to the quasi-free floating configuration this morning.
They will compete three science operational runs in the new configuration. GRASP is intended to provide insight into how the central nervous system integrates information from different sensory modalities, encoded in different reference frames, in order to coordinate movements of the hand with objects in the environment. Performed on the ISS, in conjunction with a series of experiments performed on the ground, GRASP explores the interaction between all of the various sensory cues.
Human Research Program (Biochemical Profile, Marrow, and Repository): This morning a 55S crewmember collected blood samples for their Flight Day 15 session of the Biochem Profile and Repository investigations and their Flight Day 10 session of CSA's Marrow investigation. They also collected air samples yesterday and today.
The Biochemical Profile investigation tests blood and urine samples obtained from astronauts before, during, and after spaceflight. Specific proteins and chemicals in the samples are used as biomarkers, or indicators of health. Post-flight analysis yields a database of samples and test results; which scientists can use to study the effects of spaceflight on the body.
Marrow looks at the effect of microgravity on bone marrow. It is believed that microgravity, like long-duration bed rest on Earth, has a negative effect on the bone marrow and the blood cells that are produced in the bone marrow.
Repository is a storage bank used to maintain biological specimens over extended periods of time and under well-controlled conditions. The repository supports scientific discovery that contributes to our fundamental knowledge in the area of human physiological changes and adaptation to a microgravity environment and provides unique opportunities to study longitudinal changes in human physiology spanning many missions.
Nanoracks-Remove Debris Satellite (RemDeb): The crew depressurized and vented the Japanese Experiment Module Airlock today as part of the preparation for the deploy of the RemDeb planned for June 20th. RemDeb demonstrates an approach to reducing the risks presented by space debris or "space junk". Collisions in space may have serious consequences, but research has shown that removing the largest debris significantly reduces the chance of collisions. NanoRacks-Remove Debris demonstrates using a 3D camera to map location and speed of debris and deploying a net to capture and de-orbit simulated debris up to 1m in size. Ground experts will then analyze video of the demonstration runs.
Radiation Dosimetry Inside ISS-Neutron (RaDI-N): After retrieving the RaDI-N hardware from a Russian crewmember, a USOS crewmember deployed eight Space Bubble Detectors in the Japanese Experiment Module (JEM). This Canadian Space Agency (CSA) investigation measures neutron radiation levels in the ISS. Bubble detectors are designed to only detect neutrons and ignore all other radiation.
Oxygen Generation System (OGS) Hydrogen (H2) Sensor Orbital Replacement Unit (ORU) Remove & Replace (R&R): Today the crew R&Rd the OGS H2 sensor ORU and cleaned the associated Avionics Air Assembly (AAA) inlet. This is routine maintenance, required every 201 days of sensor operation, is necessary due to the nominal degradation of H2 sensor material. Ground specialists are currently conducting a checkout of the newly installed sensor.
Cygnus On-Board Training (OBT): The 54S crew, Prokopev, Gerst and Auñón-Chancellor, completed a training session to practice emergency response actions that need to be taken with Cygnus attached. The crew regularly completes OBT sessions to refresh their familiarity with the various emergency procedures that can result from off-nominal events onboard ISS.
Mobile Servicing System (MSS) Operations: This evening ground controllers will unstow the Special Purpose Dexterous Manipulator (SPDM) and conduct a Mobile Transporter translation from Worksite (WS)3 to WS7. Once complete, operators will start configuring the Space Station Remote Manipulator System (SSRMS) for Remove Debris (RemDeb) extraction, scheduled for tomorrow, and deploy later this week.
Today's Planned Activities:
All activities are complete unless otherwise noted.
Marrow Breath And Ambient Air Sample Collection
Cargo prep for Cygnus
МО-8. H/W set up
Body Mass Measurement – BMMD
HRF Generic Urine Collection
CSA Generic HRF Centrifuge Frozen Blood Collection
HRF Generic Sample MELFI Insertion Operations
МО-8. Closeout ops
CSA Generic HRF Centrifuge Frozen Blood Collection Configuration
CSA Generic HRF Centrifuge Frozen Blood Collection Spin Conclude
Regenerative Environmental Control and Life Support System (ECLSS) Recycle Tank Drain
Photograph the Ventilation Assembly in the Orbital Compartment of Soyuz #738
CSA Generic Sample MELFI Insertion
CSA Generic HRF Centrifuge Frozen Blood Collection Conclude And Stow
Total Organic Carbon Analyzer (TOCA) Water Recovery System (WRS) Sample Analysis
JEM Airlock Depressurization
GRASP configuration change from seated to quasi free floating
Microgravity Measurement Apparatus (MMA) Cable Replace
PROFILAKTIKA-2. Experiment setup.
Electrostatic Levitation Furnace(ELF) Sample Cartridge Photo taking
Wastewater Storage Tank Assembly (WSTA) Fill
Charge Soyuz #738 HERO3 GoPro Batteries (6 items) (start)
GRASP science performance in quasi free floating configuration
JAXA MT PCG Ice Brick Insertion.
PROFILAKTIKA-2. Assistance with МО-3 Test.
HRF Generic Sample MELFI Retrieval And Insertion Operations
PROFILAKTIKA-2. Experiment Ops on БД-2 Treadmill (MO-3 Test in Passive Mode).
Urine Receptacle (UR) and Insert Filter (IF) Remove and Replace
PROFILAKTIKA-2. Closeout Ops.
Audio conference with participants in "First in Space" shift of All-Russia Children Center "Ocean"
PROFILAKTIKA-2. Hygiene procedure
Health Maintenance System (HMS) Hardware Gather
JEM Airlock Vent
MELFI 1 Nitrogen Pressure Check
MATRYOSHKA-R. BUBBLE dosimeter setup and activation.
MELFI 2 Nitrogen Pressure Check
JEM Airlock Vent Confirmation
MELFI 3 Nitrogen Pressure Check
Radiation Dosimetry Inside ISS-Neutrons Hardware Handover
MATRYOSHKA-R. BUBBLE dosimeter handover to USOS
Radiation Dosimetry Inside ISS-Neutrons
MATRYOSHKA-R. BUBBLE-dosimeters initialization and deployment for exposure
GRASP stow
Photo/TV Columbus AVN443 HD Encoder power cycle
BEAM Intermodule Ventilation (IMV) Flow Measurement Survey
Recycle Tank Remove and Replace
Manufacturing Device Feedstock Canister and Extruder Exchange
SEPARATSIA [СРВ-У] Distillation and Log File Downlink.
Vacuum Cleaning of ПФ1-4 Dust Filters Cassettes in the SM (panels 448, 449, 245, 246)
Oxygen Generation System (OGS) Hydrogen Sensor R&R
HRF Generic Frozen Blood Collection Setup
ISS Crew Orientation
MARES Pantograph disassembly from Main Box
SM Ventilation Subsystem Preventive Maintenance. В1 group
СОЖ maintenance
Charge Soyuz #738 HERO3 GoPro Batteries (6 items) (end)
ПН28-120 Current Converter Protective Screen Cleaning
Tightening Fast-Removal Screw Clamps on SM Aft – Progress 438 Interface
Transfer Cygnus Cargo Operations
Checking БД-2 treadmill carriage position
Total Organic Carbon Analyzer (TOCA) Sample Data Record
MELFI Icebrick Transfer 1 [Aborted]
Cygnus Cargo Operations Conference
Glacier Desiccant Swap
OBT. Cygnus (OA-9) Emergency Procedure Review
Completed Task List Activities:
Everywear App Configuration [Completed GMT 168]
OPTIMIS Viewer Changes Review [Completed GMT 168]
WHC KTO Replace [Completed GMT 168]
55S Unpack [Completed GMT 167]
Ground Activities:
All activities are complete unless otherwise noted.
JEMAL depress and vent
MT translation from WS3 to WS7
OGS H2 sensor R&R
Three-Day Look Ahead:
Tuesday, 06/19: EMU Loop Scrub, EMU Conductivity Testing, Emergency Hardware OBT, Myotones, UOP Cable Swap, MERLIN3 Relocate, ISS HAM Radio Pass, ACME Burner Clean
Wednesday, 06/20: 54S Emergency Descent Drill OBT, SUBSA sample troubleshooting, Eye Exams, MAX CEVIS, JEM TEPC Removal, Acoustic Monitor Survey
Thursday, 06/21: MPEP Adapter Install, Eye Exams, RFID Install, MAX CEVIS, PEPS Inspection, Crew Handover, N3 EWC Checkout
QUICK ISS Status – Environmental Control Group:
Component – Status
Elektron – On
Vozdukh – Manual
[СКВ] 1 – SM Air Conditioner System ("SKV1") – Off
[СКВ] 2 – SM Air Conditioner System ("SKV2") – On
Carbon Dioxide Removal Assembly (CDRA) Lab – Operate
Carbon Dioxide Removal Assembly (CDRA) Node 3 – Standby
Major Constituent Analyzer (MCA) Lab – Operate
Major Constituent Analyzer (MCA) Node 3 – Idle
Oxygen Generation Assembly (OGA) – Stop
Urine Processing Assembly (UPA) – Standby
Trace Contaminant Control System (TCCS) Lab – Full Up
Trace Contaminant Control System (TCCS) Node 3 – Off