NASA Space Station On-Orbit Status 15 October 2019 – Health Research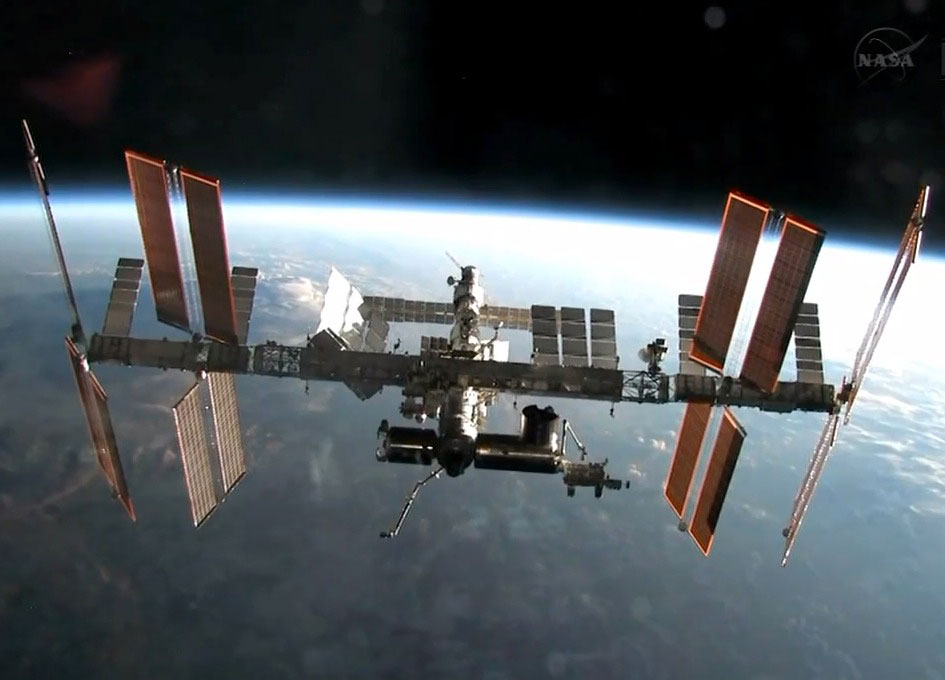 NASA has set the first all-female spacewalk for later this week while the Expedition 61 crew works life science today aboard the International Space Station. A new commercial cargo vehicle is also being readied for future delivery missions.
NASA astronauts Christina Koch and Jessica Meir are readying their spacesuits and reviewing procedures for a spacewalk planned later this week. The duo will venture outside the station to replace a power controller that failed over the weekend. The crew is safe as science and maintenance operations continue normally on the orbiting lab.
Commander Luca Parmitano joined Flight Engineer Andrew Morgan and studied how the lack of gravity affects perception during Monday afternoon. The duo took turns wearing virtual reality goggles while clicking a mouse to assess their distance perception using visual cues.
Over in the Russian segment of the station, cosmonauts Alexander Skvortsov and Oleg Skripochka focused mainly on life support maintenance tasks. The duo swapped out hardware in the air conditioning system and checked out smoke detectors.
Back on Earth, the primary vehicle structure of Sierra Nevada's Dream Chaser spacecraft was delivered to the company's Colorado production facility today. Dream Chaser is scheduled to begin ferrying cargo to and from the International Space Station in 2021.
On-Orbit Status Report
US Extravehicular Activity (EVA) Battery Charging Discharging Unit (BCDU) 2B2 Replacement Preparations: During periods of insolation, the BCDU extracts power from the primary power bus, conditions this power and charges the batteries. During periods of eclipse, the BCDU extracts power from the battery bus, conditions this power and supplies it to the primary power bus at a voltage regulated to a level set by the MDM. Over the weekend when activating the new Li-Ion 2B2 battery BCDU, the converter close command failed; ground teams have determined that replacing the BCDU with a new spare will restore full functionality to the Channel 2B. Today, the ISS crew completed procedure reviews and EVA tool configuration in preparation for a BCDU 2B2 Remove and Replacement EVA.
T2 Treadmill Maintenance: Today, the ISS crew completed the nominal 6-month maintenance and inspection, which included performing activities such as removing and cleaning closeout panels, inspecting treadmill belt slats and screws, vacuuming inside the rack and around treadmill, cleaning the treadmill filter screen, reinstalling the close-out panels and taking some acoustic measurements. The 6-month maintenance allows the T2 treadmill exercise device to keep operating nominally as well as making note of any wear and tear.
Mobile Servicing System (MSS) Operations: Over the weekend, the Robotic Ground Controllers powered up the Mobile Serving System (MSS) to perform a swap of the Remote Power Controller Modules (RPCMs) in slots S34BE and S03AD in order to recover main power of the Express Logistic Carrier (ELC) #4. The Special Purpose Dexterous Manipulator (SPDM) Arm 1 utilized the Robot Micro Conical Tool 1 (RMCT 1) and extracted the RPCM in slot S03AD on the first pull attempt. Next, SPDM Arm2 using RMCT2 extracted the RPCM in slot S34BE using the new Auto-wiggle technique. Then SPDM Arm 1 using RMCT 1 installed the fully functional RPCM in S34BE slot in a single push maneuver followed by SPDM Arm 2 installing the degraded RPCM in S03AD also in a single push. The robotic RPCM Remove & Replace restored main power to the ELC #4.
Payloads:
Analog-1 (Investigation of the Use of an Advanced Human-Robotic Interface in Enhancing the Performance of Teleoperated Robotic Field Geology): As part of the preparation for the Analong-1 investigation which arrives later, the crew inserted the USB drive into HV4 (hypervisor). Space is such a harsh place for humans and machines that future exploration of the Solar System may involve sending robotic explorers to "test the waters" on uncharted planets before sending humans. The parent METERON project is a European initiative to help prepare for future human-robotic exploration missions to the Moon, Mars, and other celestial bodies. The project is organized around a series of experiments as preparatory steps towards gaining the experience needed, through adaptation of the traditional ways of working, to effectively and efficiently support operations of human and robotic combined elements on a planetary surface.
NutrISS: The crew set up the NutrISS Device and related equipment and executed a Bioelectrical Impedance Analysis (BIA) measurement. In the NutrISS investigation, a periodic assessment of body composition (body weight, fat mass and fat-free mass) during spaceflight aboard the ISS is carried out using a dedicated bio-impedance analysis device to allow for the measurement of long-term energy balance modification over time. Based on this data, it is hypothesized that an adjusted diet maintaining a near-neutral energy balance, and/or increasing protein, intake can limit microgravity-induced bone and muscle loss of crew members.
Payload NAS hard Drive and cable swap: The crew performed the necessary activities to replace a cable and a hard drive. The replacement of the cable is expected to regain a redundant Ethernet path and the hard drive is being replaced due to the number of errors associated with it. The Payload Network Attached Storage (NAS) is a file server with 5 hard drive bays that provides a total of 20 terabytes of raw disk space when used with 4 terabyte hard drives. Among other capabilities, the PL NAS supports user file transfers from their machine via web browser, and allows onboard ISS systems to access a shared folder location on the NAS.
Vection: The crew setup up the appropriate support hardware and performed their VECTION Experiment sessions. Vection is made up of three tasks that test how orientation perception, motion processing, and depth perception are affected by long duration 0g and return to 1g. The objective of the study is to determine to what extent an astronaut's ability to visually interpret motion, orientation, and distance may be disrupted in a microgravity environment, and how it may adapt, and how it may be changed upon return to Earth. Multiple experimental time points inflight and upon return to Earth allows for the adaptation and recovery process to be investigated.
Completed Task List Activities Completed over the Holiday Weekend:
Virtual Reality Training (VRT) EVA Simplified Aid for EVA Rescue (SAFER)
PMM-PFCS-Relocate
JEM HTV-8 Stowage Consolidation Part 3
iPad Relocate
Go Pro Battery Charging
Rack Transfer Big Picture Words Review
SSC2 (SM cabin starboard) and SSC3 (SM central post) swap
AC Dry Vacuum Cleaner debris bag and/or filter R&R
EVA Procedure Review
HTV8 Cargo Transfers
WHC KTO Replace (GMT 288)
Ground Activities:
All activities are complete unless otherwise noted.
Payload Ground Support Operations
Mobile Support System RPCM R&R
Look Ahead:
Wednesday, 10/16 (GMT 289)
Payloads:
Astrobee battery charge
Rodent Research hardware audit
Veg-04B plant check
Systems:
EVA Procedure Review
EVA Conference
EVA Tool Audit
73P Transfer
EVA REBA Install
Thursday, 10/17 (GMT 290)
Payloads:
Analog-1
BEST
Food Physiology
Standard Measures
Veg-04B
Systems:
EVA Procedure Review
EVA Debrief and Conference
IMS Edit and Stow Conference
Friday, 10/18 (GMT 291)
Payloads:
ER6 software load
ISS HAM pass
Microgravity Crystals final observation
SAIBO panel installation
Standard Measures
Veg-04B check
Systems:
IFM WHC UR/IF R&R
RSR Transfer
HTV Transfer Cargo Ops
EVA EMU Water Charging
EVA Metox Regen
Today's Planned Activities:
All activities are complete unless otherwise noted.
Preparation of Reports for Roscosmos web site and social media
T2 Crew Handover
URAGAN. Observations and photography
Photographing of behind the SM panels space
ECON-M. Observations and photo (Task list)
Treadmill 2 (T2) Photo/TV Reminder
MO-8. Configuration Setup
Body Mass Measurement – BMMD
Bioimpedance Assembly Measurement
Checkout of Virus Definition File Update on Auxiliary Computer System (???)
Laptops and Report
Health Maintenance System (HMS) Vision Test
MO-8. Closeout Ops
SEPARATION. Activation of [???-?-??] system. Initiating distillation cycles.
HMS Tonometry Test Setup
Freon Leak Analyzer/Detector (???) setup for operation.
HMS Tonometry Test Crew Medical Officer (CMO)
Health Maintenance System (HMS) Vision Questionnaire
Photo TV Battery Charge Initiation
ISS HERA Hardware Reactivation
HMS Tonometry Test Subject
LSG Work Volume Deploy
Filling (separation) of ??? [???] for Elektron or ???-??
Smoke Detector ??-7? No.2 deactivation and panel 204-205 removal.
Environmental Health System (EHS) Total Organic Carbon Analyzer (TOCA) Water Recovery System (WRS) Sample Analysis
MERLIN 2 Desiccant Swap
Analog-1 USB Insertion
HMS Tonometry Test Stow
Health Maintenance System (HMS) Vision Test
Change-out of Air Conditioner System [???1] Heat Exchangers (???).
Health Maintenance System (HMS) Vision Questionnaire
??? maintenance
Private Psychological Conference (PPC)
Opening of Node 3 MCA Hand Valve 01
Rodent Research Life Science Glovebox Clean up
ESA Weekly crew conference
On MCC Go Change-out of [???1] Heat Exchangers (???). Demating telemetry connectors.
Treadmill 2 (T2) Exercise Video Equipment Setup
Battery Stowage Assembly (BSA) Operation Initiation
Change-out of Air Conditioner System [???1] Heat Exchangers (???).
Health Maintenance System (HMS) Vision Test
Health Maintenance System (HMS) Vision Questionnaire
Food Acceptability Survey
Metal Oxide (METOX) Regeneration Termination
Charging EVA Camera D4 Battery
Extravehicular Activity (EVA) Procedure Review
Replacement of Air Conditioner System [???1] Heat Exchangers (???). Extravehicular Mobility Unit (EMU) Long Life Battery (LLB) Initiate
Public Affairs Office (PAO) High Definition (HD) Config Columbus Setup
On MCC Go Replacement of [???1] Heat Exchangers (???). Mating telemetry connectors.
PAO Preparation
Replacement of Air Conditioner System [???1] Heat Exchangers (???).
Public Affairs Office (PAO) Event in High Definition (HD) in Columbus
Environmental Health System (EHS) Total Organic Carbon Analyzer (TOCA) Sample Data Record
LSG Work Volume Stow
Photo TV Battery Charge Swap
T2 SSC Relocation for Alternative Power Chain Setup
Payloads Network Attached Storage (NAS) Cable Swap
Extravehicular Activity (EVA) Procedure Review
Payloads Network Attached Storage (NAS) Hard Drive Swap
Freon Leak Analyzer/Detector (???) operation session. ??? detector closeout
Vection Hardware Deployment
Closure of Node 3 MCA Hand Valve 01
Extravehicular Activity (EVA) Tool Configuring
Transfer Operations
SEPARATION. Deactivation of [???-?-??] system. Log-file downlink.
Vection Experiment Session
Vection Crew Handover
Countermeasures System (CMS) Treadmill 2 (T2) 6 Month Maintenance
VECTION Hardware Teardown
Extravehicular Mobility Unit (EMU) Resize
IMS Delta File Prep
Vacuum cleaning of ??7 screens on ???4 behind FGB panel 108
Evening Preparation Work
Glacier Desiccant Swap
Photo TV Battery Charge Deactivation
T2 SSC Relocation for Alternative Power Chain Return
Acoustic Monitor Data Transfer
Extravehicular Activity (EVA) Procedure Conference
Vection Flash Drive Stow
Daily Planning Conference