NASA Space Station On-Orbit Status 11 September, 2020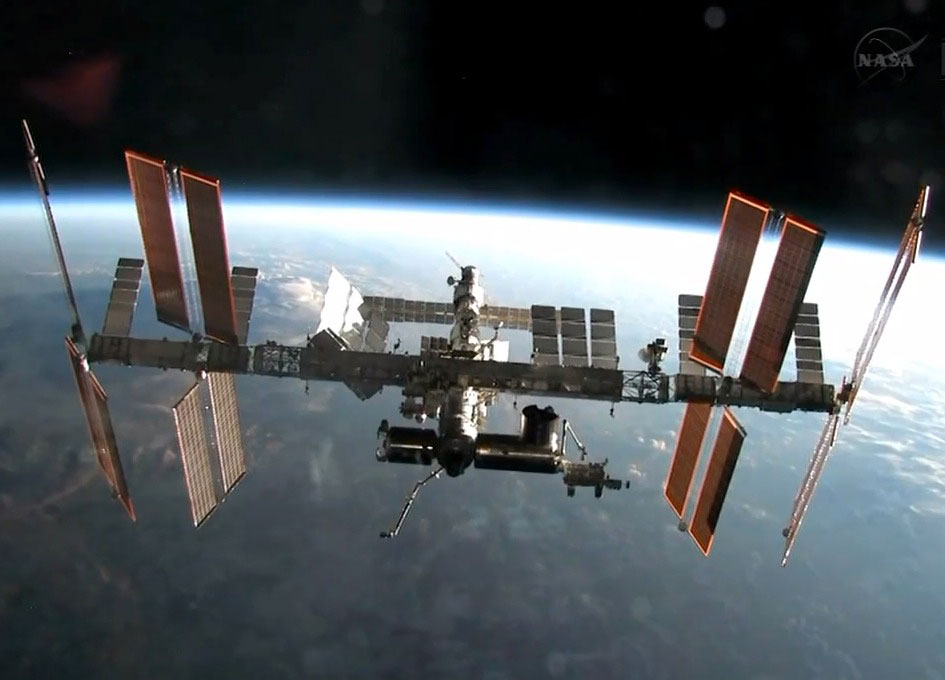 Aboard the International Space Station, a flurry of research activity is underway before the Expedition 63 crew winds down to the weekend, along with essential maintenance tasks to ensure the longevity of the orbiting laboratory.
Commander Chris Cassidy crossed off a few housekeeping items, like replacing the carbon dioxide sensor for the Cell Biology Experiment Facility and stowing Rodent Research hardware for return on a future SpaceX mission, in addition to completing additional tests runs and closeout activities in support of the Fluidics experiment. Future spacecraft and their fuel systems will get a boost from this investigation, which uses the measurement of liquid displacement within a sphere to gather observations in how fluids behave inside a fuel tank.
Cassidy also spent time working with the Advanced Plant Habitat mounted in the station's EXPRESS rack to gather sound-level measurements. The habitat itself provides a large and enclosed chamber with stringent environmental controls, designed to give commercial and other bioscience research suitable conditions in which to grow despite the hostile environment to the station's exterior: space.
Flight Engineers Anatoly Ivanishin and Ivan Vagner, cosmonauts from the Russian space agency Roscosmos, worked together to complete life-support hardware maintenance tasks such as inspecting and inventorying the gear. Ivanishin continued the routine chores, cleaning out the ventilation system within the Zvezda service module and also doing a check of Russian video-recording equipment.
After setting up an electrocardiogram for a 24-hour survey of his own heart health, Vagner terminated the test. In addition to investigating the effects of long-duration space travel on astronauts, he continued with setup and observation of our own planet using Earth photography. While the universe remain the ultimate unknown, there are still phenomena on Earth that scientists do not fully understand. For those particular mysteries, observations from station could prove eminently useful.
On-Orbit Status Report
Payloads
CBEF (Cell Biology Experiment Facility): The crew replaced the CO2 sensor on the 1G CBEF hardware. The CBEF is a Japan Aerospace Exploration Agency (JAXA) subrack facility; it is an incubator with an artificial gravity generator. CBEF is housed in the Saibo (living cell) Experiment Rack with the Clean Bench (CB).
Rodent Research-19 (RR-19): The crew stowed the Rodent Habitat-4. Mighty Mice in Space: Preclinical Evaluation of a Broad Spectrum Myostatin Inhibitor to Prevent Muscle and Bone Loss Due to Disuse uses rodent models on the ISS to investigate the potential benefits of targeting the myostatin (MSTN) and activin signaling pathways to prevent skeletal muscle and bone loss during spaceflight and on the recovery of muscle and bone following return to Earth. This research could provide valuable preclinical data to support clinical trials for MSTN therapies for a wide range of conditions that affect muscle and bone health. Such research is particularly important for conditions that involve disuse muscle atrophy (muscle wasting due to immobility or lessened activity)–for example, patients recovering from hip fracture surgery, intensive care patients, and the elderly.
FLUIDICS (Fluid Dynamics in Space): The crew performed two additional science runs, then performed closeout steps to de-install the FLUIDICS hardware. The FLUIDICS investigation evaluates the Center of Mass (CoM) position regarding a temperature gradient on a representation of a fuel tank. The observation of capillary wave turbulence on the surface of a fluid layer in a low-gravity environment can provide insights into measuring the existing volume in a sphere.
PBRE-2 (Packed Bed Reactor Experiment-2): The crew swapped out the harddrives in the PBRE unit as the Disk was running of out space from data collection. The full disk was prepared for return. The PBRE-2 investigates the forces acting on and created by a gas and a liquid flowing simultaneously through a column filled with glass spheres in microgravity. Known as two-phase flow, this side-by-side movement of a gas and liquid is used in a variety of space-based systems and equipment. Results could help improve the design of future mass and heat transfer equipment used in space.
Rueben Service Pack Deployment: This Service Pack provides updates for the following: Network Attached Storage (NAS): Software Loads & Puppet Content, all Virtual Machines (VM), and the following physical machines: SSC Client, MedOps, and Gigastor. The Service Pack deployment procedures were executed yesterday. Some residual cleanup is in work.
Systems
Airlock Control and Display Unit (ACDU) Cable Replacement: The crew reconfigured ACDU Remoter Controller in preparation for Valve Box Remote Controller installation.
Rodent Research Locker Preparations: The crew prepared a Single Stowage Locker which will be used to pack Rodent Research hardware returning on SpX.
Completed Task List Activities:
UPA DA R&R
WHC KTO replace
Today's Ground Activities:
All activities are complete unless otherwise noted.
MSS operations
ACDU cable R&R support
Look Ahead Plan
Saturday, 9/12 (GMT 256)
Payloads:
Off duty
Systems:
Off duty
Sunday, 9/13 (GMT 257)
Payloads:
Off duty
Systems:
Off duty
Monday, 9/14 (GMT 258)
Payloads:
FIR-LMM Target Config (NASA)
CIR ACME Hardware replace for BRE (NASA)
Systems:
Acme MWA prep
Today's Planned Activities:
All activities are complete unless otherwise noted.
Commemorative Activity
CBEF (Cell Biology Experiment Facility) door opening
CBEF (Cell Biology Experiment Facility) CO2 sensor replacement
CBEF (Cell Biology Experiment Facility) door closing
Monthly health check of RS video recording equipment
JEM Common Gas Support Equipment (CGSE) Lower CO2 Gas Supply Start
24-hour ECG recording (termination)
Fluidics Run 2 preparation
XF305 Camcorder Setup
ACDU Cable Reconfiguration
SCENARIY. Observation and photography using photo equipment
Measuring temperature of ????-1? (A308) housing and connectors on battery module No.8
Packed Bed Reactor Experiment Hard Drive Exchange
Fluidics Run 2 execution
Preventive maintenance of SM ventilation subsystem. Group ?
Comm configuration from MRM1
SEPARATION. Urine distillation in auto mode. Tagup with specialists
Single Stowage Locker Prep
Comm reconfig for nominal ops
??? Maintenance
Rodent Research Habitat Stow
IMS delta file prep
Fluidics Run 3 execution
Astrobee Off
JPM Acoustic Monitor Noise Survey Plan with the Advanced Plant Habitat (APH) Payload
Astrobee Stowage Clear
JPM Acoustic Monitor Noise Survey Plan with the Advanced Plant Habitat (APH) Payload
Food Physiology Crew Diet Briefing
Health Maintenance System (HMS) ISS Food Intake Tracker (ISS FIT)
JPM Acoustic Monitor Noise Survey Plan with the Advanced Plant Habitat (APH) Payload
Fluidics Closeout Activities
SEPARATION. Closeout Ops
Fluidics Ending of data copy and T61p Laptop stowage
URAGAN. Installation and activation of Auto Orientation System for Video Spectral Equipment (SOVA) and photo equipment
Urine Transfer System Offload EDV Swap
CCE Preparation
Crew Choice Event Set Up
Crew Choice Event