NASA Space Station On-Orbit Status 1 June 2017 – Weather Scrubs Dragon Resupply Launch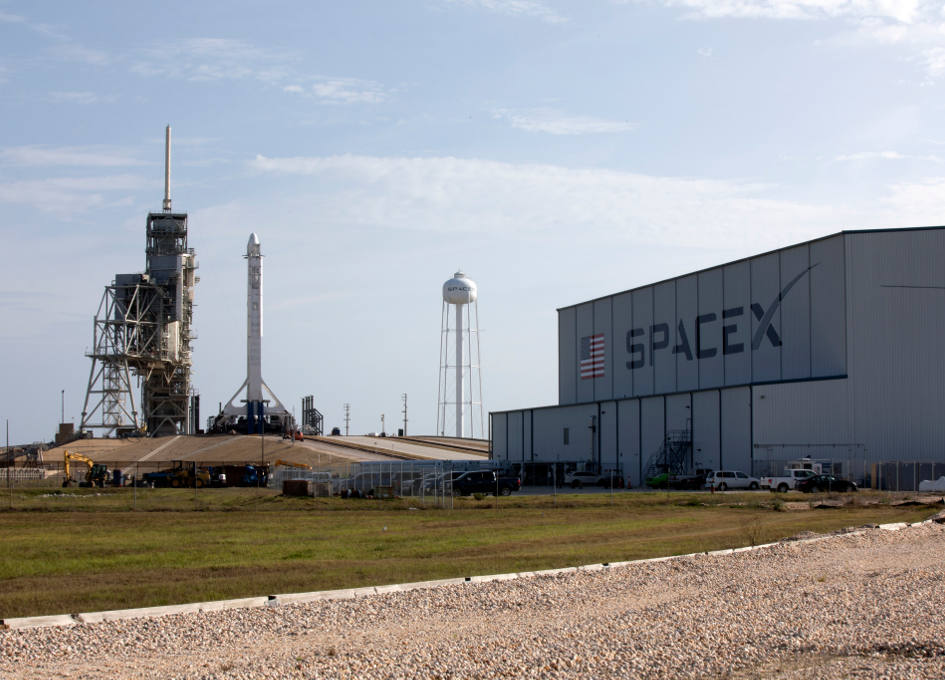 The launch of the SpaceX Falcon 9 rocket and the Dragon cargo craft was scrubbed today because of lightning in the vicinity of the launch pad. The next launch opportunity for SpaceX is on Saturday, June 3 at 4:07pm Central time, 5:07pm Eastern time. NASA TV coverage will begin at 3:30pm CT, 4:30pm ET.
This clears the way for the Orbital ATK Cygnus cargo craft to be unberthed from the nadir port of Unity on Sunday, June 4. NASA TV coverage on Sunday of Cygnus' departure will begin at 0730 CT. Release of Cygnus is scheduled at 0810 CT. Cygnus will remain in orbit for a week in support of scientific experiments and will deorbit on Sunday, June 11.
A launch of the SpaceX Dragon cargo craft Saturday will result in its arrival at the ISS on Monday, June 5 for a capture at 0900 CT. NASA TV coverage will begin at 0730 CT. There will be no installation coverage.
On-Orbit Status Report
SpaceX (SpX)-11 Launch: SpX-11 is scheduled to launch today at 4:55 pm CDT. Pending a successful launch, capture and berthing are planned for Sunday, June 4th at 9:00am CDT.
Rodent Research-5 (RR-5): The crew unpacked, installed and configured four Animal Habitats and configured the Microgravity Science Glovebox (MSG) for RR-5 operations to be performed after arrival of rodents and additional hardware and materials on SpaceX-11. The Ground team successfully completed a software checkout of all the Habitats.
DOSIS 3D: The crew de-installed DOSIS 3D passive detectors and handed them over to a Russian crewmember for packing for return on Soyuz 49S. Data from the various active and passive radiation detectors are used in the determination of the radiation field parameters absorbed doses and dose equivalents inside the ISS. A concise three dimensional (3D) dose distribution map of all the segments of the ISS will be developed based on this data and data from JAXA and NASA monitoring devices.
Matiss: The crew de-installed the four Matiss Sample Holders from the Columbus module for return on 49S. The MATISS experiment investigates the antibacterial properties of materials in space to see if future spacecraft could be made easier to clean. The experiment aims to understand the mechanisms of attachment of biofilms in microgravity conditions. MATISS objectives include simplification of decontamination operations to save crew time and validation of innovative surfaces for use in future spacecraft.
ISS Change of Command: In preparation for 49S departure on Friday, Peggy Whitson handed over command of the ISS to Fyodor Yurchikhin. During this event, the entire crew discussed with Mission Control Center (MCC)-Houston and MCC-Moscow Flight Control their roles and responsibilities for the timeframe between the Change of Command event and tomorrow's 49S departure. Following the Change of Command, the new Commander's Soyuz crew became prime for emergencies.
Today's Planned Activities
All activities were completed unless otherwise noted.
Recharging Soyuz 733 Samsung PC Battery
Soyuz 733 Stowage Ops and completing the right seat container packing Note 5
CASKAD. Connecting Anabioz Incubator to ??? and Power Up
Rodent Research Habitat Install
DOSIS 3D Passive Detectors De-Installation from Columbus (10 PDPs and 1 TDP).
ISS RAM Handover to RS Crew for Soyuz Return
On-Board Training (OBT) Dragon Emergency Review
DOSIS 3D Passive Detector Pouch handover to Russian crew for download of dosimeters with Soyuz.
Deinstallation of Matiss Sample Holders
Rodent Research Habitat Install
CASKAD. Starting Anabioz No. 2 Battery Charge
STRUKTURA. Deactivation of crystallization process Photography
Cyclops ICE Experiment Photos
Rodent Research Habitat Install
STRUKTURA. Transfer of Luch-2 bag to Soyuz 733
Group Combustion Module (GCM) Gas Bottle Unit Air (GBU) Change
HRF Generic Ambient Blood Collection Setup
Replacement of urine receptacle (??) and filter-insert (?-?) in ???. [???] Activation after Replacement
Combustion Integrated Rack Alignment Guide Install
Soyuz 733 right seat container transfer completion report (S-band)
Combustion Integrated Rack Upper Rack Doors Open
Signing ISS RS Handover Protocol
On-Board Training (OBT) Dragon Emergency Review
Combustion Integrated Rack Manifold Bottle Replacement
Ultrasound 2 HRF Rack 1 Power On
Crew Departure Preparations for Return to Earth
Rodent Research Node 2 Camcorder Video Setup
Combustion Integrated Rack Upper Rack Doors Close
Rodent Research Microgravity Science Glovebox LSAH Setup
Terminate Soyuz 733 Samsung PC Battery Recharge
VHF2 Comm Test from Soyuz 733 via RGS
Health Maintenance System (HMS) Ultrasound 2 Scan Prep
Health Maintenance System (HMS) Ultrasound 2 Scan
Health Maintenance System (HMS) Ultrasound 2 Data Export
Group Combustion Module (GCM) Gas Bottle Unit Air (GBU) Leak Check
Public Affairs Office (PAO) High Definition (HD) Config LAB Setup
Change of Command
Health Maintenance System (HMS) Stow
Reminder HRF Generic Ambient Blood Collection
Reminder Rodent Research Thermal Consideration
Soyuz 733 [??] cooling down prior to descent
Reminder 1 HRF Generic Saliva Collection
Completed Task List Items
None
Ground Activities
All activities were completed unless otherwise noted.
RR5 Habitat Install support
Change of Command
Three-Day Look Ahead:
Friday, 06/02: 49S undock/landing, OBT Dragon vehicle ops, Zbook deploy
Saturday, 06/03: Crew off duty, housekeeping
Sunday, 06/04: SpX-11 capture/berthing/vestibule outfitting
QUICK ISS Status – Environmental Control Group:
Component – Status
Elektron – On
Vozdukh – Manual
[???] 1 – SM Air Conditioner System ("SKV1") – Off
[???] 2 – SM Air Conditioner System ("SKV2") – Off
Carbon Dioxide Removal Assembly (CDRA) Lab – Standby
Carbon Dioxide Removal Assembly (CDRA) Node 3 – Operate
Major Constituent Analyzer (MCA) Lab – Manual
Major Constituent Analyzer (MCA) Node 3 – Operate
Oxygen Generation Assembly (OGA) – Process
Urine Processing Assembly (UPA) – Process
Trace Contaminant Control System (TCCS) Lab – Full up
Trace Contaminant Control System (TCCS) Node 3 – Off