NASA ISS On-Orbit Status 9 January 2015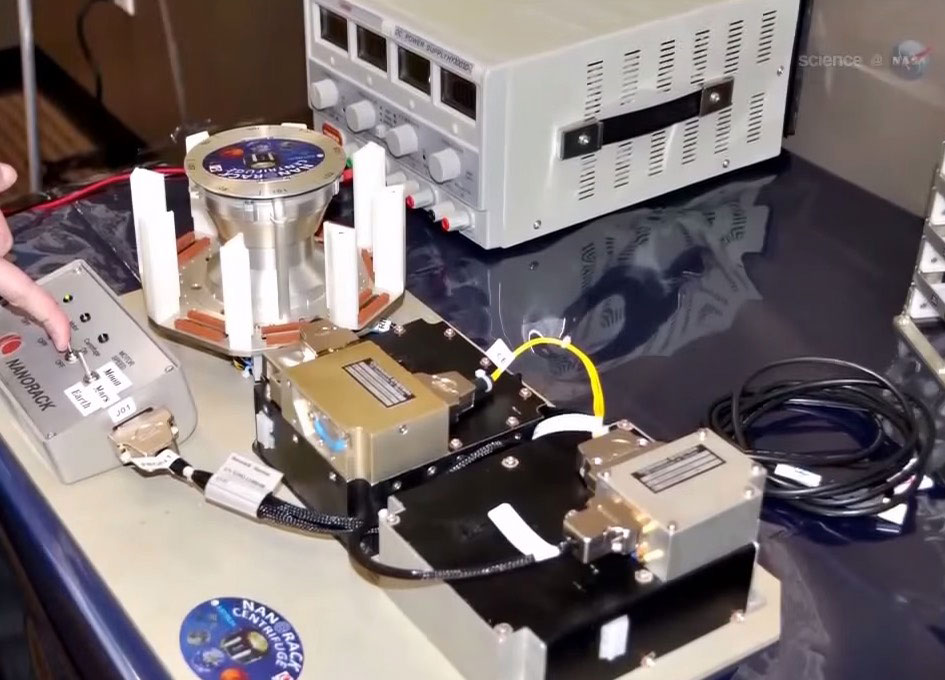 Today: Capillary Flow Experiments-2 (CFE-2): Virts reviewed CFE Vane Gap test operations and crew procedures.
He then completed the setup, which includes retrieving CFE hardware, preparing the Maintenance Work Area (MWA) work surface only, securing the CFE hardware on the MWA, and positioning the HD Camcorder. He prepared a CFE-2 Vane Gap vessel for testing by partially disassembling the vessel. Selected perforations were drained and dried and the vessel re-assembled using the MWA. The Capillary Flow Experiment-2 furthers research on wetting, which is a liquid's ability to spread across a surface, and its impact over large length scales in strange container shapes in microgravity environments. This work will improve our capabilities to quickly and accurately predict how related processes occur, and allow us to design better systems to process liquids aboard spacecraft (i.e., liquid fuel tanks, thermals fluids, and water processing for life support).
Automated Transfer Vehicle (ATV) Adapter Plate Installation and Cargo Operations: Wilmore and Cristoforetti installed adapter plates on several ATV rack fronts. These plates ensure that cargo bags stowed within the racks will not shift during ATV post-departure operations. In addition, cargo bags can be strapped to the adapter plates allowing for additional cargo to be stowed outside the rack volume. Two adapter plates will be temporarily stowed for later installation on two locations that require access just prior to hatch closure.
Acoustic Dosimeter Data Download: Acoustic dosimeter collection sessions have been performed this week using 2 dosimeters. During the week, each of the crewmembers wore a dosimeter for a 24 hour collection session. Following the last crew worn session, the dosimeters were deployed in the Japanese Experiment Module (JEM) Pressurized Module (JPM) starboard end cone closeout panel and in the Node 3 near the treadmill for 24 hours. Today, Cristoforetti retrieved the two dosimeters and downloaded the data from all the sessions to a Station Support Computer (SSC) and then stowed the dosimeters.
Urine Processing Assembly (UPA) Fault: Following the changeout of the Pressure Control Pump Assembly (PCPA) yesterday, the Waste and Hygiene Compartment (WHC) was configured for UPA processing and two successful process cycles have been completed.
Today's Planned Activities
All activities have been completed unless otherwise noted.
Installation of ATV Adapter Plates
BAR. Experiment Ops / r/g 7668
SM Air Sampling for FREON Using ??-1? Sampler
Collecting SM and FGB Air Samples Using ??-1? Sampler
MRM2 comm config to support voice comm for the experiment
Kulonovskiy Kristall Experiment Run. / r/g 7667
HAM radio session from Columbus
WSTA fill
Acoustic Dosimeters – Data Transfer and Stowage
MRM2 Comm Reconfig for Nominal Ops
CFE Procedure Review
KULONOVSKIY KRISTALL. Copy and Downlink Data via ???? / r/g 7667
CFE – Vane Gap Disassembly and Perforation Prep
OBSTANOVKA. Download of Obstanovka P/L Data from ???? to RSS1 (start) / r/g 7669
?3 Fan Screen Cleaning in DC1
EPO: Food and recycling
SPHERES smartphone navigation demo
ATV cargo ops
Food Frequency Questionnaire
Urine Transfer from EDV-U to WDS tank using compressor
ISS RS ODF Inventory Audit / r/g 7623
Cleaning ??1 and ??2 Air Ducts in DC1
WORF ELC battery replacement
D4 and D3 camera sensor cleaning
Food Frequency Questionnaire
Life On The Station Photo and Video / r/g 7290
CFE – Test Operations
OBSTANOVKA. Obstanovka P/L Data Download from ???? to RSS1 (termination) / r/g 7669
Download Pille Dosimeter Readings / r/g 7665
Completed Task List Items
ATV5 foam restow
Ground Activities
All activities have been completed unless otherwise noted.
Nominal commanding
Capacity Test for Battery Set 2B1 [In Work]
Three-Day Look Ahead:
Saturday, 01/10: SpaceX-5 Launch, Dragon ROBOT OBT, Weekly Cleaning, Crew Day Off
Sunday, 01/11: Crew Day Off
Monday, 01/12: Dragon Rendezvous, Capture, and Berth, Vestibule Outfitting, Node 2 CPA Removal
QUICK ISS Status – Environmental Control Group:
Component – Status
Elektron – On
Vozdukh – On
[???] 1 – SM Air Conditioner System ("SKV1") – On
[???] 2 – SM Air Conditioner System ("SKV2") – Off
Carbon Dioxide Removal Assembly (CDRA) Lab – Standby
Carbon Dioxide Removal Assembly (CDRA) Node 3 – Operate
Major Constituent Analyzer (MCA) Lab – Idle
Major Constituent Analyzer (MCA) Node 3 – Operate
Oxygen Generation Assembly (OGA) – Process
Urine Processing Assembly (UPA) – Standby
Trace Contaminant Control System (TCCS) Lab – Off
Trace Contaminant Control System (TCCS) Node 3 – Full up