NASA International Space Station On-Orbit Status 5 January 2017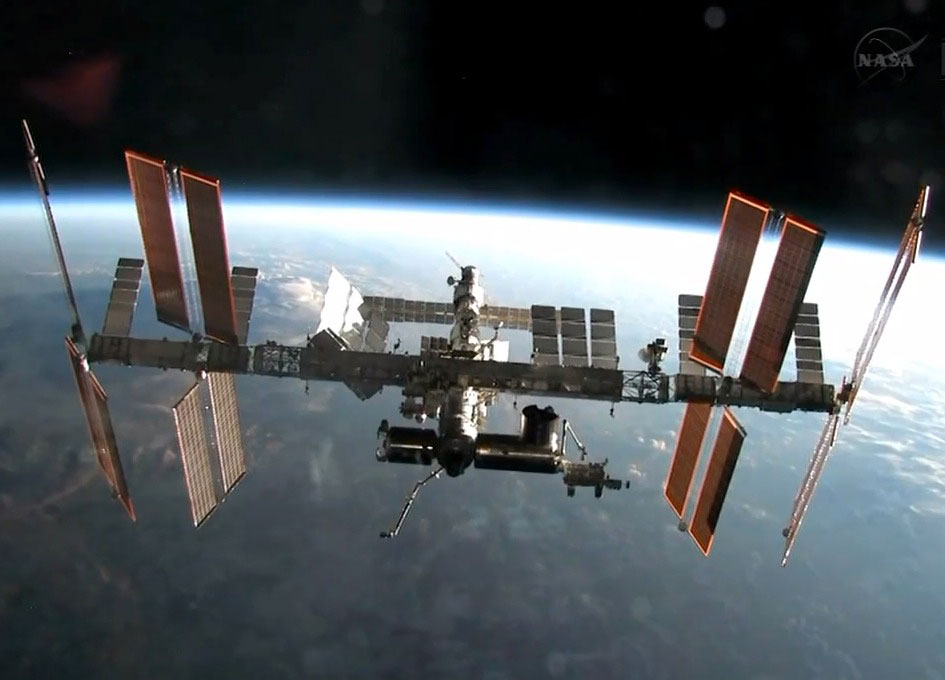 Two Expedition 50 astronauts are in final preparations for the first of two power maintenance spacewalks that starts Friday at 7 a.m. EST. Astronauts Shane Kimbrough and Peggy Whitson will stow and replace power gear during the first 6.5 hour spacewalk. The duo will work near the solar arrays on the starboard truss segment.
The two spacewalkers will be assisted by ESA astronaut Thomas Pesquet and cosmonaut Oleg Novitskiy from inside the International Space Station. Pesquet will conduct the second spacewalk Jan. 13 with Kimbrough to wrap up the battery installation work. The majority of the complex power upgrade work was done by controllers on the ground remotely using the Canadarm2 robotic arm and hand.
The three cosmonauts worked on an array of station maintenance tasks and advanced space experiments. Cosmonauts Andrey Borisenko and Sergey Ryzhikov researched how blood flow and respiration is affected by living in space. Novitskiy explored the station's magnetic field and how it affects navigation.
On-Orbit Status Report
Extravehicular Activity (EVA) Preparation: Today the crew performed final preparation for EMU EVA #38 (Channel 3A Battery R&R). Hatch open is scheduled tomorrow, Friday January 6th at 12:10 GMT (6:10 CST). Earlier today the crew completed the pre-EVA health status exams, final EVA tool configuration and procedure reviews. Ground specialists and the crewmembers participated in a conference to discuss any final questions. Finally, the crew prepared the Equipment lock for the EVA.
Mobile Servicing System (MSS) Operations: Wednesday evening, Robotics Ground Controllers powered up the MSS and operated the Space Station Remote Manipulator System (SSRMS) and the Special Purpose Dexterous Manipulator (SPDM) Body and Arm2 to stow the Robotic Offset Tool (ROST) back on the SPDM Tool Holder Assembly (THA). MSS performance was nominal.
European Space Agency (ESA) Education Payloads Operations (EPO) Status Checks: The crew performed a status check and photograph the progress of the three EPO experiments – Crisstal, Cataliss, and Ceres. The crew will took closeup photos of the crystals and catalyst reactions in Crisstal and Cataliss. For Ceres, the crew removed the box from the Veggie facility and photographed the growth of the plants and seed supports. Ceres, is devoted to the study of plant growth; lentil, mustard, and radish seeds were selected having met the required criteria of rapid germination, vertical growth, and resistance to long-term storage. Crisstal, aims to demonstrate the role of gravity in growing crystals, where in microgravity growth is the same in all directions, giving a perfect regular shape of the crystal. The crystal grows in a liquid solution from saturated Rochelle salt. The student designed experiment, Cataliss, aims to prove the influence of gravity on the catalytic reactions. For this purpose, the experiment operates from catalysis of enzymes and gelatin for reaction with a duration of three days.
Today's Planned Activities
All activities were completed unless otherwise noted.
Initiate EDV fill from PWD
Health Maintenance System (HMS) Periodic Health Status (PHS) Pre EVA Examination Setup
PP ?? check on the Central Post with CSA-CP
Cntr. ?1(?2) of RODNIK ??1(2) tank flush in Progress 433
Periodic Health Status (PHS) Pre EVA Examination
Formaldehyde Monitoring Kit (FMK) Stow Operation
Pre-EVA Periodic Health Status Examination – Stow
Regenerative Environmental Control and Life Support System (RGN) WSTA Fill
EDV Fill from PWD Term
Regenerative Environmental Control and Life Support System (ECLSS) Recycle Tank Fill Part 3
DAN. Experiment Ops
D?N. Experiment Ops Assist
Extravehicular Activity (EVA) Tool Configuring
ESA Weekly crew conference
Extravehicular Activity (EVA) Tool Audit.
Pille data downlink, pre USOS EVA Pille sensors placement
Delta file prep
Samsung Tablet charge on Soyuz 732
DAN. Experiment Ops
DAN. Experiment Ops Assist
Space Headaches – Weekly Questionnaire
Extravehicular Activity (EVA) Procedure Review
Extravehicular Activity (EVA) Procedure Conference
IVA Tools Kits Audit
Photodocumentation of the Crisstal and Cataliss experiments.
Equipment Lock (E-LK) Preparation
Photodocumentation of the EPO Pesquet Ceres
Samsung Tablet charge finish on Soyuz 732
ESA Monthly Management Conference
????-1? (?303) temperature check
Regenerative Environmental Control and Life Support System (RGN) WSTA Fill
??? heating fan grille cleaning in Soyuz 732
Stow items for disposal on Progress 433 (DC1), IMS update
????-1? temperature check (pos. ?303)
Completed Task List Items
Node 3 Axial Shield Bundle Build
Extravehicular Activity (EVA) Tool Configuration
Manufacturing Device Print Removal, Clean and Stow
Station Support Computer (SSC) 9 Fan Cleaning
SSC 6 Reload
Ground Activities
All activities were completed unless otherwise noted.
Battery Set 1A3 Discharge
S-Band string 2 activation
Three-Day Look Ahead:
Friday, 01/06: EMU EVA #38 (Channel 3A Battery R&R)
Saturday, 01/07: Crew Off Duty, post EVA PHS, EMU H2O recharge, EVA Debrief
Sunday, 01/08: Crew Off Duty
QUICK ISS Status – Environmental Control Group:
Component – Status
Elektron – Off
Vozdukh – Manual
[???] 1 – SM Air Conditioner System ("SKV1") – Off
[???] 2 – SM Air Conditioner System ("SKV2") – On
Carbon Dioxide Removal Assembly (CDRA) Lab – Standby
Carbon Dioxide Removal Assembly (CDRA) Node 3 – Operate
Major Constituent Analyzer (MCA) Lab – Operate
Major Constituent Analyzer (MCA) Node 3 – Idle
Oxygen Generation Assembly (OGA) – Standby
Urine Processing Assembly (UPA) – Standby
Trace Contaminant Control System (TCCS) Lab – Off
Trace Contaminant Control System (TCCS) Node 3 – Full Up