Russian Proton Rocket Experiences Anomaly Shortly After Launch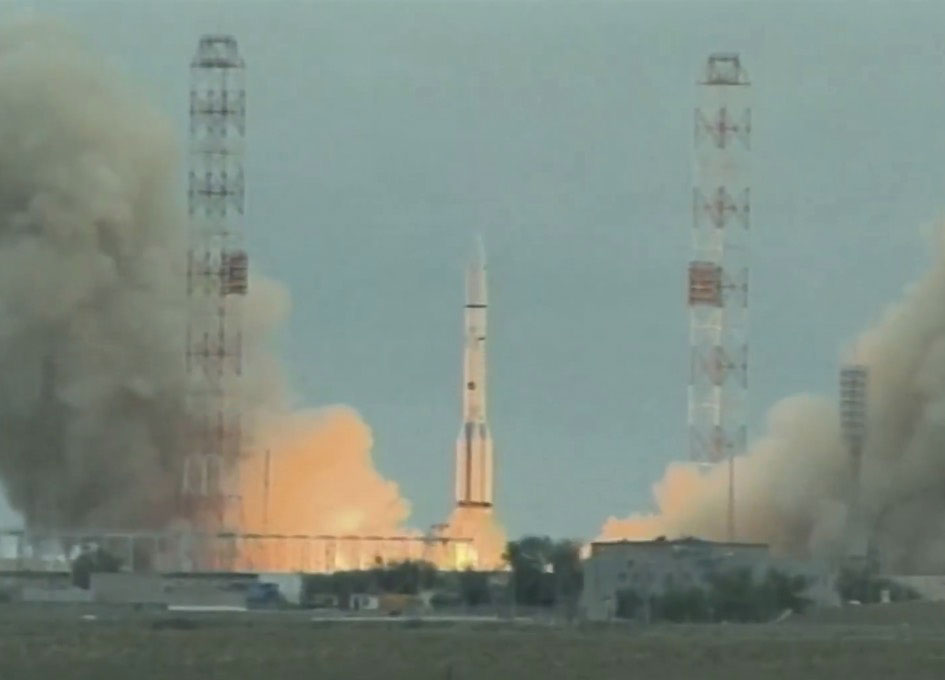 Almost exactly to the day a year after Russia lost a Proton-M rocket, yet another Proton-M has failed. In this latest setback to the Russian commercial space program, today's Proton-M rocket appeared to launch normally, but failed soon into the launch and did not deliver its payload, a Mexican satellite, to orbit.
It appeared, from Russian reports, that during the third stage separation there was an anomaly.
According to the Russian news agency TASS any debris that might have survived the descent would most likely have fallen in a region near Chita, a city in Siberia near Russia's southern border with Mongolia and China.
The MexSat-1 was to have been the first satellite in Mexico's next-generation communications satellite system.
International Launch Services, a Virginia-based launch services company which oversees the Proton launches, issued the following press release:
Khrunichev and International Launch Services (ILS) regret to announce an anomaly during today's Proton mission with the Centenario satellite. The satellite was built for Mexican government's Ministry of Communications and Transportation, the Secretaria de Comunicaciones y Transportes (SCT) by Boeing Satellite Systems International.
The Proton Breeze M rocket lifted off at 11:47 local time from the Baikonur Cosmodrome, carrying the Centenario satellite. Preliminary flight information indicates that the anomaly occurred during the operation of the third stage, approximately 490 seconds after liftoff.
A Russian State Commission has begun the process of determining the reasons for the anomaly. ILS will release details when data becomes available. In parallel with the State Commission, ILS will form its own Failure Review Oversight Board (FROB). The FROB will review the commission's final report and corrective action plan, in accord with U.S. and Russian government export control regulations.
ILS remains committed to providing reliable, timely launch services for all its customers. To this end, ILS will work diligently with its partner Khrunichev to return Proton to flight as soon as possible.