O3b's Satellite Cluster Receives its Orbital "Kick" for the Upcoming Arianespace Soyuz Launch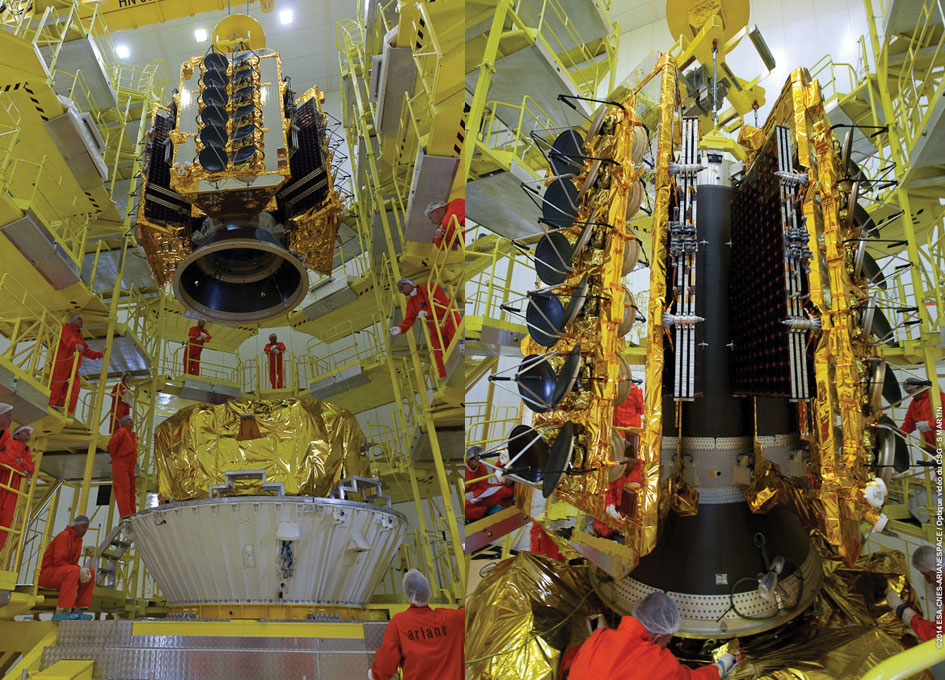 The next satellite cluster for O3b Networks' affordable, high-speed connectivity system has been mated to its Fregat upper stage in French Guiana, marking one of the final steps in Arianespace's Soyuz launch campaign for a liftoff next week from the Spaceport.
During operations in the Spaceport's S3B payload preparation facility, the four satellites – which previously were integrated on their tube-shaped dispenser system – have been mated atop Soyuz' Fregat upper stage. The highly flexible Fregat stage will perform multiple burns during Arianespace's July 10 flight, deploying the spacecraft into orbit.
This week's mating operation with Fregat will be followed by Soyuz' subsequent rollout to the ELS launch complex near the French Guiana town of Sinnamary, allowing the satellite payload to be installed on the medium-lift workhorse launcher.
The July 10 mission, designated Flight VS08 in Arianespace's launcher family numbering system, will be the eighth with Soyuz since the vehicle's 2011 introduction at the Spaceport – joining the company's heavy-lift Ariane 5 and lightweight Vega.
Flight VS08 will be the second Arianespace mission at the service of O3b Networks, following the orbiting of its initial four satellites with Soyuz in June 2013.
O3b Networks' Ka-band relay platforms will create a satellite constellation for telecommunications and Internet services that combine high speed and affordable costs for billions of people across the world who do not yet have adequate internet access. Thales Alenia Space produced the spacecraft, which have a liftoff mass of approximately 700 kg. each.
Launch window: At 2:55:56 p.m. EDT (18:55:56 GMT) on July 10, 2014