Hearing: Extending FAA Risk-Share Program for Commercial Launches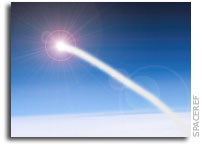 Today the House Space and Aeronautics Subcommittee held a hearing to review the Federal Aviation Administration's (FAA) management of its liability risk-sharing program, commonly referred to as "indemnification."
The indemnification program, run through FAA's Office of Commercial Space Transportation (AST) provides federally-supported insurance against injury or property damage to the uninvolved public during launch and reentry of a licensed commercial launch system. FAA's launch indemnification authority expires at the end of this calendar year, compelling Congress to consider the program's merits and role in the international launch marketplace.
"Notwithstanding the high reliability of today's generation of launch vehicles, many industry experts advocate extending the indemnification program in part because of the inherent riskiness of launching payloads to orbit," said Subcommittee Chairman Steven Palazzo (R-MS). "Catastrophic launch failures are deemed to be a low-probability event, but understandably one that could result in extremely high damages."
As part of its commercial licensing process, FAA requires launch companies to purchase third-party liability coverage from the insurance market at a level calculated by the agency to be the maximum probable loss. As a consequence of these calculations, FAA's decision sets the threshold at which federal coverage begins, up to a maximum limit of $2.7 billion. Since the program's inception, over 200 commercial licensed launches have been flown without one federal dollar being paid out in damages.
Representing FAA at today's hearing, Dr. George Nield, Associate Administrator for AST said, "The benefits of indemnification are many, both to industry and the United States Government… Extension of the indemnification provision would continue to enable industry to attract and maintain a customer base in the face of international competitors who offer more certain indemnification."
The following witnesses testified today before the Subcommittee:
Dr. George Nield – Associate Administrator, Office of Comercial Space Transportation, Federal Aviation Administration
Ms. Alicia Cackley – Director of Financial Markets and Community Investment Team, Government Accountability Office
Ms. Alison Alfers – Vice President, Defense and Intelligence, DigitalGlobe
Mr. Frank Slazer – Vice President, Space Systems, Aerospace Industries Association