XCOR Aerospace Reaches Several Significant Milestones in the Lynx 5K18 Rocket Engine Test Program (Videos)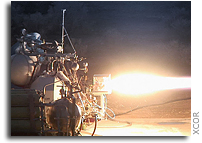 September 02, 2009, Mojave, CA:  XCOR Aerospace announced today that it has reached several significant milestones in the 5K18 rocket engine test program. This is the engine that powers XCOR's Lynx suborbital spacecraft.  The engine can be seen running in several newly released videos including a video demonstrating the very stable "shock diamond" pattern visible in the engine's supersonic exhaust. 
"Like all of our rocket engines, this engine has demonstrated the ability to be stopped and re-started using our safe and reliable spark torch ignition system", said XCOR CEO Jeff Greason.  "The basic cooling design has also been completed and the engine is able to run continuously at thermal equilibrium.  With those milestones reached, the 5K18 test program is now moving forward into a second phase of tuning and optimization, in which we will also greatly increase our cumulative run time."
Data and test results from the Lynx engine program are being used by XCOR and certain customers to develop a deeper understanding of operationally responsive spacelift procedures. These procedures can then be applied to future rocket powered vehicles.  XCOR and its customers now have important information that will aid in the development of the unique requirements of operationally responsive high performance manned and unmanned rocket systems.  
Testing of the 5K18 rocket engine is continuing in parallel with several other key Lynx system components, including wind tunnel testing at AFRL facilities and development of the Lynx pressure cabin at XCOR's main facilities in Mojave, CA.
"These additional firings and milestones continue to demonstrate XCOR's ability to deliver safe and truly innovative rocket propulsion technology that will one day revolutionize space access by enhancing readiness levels for flight from years to days or even hours, and driving down costs and increasing safety by orders of magnitude", said XCOR Chief Operating Officer, Andrew Nelson.
XCOR Aerospace is a California corporation located in Mojave, California. The company is in the business of developing and producing safe, reliable and reusable rocket powered vehicles, propulsion systems, advanced non-flammable composites and other enabling technologies for responsive private space flight, scientific missions, upper atmospheric research, and small satellite launch to low earth orbit. Its web address is: www.xcor.com.  Advanced ticket sales have already commenced at www.rocketshiptours.com.
For high resolution image inquiries, contact press@xcor.com
Rocket Engine shock diamonds – XCOR 5K18 "Lynx" engine
This video demonstrates shock diamonds in a healthy, stable rocket engine. As supersonic gasses leave the engine, the gasses encounter the ambient air pressure, which results in a complex interaction where the gasses compress and then expand repeatedly, resulting in the diamond pattern.
On a LOX-Kerosene Rocket Engine, the afterburning in the plume makes it too bright to be able to see the diamonds, but if you iris the camera down very very low, you can see them, as we have done in the camera at the top. A LOX-Kero plume burns about as brightly as the sun as viewed from earth, at sea level atmosphere.
XCOR 5K18 'Lynx' Rocket Engine, LOX Kerosene
This is a compilation of runs of the 5K18 Rocket Engine, with some slow motion for better observation of the effect of the engine thrust on the stand, which is anchored securely to the ground for the test. Visible are ice particles being disloged from the LOX lines as well as a piece of foil tape at the beginning. The XR-5K18 is the main propulsion engine for XCOR's Lynx suborbital spacecraft.