USSTRATCOM to Sponsor Fourth Annual Deterrence Symposium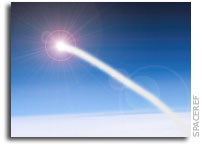 OFFUTT AIR FORCE BASE, Neb. – United States Strategic Command will host its fourth annual eterrence Symposium, August 8-9, 2012 at the La Vista Conference Center, La Vista, Neb.
The conference is a unique opportunity for industry, military, government, international experts, and academic leaders to delve into deterrence issues to foster innovation and collaboration between the participants. "Re-examining Core Deterrence Concepts" is this year's theme.
Gen. C. Robert "Bob" Kehler, commander of USSTRATCOM, will make opening comments and conduct a 30 -minute media availability. Follow-on sessions will include expert panelists and moderators from a variety of backgrounds. Lunch and dinner guest speakers will also explore and discuss all aspects of deterrence.
Media planning to register for and attend the symposium must contact the U.S. Strategic Command Public Affairs Office at 402-294-4130 or 402-294-5656 or PA@stratcom.mil no later than August 1 to arrange access. A call-in opportunity for the media availability is possible, please contact the Public Affairs office for more information.