U.S. Space Program Should Align With Broader National Goals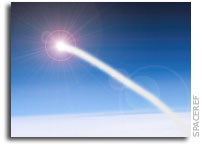 WASHINGTON — The U.S. civil space program should be aligned with widely acknowledged national challenges, says a new report from the National Research Council. Aligning the program with pressing issues – environmental, economic, and strategic – is a national imperative, and will continue to grow in importance. Coordination across federal agencies, combined with a competent technical work force, effective infrastructure, and investment in technology and innovation, would lay the foundation for a purposeful, strategic U.S. space program that would serve national interests.
In aligning civil space activities with national objectives, several priorities are clear, the report says. Earth stewardship should be an important focus of future space activities, with NASA and NOAA leading the formation of an international satellite-observing system to monitor global climate change. In addition, NASA should cooperate with other agencies and international partners to continue scientific exploration in space, seeking knowledge of the universe and searching for life beyond Earth. The report also recommends revitalizing NASA's advanced technology development program by establishing a DARPA-like organization within NASA to support priority civil and commercial space programs, and development of "dual-use" space technologies, with both civil and defense applications.
International cooperation on space activities should allow the U.S. to exercise global strategic leadership, support U.S. foreign policy, and expand partnerships in science and space exploration, the report says. NASA should also be actively pursuing human spaceflight, including missions beyond low-Earth orbit, and should use these ventures as an opportunity to collaborate with emerging economic powers.
The task of ensuring that U.S. space activities are aligned with national goals should be assigned by the president to senior executive-branch officials who can coordinate agencies and departments, identify gaps in policy coverage or resource allocation, and spot new opportunities where space endeavors may have the potential to help confront critical issues facing the nation.
The study was sponsored by the National Academies, which comprise the National Academy of Sciences, National Academy of Engineering, Institute of Medicine, and National Research Council. They are private, nonprofit institutions that provide science, technology, and health policy advice under a congressional charter. The Research Council is the principal operating agency of the National Academy of Sciences and the National Academy of Engineering. A committee roster follows.
Copies of AMERICA'S FUTURE IN SPACE: ALIGNING THE CIVIL SPACE PROGRAM WITH NATIONAL NEEDS are available from the National Academies Press; tel. 202-334-3313 or 1-800-624-6242 or on the Internet at HTTP://WWW.NAP.EDU. Reporters may obtain a copy from the Office of News and Public Information (contacts listed above).
# # #
[ This news release and report are available at HTTP://NATIONAL-ACADEMIES.ORG ]
NATIONAL RESEARCH COUNCIL
Division on Engineering and Physical Sciences
Aeronautics and Space Engineering Board and Space Studies Board
COMMITTEE ON RATIONALE AND GOALS OF THE U.S. CIVIL SPACE PROGRAM
LESTER L. LYLES (CHAIR)
Consultant
U.S. Air Force (retired)
Vienna, Va.
RAYMOND S. COLLADAY (VICE CHAIR)
Former President
Lockheed Martin Astronautics Co. (RETIRED)
Golden, Colo.
LENNARD A. FISK1 (VICE CHAIR)
Thomas M. Donahue Distinguished University Professor of Space Science
Department of Atmospheric, Oceanic, and Space Sciences
University of Michigan
Ann Arbor
JAY APT
Distinguished Service Professor
Department of Engineering and Public Policy
Carnegie Mellon University
Pittsburgh
JAMES B. ARMOR JR.
Vice President of Strategy and Business Development
Spacecraft Systems and Engineering Services
ATK Space Systems
Burke, Va.
WANDA M. AUSTIN2
President and Chief Executive Officer
Aerospace Corp.
Los Angeles
DAVID BALTIMORE1, 3
President Emeritus and Robert Andrews Millikan Professor of Biology
California Institute of Technology
Pasadena
ROBERT BEDNAREK
President and Chief Executive Officer
SES NEW SKIES
Princeton, N.J.
JOSEPH A. BURNS
Irving Porter Church Professor of Engineering, Theoretical, and Applied Mechanics, and
Professor of Astronomy
Cornell University
Ithaca, N.Y.
PIERRE CHAO
Managing Partner
Renaissance Strategic Advisors
Arlington, Va.
KENNETH S. FLAMM
Dean Rusk Chair