University Students Win NASA/NIA Moon Design Competition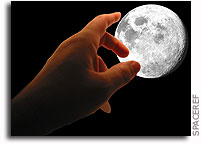 HAMPTON, VA. – Orbiting "gas" stations and flying "sports cars" … those are some winning ideas college students came up with to help astronauts get to the moon and explore the surface.
Students from Georgia Tech, North Carolina State University, and the University of Maryland took first place honors in the 2009 Revolutionary Aerospace Systems Concepts Academic Linkage or RASC-AL contest sponsored by NASA and the National Institute of Aerospace (NIA). They presented their work at a forum in Cocoa Beach, Fla.
The competition challenged teams competing in separate graduate and undergraduate divisions to consider conditions astronauts will face when humans return to the Moon, and then design projects that could become part of real lunar exploration.
"Contests like RASC-AL expose students to the real technical challenges that they as young engineers may face as we go back to the Moon for the first time in 40 years," said Pat Troutman, senior systems analyst at NASA's Langley Research Center. "From the work we've seen, these students are up to the challenge."
In the graduate division a team of Georgia Tech and North Carolina State University students studying at NIA won first place for their project titled, "Reusable Lunar Transportation Architecture Utilizing Orbital Propellant Depots." Team members included Georgia Tech students Erik Axdahl, Patrick Chai, Robert Rowland and Matthew Long; and John Gaebler, Michael Grimes and Rafael Lugo from NC State. The team's advisor was professor Alan Wilhite of Georgia Tech.
First place for the undergraduate division went to the University of Maryland for their project called, "Project ASHLAIN: A Lunar Flying Vehicle for Rapid Universal Surface Access." Team members present at the forum included Nicholas D'Amore, Adam Halperin, Alex Janas, Breanne McNerney and Nitin Sydney. They were advised by professors Dave Akin and Mary Bowden.
Second place honors went to the University of Maryland in the graduate division and to a North Carolina State University team in the undergraduate division.
An independent panel of space exploration experts drawn from NASA, industry and the academic community judged the entries. Teams scored points based on their final paper, oral presentations, outreach service, and technicality and real-life concepts of the project.
Over the course of the forum, students toured NASA's Kennedy Space Center, listened in on their peers' oral presentations and had the opportunity to network with one another and industry experts during the poster session and planned activities.
"Through the interaction with professionals during the RASC-AL Forum, students received practical feedback on their concepts," said Dr. Bernard Grossman, NIA's vice president for education and outreach. "As a result, they are better prepared to join the aerospace workforce."
For more information about the 2009 Revolutionary Aerospace Systems Concepts Academic Linkage competition and to see photos, please go to:
For additional information about NASA, visit:
For additional information about the National Institute of Aerospace, visit: