Unique Global Competition Encourages Student Teams Worldwide to "Get Their Genius on" and Innovate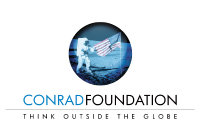 Conrad Foundation Announces the 6th Annual Spirit of Innovation Challenge
Thanks to the Spirit of Innovation Challenge (Conrad Challenge), the world will not have to wait for solutions to affordable water filtration in Haiti, self-regulating temperature fabrics for harsh environments, eco-friendly pop-up toilets for emergency distressed areas, and many other game-changing innovations. It also means that young innovator/ entrepreneurs don't have to graduate from high school before their commercially-viable, technology-based ideas can be realized and applied to real-world issues!
The 2012-2013 Spirit of Innovation Challenge invites student teams from around the world, ages 13-18, to innovate new products by combining creative thinking with science and technology skills to solve real-world challenges.
"When there is a combination of context and content, and students are actively engaged in their education, that's when real learning occurs," said Nancy Conrad, founder and chairman of the Conrad Foundation. "We complement and expand what's being taught in the classroom and give students the opportunity to do something real that solves a local or global challenge. Our competition provides a unique opportunity for students to make a positive difference."
The Conrad Challenge is the only competition to combine education, innovation and entrepreneurship. This program is dedicated to providing students the tools to succeed in and sustain a knowledge-based economy.
Supported by corporations and organizations such as Lockheed Martin, PepsiCo, Battelle and Kraft Foods, student teams are challenged to create innovative products or solutions in one of four industries: aviation and aeronautics; energy and environment; health and nutrition; and cyber-security and technology.
"The Conrad Challenge is a competition without borders, and this year we are making a concerted effort to expand our global reach," said Jennifer Fotherby, executive director of the Conrad Challenge. "Thanks to the support of the NASA's Johnson Space Center (JSC), we hope to introduce the competition to numerous countries around the world and provide an opportunity for students to learn directly from scientists and engineers on the forefront of developing new technologies and advancements."
Fotherby added, "One of the most rewarding elements of our program is that we provide free access to a dynamic network of mentors, including world-renowned scientists, engineers, academics and business leaders who guide students through the process of using science and innovation to become entrepreneurs. Additionally, our online community offers webinars, forums, videos and articles and serves as a great way for students to collaborate within our community."
Registration for the Conrad Challenge is simple and free. Interested students create a profile at www.conradawards.org. Registration provides an immediate opportunity for students to begin engaging with other students and form teams for the competition. Students can team with local friends or classmates or create a virtual team with other like-minded students they meet in the online community. Teams must have a teacher or parent serve as their coach.
Deadline for the 2012-2013 competition is Oct. 24, 2012. Expert judges will then select semi-finalist teams in each challenge category. The semi finalists will be invited to develop comprehensive business and technical plans of their product or innovation.
In early 2013, five teams in each challenge category will be chosen as finalists and travel to the annual Spirit of Innovation Summit, hosted at JSC and its visitors' center, Space Center Houston, April 10-13, 2013. This unique student experience transports finalists into the creative technical environment at NASA where they will present their innovations and compete for awards and commercialization opportunities.
"We are pleased to participate in the 2012-2013 Spirit of Innovation Challenge," said JSC Director Michael Coats and former astronaut. "As the home of human spaceflight, Johnson Space Center is known for its topnotch and innovative workforce, the perfect blend for this STEM-related student challenge. It has always been a part of our mission to share our expertise and our devotion to space exploration with as many students as we can."
To learn more about the 2012-2013 Spirit of Innovation Challenge, visit www.conradawards.org.
About The Conrad Foundation
The Conrad Foundation is a not-for-profit organization dedicated to 21st century, immersive learning, where students use their imagination and innovation to enrich their classroom studies and do something real. The Foundation is the only organization of its kind whose programs combine science and technology-based education, innovation and entrepreneurship to inspire solutions for achieving global sustainability. For more information, visit www.conradfoundation.org.
The Conrad Foundation logo is available at http://www.globenewswire.com/newsroom/prs/?pkgid=13020
Relevant Links:
Spirit of Innovation Challenge: http://www.conradawards.org
Conrad Foundation: http://www.conradfoundation.org
Innovation Summit: http://www.conradawards.org/pages/innovation-summit
Lockheed Martin: http://www.lockheedmartin.com/us/who-we-are.html
PepsiCo: http://www.pepsico.com/Company.html
Battelle: http://www.battelle.org/aboutus/index.aspx
Kraft Foods: http://www.kraftfoodscompany.com/About/who-we-are/index.aspx
NASA's Johnson Space Center: http://www.nasa.gov/centers/johnson/home/index.html
Innovation Summit: http://www.conradawards.org/pages/innovation-summit
Space Center Houston: http://www.spacecenter.org/
Contact:
MEDIA CONTACT:
Jessica Ballard
Griffin Communications Group
Office: 281-335-0200
[email protected]
Carrie Taylor, Education & Outreach Director
Conrad Foundation
Office: 832-864-7226
[email protected]