UF astronomer: Some giant planets in other systems most likely to be alone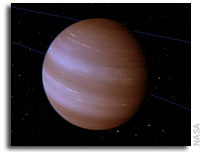 "Hot Jupiter-type" planets are most likely to be alone in their systems, according to research by a University of Florida astronomer and others, made public today.
"Hot Jupiters" are giant planets beyond our solar system, roughly the size of Jupiter but orbiting close to their parent stars and thus much hotter than the Earth or Jupiter, said UF professor Eric Ford. They have very short orbital periods, completing a turn around their stars in fewer than 10 days. This study, published in the journal Proceedings of the National Academy of Sciences, provides new insights into how they are formed.
This research used information gathered by NASA's planet-hunting Kepler mission, which uses a 1-meter space telescope to stare constantly at a patch of the Milky Way, registering the small decreases in the light from stars caused when a planet crosses in front of it.
Scientists dug into Kepler's data and selected a sample of 63 planetary systems containing previously detected hot Jupiter candidates. Then they looked for signals of additional planets either crossing in front of the host stars or gravitationally tugging on the hot Jupiter's orbit. In all cases they found no evidence of additional planets. To allow comparisons, they used the same methods to study a sample of "warm Jupiter" candidates, equally big planets but located farther away from their parent stars and "hot Neptunes," smaller but closer to the stars. They found compelling evidence that at least 10 percent of the warm Jupiters and one third of the hot Neptunes have other planetary companions nearby in the system. Thus, why are all the hot Jupiters so lonely?
Astronomers believe it results from the way the hot Jupiters are formed, now thought to be different from most other planets. Current models suggest that they are probably formed farther away from their host star, and then gravitational interactions with another body cause their orbits to become highly elongated. Each orbit the hot Jupiter passes very close to the host star and then travels far away. The star raises tides on the planet, repeatedly stretching it and causing its orbit to become smaller and more circular. This process would remove or destroy other low-mass planets that originally formed between the star and the giant planet.
"We looked for companion planets near hot Jupiters in order to learn a bit more about their formation," Ford said. "The lack of nearby planets supports the theory that a close encounter with another body in the system caused the elongation of the orbit. When a giant planet repeatedly passes through the inner regions of a planetary system on an elongated orbit, it would wreak great havoc on any planets that had formed there. The other planets would either fall into the star, collide with the hot Jupiter or be kicked out of the system via a gravitational slingshot."
In 1995 the first planet orbiting a sun-like star was discovered. It and most exoplanets found in the early days of the exoplanet search happened to be hot Jupiters.
"That was because they are easier to find than smaller planets or others more distant to their host star," Ford said. "Now, we know that less than 1 percent of stars harbor hot Jupiters, so they are relatively rare. A special sequence of events like strong gravitational interactions between two giant planets followed by tidal circularization seems to be the most plausible scenario for the formation of hot Jupiters."
The research was led by Jason Steffen from the Fermilab Center for Particle Astrophysics.
NASA's Kepler Mission, operating since 2009, is revolutionizing the field of planetary science. For the first time it is enabling astronomers to conduct this kind of detailed population studies of planet candidates. By allowing astronomers to study systems other than our own, they are able to confront planet formation theories with observational data, giving important insights into the range of contemporary planetary system architectures and the possible existence of habitable planets within them.