Udall, Bennet Ask President to Explain, Re-evaluate Cut of Constellation Program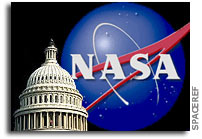 U.S. Senators' Letter Regarding President Obama's NASA Budget
Emphasizes Constellation's Role in Innovation, Security, Jobs
Washington, D.C. – Today, U.S. Senators Mark Udall and Michael Bennet met with NASA Administrator, General Charlie Bolden, to urge President Obama to re-evaluate his proposed cancellation of the Constellation program. While expressing support for certain aspects of NASA's funding in the proposed 2011 federal budget, both Senators voiced concern about terminating the Constellation program, which would provide a replacement for the retiring space shuttle fleet.
In anticipation of President Obama's conference on the NASA budget on April 15th, the Senators also presented General Bolden a joint statement of their concerns, urging President Obama to better explain the Administration's plan for the future of human space flight.
The 2011 budget proposal does include a welcome increase in overall NASA funding, providing enhanced support for research and development and the International Space Station. However, the President has proposed cutting the Constellation program, which is not only developing the replacement for the space shuttle, but also the vehicle to take humans back to the Moon and, eventually, on to Mars. It also provides thousands of high-paying jobs in Colorado and throughout the United States.
April 12, 2010
President Barack Obama
The White House
1600 Pennsylvania Ave. NW
Washington, DC 20500
Dear Mr. President:
As you prepare for the April 15th conference on America's future in space, we want to share our thoughts with you on the proposed budget for the National Aeronautics and Space Administration (NASA) for fiscal year 2011, as well as outline some goals for a shared vision for the future of space exploration.
While there is much to like in the proposed FY11 NASA budget – including new investments in science and aeronautics research, extension of the International Space Station (ISS) through 2020, and an additional $6 billion over five years largely for development of new space exploration technology – the cancellation of the Constellation program raises many concerns. For Colorado – where the Orion capsule is being developed – this move would lead directly to the loss of over 1,000 jobs and indirectly to thousands more. More broadly, we are concerned that a reliance on unproven commercial providers for U.S. access to low Earth orbit (LEO) compromises America's leadership position in space. It is also unclear what, if anything, will become of the significant investment in Constellation to date.
We strongly support development of commercial launch capabilities and space services. Colorado is home to many companies on the cutting edge of aerospace, two of which recently won NASA contracts to further the commercial sector's capability to support transport of crew to and from LEO. We look forward to the day when the commercial sector can provide these services, freeing NASA to focus on development of new exploration technologies and human missions beyond LEO. However, the proposed NASA budget presumes that day is close at hand even though the commercial sector has yet to prove it can safely put a human into orbit. Should they fail to deliver, America will be reliant on Russian-procured launch services to ISS and LEO for the foreseeable future. This is an unacceptable position for the security of the nation.
The decision to terminate NASA's development of a follow-on to the Space Shuttle has other important implications for our national security. The Department of Defense (DOD) is currently examining the impact of this decision on the U.S. space launch industrial base. We rely on this industry to sustain our strategic deterrence mission and to assure access to space through launch programs. DOD officials have stated that Constellation's cancellation could increase the current price of propulsion systems for our launch vehicles. We understand that a DOD assessment of launch program cost impacts will not be completed until summer 2010, but it seems clear that the cancellation of Constellation will result in at least some of the costs of overhead and underutilized industry resources being passed on to DOD. As DOD does not yet fully understand the impacts on its space launch programs of cancelling Constellation, we are concerned the decision to end the Constellation program is premature.
We recognize that there are significant obstacles you must overcome with the Constellation program as it is currently configured, not the least of which is chronic under-funding. The blue-ribbon commission you convened to study options for the future of human spaceflight began its report by saying, "The U.S. human spaceflight program appears to be on an unsustainable trajectory. It is perpetuating the perilous practice of pursuing goals that do not match allocated resources." However, we believe there is a way forward that balances stimulation of commercial service providers with the proven capabilities of NASA and its industrial partners, a way that responsibly uses limited taxpayer dollars and allows NASA to continue to serve as an inspiration to future generations of scientists, engineers, and explorers.
We hope you will use the April 15th forum to describe in more detail how you plan to maintain America's leading role in space exploration, and look forward to working with you on a NASA budget that reflects that commitment.
Sincerely,
Mark Udall
Michael F. Bennet