Touch the Moon This Weekend at the Kansas Cosmosphere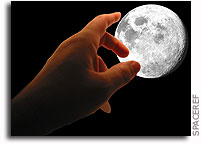 Visitors will have the rare chance to touch a piece of a moon rock this weekend in the new NASA Driven to Explore traveling exhibit at the Kansas Cosmosphere and Space Center.
Driven to Explore offers a look at America's program to return humans to the moon and travel beyond. The exhibit will be open 9 a.m. to 8 p.m. Saturday, April 4, noon to 5 p.m. Sunday, April 5, and 9 a.m. to 5 p.m. Monday, April 6.
NASA astronaut Stephen Bowen will be at the Cosmosphere April 3-5. At 2 p.m. Saturday, April 4, he will discuss his recent STS-126 mission on board space shuttle Endeavour, spacewalking and International Space Station operations. This is a free event, open to the public at the Cosmosphere.
The centerpiece of Driven to Explore is the opportunity to touch a lunar rock sample picked up on the moon and brought to Earth by the astronauts of Apollo 17 in 1972, America's last human mission to the moon. The almost 4-billion-year-old rock is one of only six lunar samples in the world made available for the public to touch and feel.
As NASA celebrates the 40th anniversary of the first human lunar landing mission, Driven to Explore allows visitors to see models of the new rockets and spacecraft NASA is developing and to learn how and why America will return to the moon. The exhibit also details the accomplishments of the space shuttle and the International Space Station. For more information about NASA, visit:
For information about the Apollo 40th anniversary, visit: