Top NASA Glenn Employees Receive Awards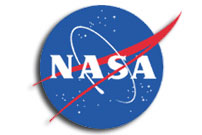 NASA Glenn's Center Director Woodrow Whitlow Jr. took the opportunity to recognize the exceptional performances of some of Glenn's outstanding workforce at the first annual NASA Glenn Center Awards Ceremony. Awards were given for excellence in engineering, research, publication, diversity, craftsmanship and support assistant/clerical work.
The following people were recognized at the July 29 ceremony:
2008 CENTER AWARDS RECIPIENTS:
Abe Silverstein Medal
Dr. Robert A. Miller, Brecksville, for research contributions to thermal and environmental barrier coating development and testing, which have enabled significant and practical advancements in turbine engine technology.
Craftsmanship Award
Elizabeth A. McQuaid, Cleveland, received the Manufacturing Technology award for innovativeness and craftsmanship in work related to the development of wireless communication and sensing electronics for harsh environments.
Ricky N. Rivera, Cleveland, received the Assembly and Build-Up Technologies award for innovative design and fabrication of rachet-driven turnbuckles for adjustment of the T-700 variable geometry guide vane linkages.
Distinguished Publication Award
"Delamination-Indicating Thermal Barrier Coatings using YSZ:Eu Sublayers," which presents a novel strategy and proof-of-concept for producing thermal barrier coatings that are self-indicating for coating longevity. Authors of the publication include: Dr. Jeffrey I. Eldridge, Rocky River; Timothy J. Bencic, Highland Heights; Dr. Charles M. Spuckler, Westlake; and Jogender Singh and Douglas E. Wolfe, representing the Applied Research Laboratory at The Pennsylvania State University.
Steven V. Szabo Engineering Excellence Award
The PUMA (Portable Unit for Metabolic Analysis Design) Team received the award for demonstrated technical excellence, innovation and determination to develop a unique capability for measuring the health of astronauts during long-duration space flight. Members of the team include: Dr. Daniel L. Dietrich, Westlake; Jeffrey R. Juergens, Parma Heights; Michael J. Lewis, Westlake; Michael J. Lichter, Strongsville; Dale M. Diedrick, Elyria and John W. Easton, Olmsted Falls, an employee of the National Center for Space Exploration Research.
Diversity Leadership Award
Raquel L. Redhouse, Parma Heights, for providing leadership in promoting diversity and making significant strides in building relationships with diverse audiences.
Support Assistant/Clerical Award
Patricia A. Parker, Olmsted Falls, for superior executive management support, utilizing innovative professional means in ensuring NASA Glenn's outstanding reputation.
Desa Rakic, Parma, for outstanding support to the Aeropropulsion Division management in successful accomplishment of the division goals.
Kathryn M. Roser, Bay Village, for continued support and dedication for the Office of the Chief Financial Officer.
Suzanne L. Terbrack, Fairview Park, for consistent, exemplary support for the Office of Human Capital Management in assuring timely, accurate and productive relationships throughout several major change processes.
Mary Jo Waeltz, Brunswick, for outstanding human capital support for Workforce Transformation Initiatives, 2007 Center Reorganization and e-OPF (Electronic Official Personnel Folder) implementation.
Debra Clevenger, an employee of SGT, Inc., for outstanding working relationships with Glenn staff and support to the Risk Workshops and the National Research Council review.
Diane Kulik, Westlake, an employee of SGT, Inc., for providing excellent professional customer service in the areas of travel management, meeting preparations and the development of complex spreadsheets.
Cindy Phillips, Fairview Park, an employee of SGT, Inc., for outstanding dedicated service in providing logistical coordination between Metrology and Glenn technical staff.
Mary Ann Saylor, Olmsted Township, an employee of SGT, Inc., for providing excellent support to the success of the CONNECT NASA Research Announcement initiative.
Dorothy Viancourt, Brook Park, an employee of SGT, Inc., for continued excellent support in managing all chemical and ODIN (Outsourcing Desktop Initiative for NASA) catalog purchases for the Center.
Robert C. Fails Award
Patricia Parker, Olmsted Falls, for exceptional service to the NASA Employees Benefit Association.