The Tauri Group Announces Release of Report: "Suborbital Reusable Vehicles: A 10-Year Forecast of Market Demand"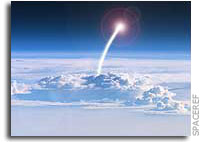 The Tauri Group, LLC announces the release of a forecast of demand for suborbital reusable vehicles (SRVs). SRVs are a new class of rocket-powered vehicles designed to cross the threshold of space, carrying cargo or people. The report, "Suborbital Reusable Vehicles: A Ten-Year Forecast of Market Demand," analyzes emerging SRV markets and identifies drivers of growth.
Space Florida (Florida's spaceport authority and aerospace development organization) and the Federal Aviation Administration Office of Commercial Space Transportation (FAA/AST) jointly funded the study, which The Tauri Group conducted.
The Tauri Group estimates baseline demand for SRVs – reflecting predictable trends that exist today – at between 400 and 500 seat equivalents each year, for people and cargo. A growth scenario sees that number nearly triple to between 1,000 and 1,500 seat equivalents per year. Additional potential demand is possible from unknowns such as research discoveries, commercial applications, or a viral consumer response. Price reductions would also increase demand.
The dominant SRV market is Commercial Human Spaceflight – human spaceflight experiences for tourism or training – generating more than 80% of SRV demand. Five additional markets are predicted to be active in the 10-year forecast period: Basic and Applied Research, Aerospace Technology Test and Demonstration, Satellite Deployment, Education, and Media and Public Relations.
The executive summary, full report, and one page summary are available on The Tauri Group website, at www.taurigroup.com.
About The Tauri Group
The Tauri Group, an innovator in analytical consulting, applies creative, responsive problem-solving to homeland security, defense, and space enterprises. Government agencies and multinational contractors trust The Tauri Group's objectivity and vision. They know The Tauri Group brings the leading minds in homeland security, technology, aerospace, arms control, public health, and more to tackle issues with no easy answers.
The Tauri Group has been named a 2011 Fantastic 50 recipient by the Virginia Chamber of Commerce for the fifth consecutive year, a Great Place to Work by Washingtonian magazine, a Fast 50 Government Contractor by Washington Technology magazine, Contractor of the Year (less than $25 million in revenue) at the Annual Greater Washington Government Contractor Awards, and a recipient of the U.S. Department of Homeland Security's Science and Technology Directorate Under Secretary's Award for Outstanding Contractor Support.
The Tauri Group is headquartered in Alexandria, VA. For more information, visit www.taurigroup.com or contact Kari Balomas at The Tauri Group: kari.balomas@taurigroup.com.
FAA AST is the US Government office that regulates and licenses the U.S. commercial launch industry to ensure public health and safety; and protect national security and foreign policy interests of the United States during commercial launch operations. In addition, the FAA encourages, and promotes commercial space launches and licenses launch and reentry sites.
Space Florida was created to strengthen Florida's position as a global leader in aerospace research, investment, exploration and commerce. As Florida's spaceport authority and aerospace development organization, we are committed to attracting and expanding the next generation of space industry businesses. With its highly trained workforce, proven infrastructure and unparalleled record of achievement, Florida is the ideal location for aerospace businesses to thrive – and Space Florida is the perfect partner to help them succeed.