The Conrad Foundation and the National Space Society Announce Collaboration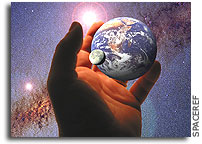 Organizations reach agreement to promote and support annual competition
SAN FRANCISCO – Officials with The Conrad Foundation today announced the National Space Society (NSS) as its newest "Partner Organization" to support the upcoming Pete Conrad Spirit of Innovation Awards, the Foundation's annual education competition.
The contest challenges teams of high school students to create innovative products for use in various fields of science and technology, including lunar exploration, personal spaceflight and renewable energy. Teams vie for $120,000 in prize money and the opportunity to commercialize their products for general market use.
The NSS will counsel student teams in the space categories and provide access to educational information, where needed. In addition, NSS representatives will serve as judges in the lunar exploration and personal spaceflight categories. Team finalists will also have the opportunity to present their product concepts at the NSS' 2009 International Space Development Conference, taking place in Orlando from May 28-31, 2009.
"Having the National Space Society's support in this competition is tremendous and gives our student teams access to a wealth of expertise to help make their space products as dynamic as possible," said Nancy Conrad, founder of the Conrad Foundation.
More than 50 teams are currently competing in the Pete Conrad Spirit of Innovation Awards. To learn more about the competition, to become a partner or to support your favorite student team, visit www.conradawards.org.
About Charles "Pete" Conrad
Pete Conrad's accomplishments span the entire history of manned space flight. Conrad flew Gemini V and Gemini XI and became the third man to walk on the Moon on Apollo XII. He also flew the Skylab II mission, in which his emergency spacewalk saved the entire station and earned him a Congressional Space Medal of Honor. After retiring from NASA, Conrad returned to space, no longer as an explorer, but as an entrepreneur. He was a key participant in the ventures that created the beginning of the commercial space industry. Conrad tragically passed away in 1999.
About The Conrad Foundation
The Conrad Foundation is a not-for-profit foundation designed to energize and engage students in science and technology through unique entrepreneurial opportunities. The Foundation builds upon the legacy of heroes in our past to nurture the heroes of our future. By enabling young minds to connect education, innovation and entrepreneurship, the Conrad Foundation provides a bold platform for enriching human capital. For more information, visit www.conradawards.org .
About the National Space Society
The National Space Society ("NSS") is an independent, educational, grassroots, non-profit organization dedicated to the creation of a spacefaring civilization. NSS is widely acknowledged as the preeminent citizen's voice on space. NSS counts thousands of members and more than 50 chapters in the United States and around the world. For more information on the society, visit www.nss.org .