Subcommittee Evaluates FAA Commercial Space Flight Budget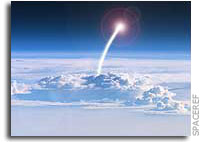 Washington D.C. – Today the Subcommittee on Space and Aeronautics held a hearing to review the Fiscal Year (FY) 2012 budget request submitted by the Federal Aviation Administration (FAA) Office of Commercial Space Transportation (also referred to as AST) and to examine new initiatives in the request to expand the office's roles and responsibilities. Speaking on behalf of the Administration was Dr. George Nield, FAA Associate Administrator for Commercial Space Transportation.
"The Office of Commercial Space Transportation provides an essential public service, ensuring that commercial launches are undertaken with the highest level of safety," said Subcommittee Chairman Steven Palazzo (R-MS). "Their record of achievement is significant, licensing over 200 launches without any loss of life, serious injury, or notable property damage to the general public." The AST budget request asserts that NASA-sponsored commercial cargo flights to the International Space Station that are scheduled to begin next year, plus the expected start-up of commercial human sub-orbital flights, places new regulatory demands on AST's operations. Subsequently, AST's FY2012 budget request seeks $26.625 million, a 74% increase over the FY2010 enacted level, and a fifty percent increase in the size of its workforce.
The Commercial Space Launch Amendments Act of 2004 included two related provisions that were the subject of much of today's discussion: the first authorized AST to regulate commercial human space flight launch systems; the second prohibited AST from regulating commercial human space flight for eight years in order to give space tourism companies an opportunity to design, develop and operate new and experimental launch systems. December 2012 marks the end of the eight-year regulatory ban, and the debate centered around the need for extending the ban.
Palazzo noted today that "The freeze was expected to allow the nascent (space tourism) industry to gain experience through experimental flights upon which AST could rely as it began to draft a regulatory regime."
However, roughly six-and-a-half years have elapsed since the bill's enactment, and there is an effort underway in Congress to extend the regulatory prohibition another eight years. The Government Accountability Office (GAO)said there were many uncertainties associated with how fast the demands on FAA's resources will grow, and whether such a dramatic budgetary increase as proposed in their FY2012 request is warranted. Testifying today on behalf of GAO, Dr. Gerald Dillingham, Director of Civil Aviation Issues, noted that the number of commercial launches has actually declined over the last decade. However, R&D efforts have also been steadily increasing, as companies anticipate increased demand.
Dr. Henry R. Hertzfeld, Research Professor of Space Policy and International Affairs at George Washington University, was optimistic about the potential of a commercial industry, but conceded that the industry can only grow if the Federal Government is the initial buyer of services. "The licensing of inorbit commercial activities will grow as governments contract with commercial firms for different services," Hertzfeld said. "However, it is unlikely that these services will grow without a large initial market funded by the traditional government space agencies as the prime customers."