Subcommittee Democrats Examine Issues Surrounding Potential Extension of Commercial Space Launch Indemnification Provisions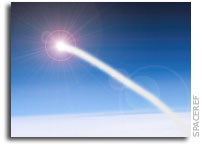 Today, the House Committee on Science, Space, and Technology's Subcommittee on Space and Aeronautics held a hearing entitled, "An Examination of Future Commercial Launch Markets and FAA's Launch Indemnification Program." The purpose of the hearing was to explore the Federal Aviation Administration's (FAA) implementation of the existing commercial space launch indemnification program and whether it is necessary to require a government-backed risk-sharing program in order for present and emerging U.S. commercial launch providers to successfully compete. Testifying before the Subcommittee were representatives from the FAA, the Government Accountability Office (GAO), the Aerospace Industries Association, and DigitalGlobe, Inc.
The Commercial Space Launch Act Amendments of 1988 established a government-industry shared third-party liability and indemnification regime for commercial space launches. The regime provided in the Act spreads the risk from a commercial space launch mishap or failure between the government and the launch provider for potential damages or losses concerning the uninvolved public or property.
"Since 1988, the U.S. commercial space launch industry has grown and changed with private companies preparing to resupply the International Space Station. And in the coming years, suborbital spacecraft are anticipated to begin launching space tourists, followed potentially by commercial human space flights to low-Earth orbit," said Ranking Member Jerry F. Costello (D-IL). "Given that the sunset provision is set to expire at the end of the calendar year, Congress must decide whether or not to extend the current regime and if so, whether changes are needed to it. The provisions we are examining today were put into place more than two decades ago, and I think it is appropriate for us to review the impacts."
Rep. Donna F. Edwards (D-MD) engaged members of the panel on several questions, including FAA's approach to determining potential third-party losses and the level of risk being born by U.S. taxpayers under the current regime. Ms. Edwards said, "If Congress decides to extend the existing commercial space launch shared-risk liability regime, we will need to look at whether changes are needed to ensure that the taxpayers don't assume any larger share of the risk than is absolutely necessary. At a minimum, any extension should include requirements for updating the current approach to risk assessments so that any government involvement reflects the appropriate level of third-party risk the taxpayer could be asked to assume."
Please visit our website: http://democrats.science.house.gov
Dr. George Nield – Associate Administrator, Office of Comercial Space Transportation, Federal Aviation Administration
Ms. Alicia Cackley – Director of Financial Markets and Community Investment Team, Government Accountability Office
Ms. Alison Alfers – Vice President, Defense and Intelligence, DigitalGlobe
Mr. Frank Slazer – Vice President, Space Systems, Aerospace Industries Association