Stellar Students Selected As NASA Ambassadors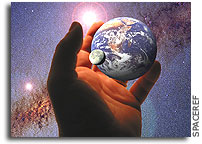 WASHINGTON — NASA has selected 105 of its best and brightest interns and fellows for the NASA Student Ambassador Program. The agency uses the program to engage undergraduate and graduate students in NASA science, technology, engineering and mathematics, or STEM, research and interactive opportunities. Selected students represent 33 states and 81 universities from across the nation.
NASA managers and mentors nominated the recipients from the hundreds of interns and fellows engaged in research and education opportunities across the agency. The NASA Student Ambassadors initiative further recognizes exceptional students.
"To ensure success in meeting future exploration goals, the agency requires greater depth of knowledge and pursuit of innovation than ever before," said Joyce Winterton, assistant administrator for Education at NASA Headquarters in Washington. "NASA and the nation must adapt to the changing landscape and develop new strategies to cultivate its future workforce."
Members of the NASA Student Ambassadors virtual community will interact with the agency while sharing information, making professional connections, and collaborating with peers. They also will represent NASA in a variety of venues and help the agency inspire and engage future interns and fellows.
The community's Web site provides participants access to tools needed to serve as a NASA Student Ambassador. The site provides strategic communication opportunities, the latest NASA news, science and technology updates, blogs, and announcements. It contains member profiles, forums, polls, NASA contact information, links to agency mission related communications' research and career resources.
"The virtual community Web site is an outreach vehicle to the nation's students as well as a way to engage exceptional Gen-Y NASA students," said Mabel Matthews, lead for the community and manager of Higher Education at NASA Headquarters. "This activity is a leading effort to help NASA attract, engage, educate and employ the next generation."
With this and the agency's other college and university programs, NASA will identify and develop the critical skills and capabilities needed to achieve its mission. This program is tied directly to the agency's major education goal of strengthening the future STEM workforce for NASA and the nation.
For more information about the NASA Student Ambassadors, including a list of the new 2010 ambassadors, and an interactive map of the United States that identifies the current ambassadors, visit: http://intern.nasa.gov
For more information about education at NASA, visit: http://www.nasa.gov/education