Station Crew To Take Questions About Commercial Spacecraft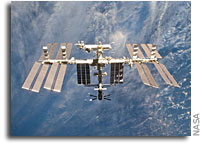 International Space Station crew members will answer questions from reporters following the scheduled hatch opening of SpaceX's Dragon spacecraft. Three of the six Expedition 31 station residents will be available during a news conference that will be carried live on NASA Television and streamed on the agency's website at 10:25 a.m. CDT on Saturday, May 26. The news conference is subject to change depending on real-time operational events aboard the space station.
Expedition 31 flight engineers Don Pettit and Joseph Acaba of NASA and Andre Kuipers of the European Space Agency will speak with reporters. The crew members will discuss the demonstration flight of the Dragon spacecraft and the implications of commercial spaceflight for the space station. Dragon is set to be the first commercial cargo spacecraft to berth to the station. Because this is a test flight, the Dragon is carrying non-critical cargo, including additional food and clothing for the station residents. Dragon also is carrying a collection of student experiments.
Media can ask questions from NASA's Johnson Space Center, Houston or via telephone. To participate in the news conference in-person, U.S. journalists must call the Johnson newsroom by 1 p.m. on Friday, May 25, at 281-483-5111. To participate in the briefing by phone, representatives from accredited media organizations must call the Johnson newsroom 15 minutes before the start of the conference. Priority will be given to journalists participating in-person. Questions by phone will be taken as time permits.
The exact time of the news conference is subject to change. For NASA TV streaming video, schedule and downlink information, visit:
For more information about the SpaceX mission, visit:
To follow Twitter updates from Pettit, Acaba and Kuipers, visit:
http://twitter.com/Astro_Pettit
http://twitter.com/astro_andre
For more information about the International Space Station and its crew, visit: http://www.nasa.gov/station