"Starship Builders" Icarus Interstellar announces Open-Registration for Starship Congress summit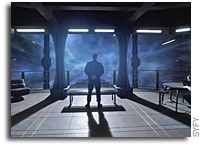 International summit of Interstellar Proponents & Organizations to take place in TX, August 15-18
DALLAS, TX–Icarus Interstellar today announced that registration is open for Starship Congress, the first-ever international assemblage of recognized interstellar space proponents. The Congress will be held August 15-18, 2013 at the Anatole Hilton in Dallas, Texas.
Starship Congress will host interstellar organizations and distinguished speakers of the interstellar community. Registration for Starship Congress is now open on the Icarus Interstellar website. A call-for-papers is to be made in April with selected presenter's papers to be published in a special issue of British Interplanetary Society. Schedule for the 4-day event is included below here. Presentations are by invitation but Icarus Interstellar welcomes queries from interested parties and individuals.
We are excited at the level of commitment and enthusiasm we have received from organizations, speakers, and attendees for Starship Congress," said Icarus Interstellar president and co-founder Richard Obousy, PhD. "As 'the first name in starships", Icarus Interstellar is honored to be welcoming the attendance of top leaders and representatives of nearly every interstellar organization, NGO, and advocacy group on the planet–to be heard, to share and to contribute."
"It is the beginning of a new chapter in the saga of space travel. We are at the point in human history where connecting with another star system–and even perhaps with another earth–is feasibly within our reach," says Starship Congress creative strategy director Mike Mongo. "Just like [science fiction author; astrophysicist] Greg Benford says, the 21st century is the 'the starship century'."
As an opportunity for presentation as well as decision-making, Starship Congress aims to bring the interstellar community together to foster discussion and generate tangible action. Beginning Thursday, August 15 the event will be split into three full-days, with days broken into Near-term, Medium-term and Long-term focuses necessary for the realization of an interstellar accomplishment. The first Starship Congress will conclude after a final assembly on the morning of Sunday, August 18.
"Unlike other organizations dedicated as they are to promoting the concept of interstellar flight, Icarus has never shied from the ultimate challenge. We want to build a Starship." says Icarus Interstellar vice-president and Chairman for Research, Andreas Tziolas, PhD. "At Starship Congress, we invite fellow bold visionaries to discuss the ways that metal will need to be bent, that hearts will need to be won, and that ideas will need to be challenged in order to fulfill the singular aim of Icarus Interstellar: to build a starship."
Starship Congress 2013 schedule
Day 1: Near Future–The Next 20 Years
Focus on what can be feasibly realized over the next two decades. This includes interstellar precursor missions, fission-based energy generation and propulsion technology, the robotic and manned exploration of and expansion into our solar system, and the necessary social and economic blocks to see us move toward becoming an interstellar civilization. Other technologies to be discussed include solar sails, beamed energy systems, nuclear fission-based systems and novel earth-to-orbit launch systems.
Day 2: Mid-Future Interstellar Flight–20 -50 years
Focus on what can be accomplished on a timescale to begin 20 years from now, out to the next 50 years. Areas of interest will include fusion rockets, antimatter rockets, future economics, colonization of the solar system, asteroid mining, and commercialization of space.
Day 3: Deep Future Interstellar Flight–50 -500+ years
Focus on what we can accomplish on very long timescales beginning 50 years from now and extending out to the next 500 years. Areas of interest to include the exploration and colonization of nearby star systems, the ethics of colonization, SETI and first contact scenarios, exotic propulsion, warp drives, wormholes, vacuum energy, worldships, hibernation ships and humanity's expansion into the galaxy.
Day 4: Starship Congress–AM ceremony
Bring to closing Starship Congress 2013; final announcements, thanks, & Congress re-cap.
Starship Congress 2013 schedule
Organizational Rate $500 (up to 8 individuals)
Team Rate $250 (up to 4 individuals)
Individual Rate $100
Student Rate $50 (current student ID presented)
Early Registration (before May 2)
Please email registration@icarusinterstellar.org to receive instructions on how to take advantage of this special rate.
—
Starship Congress is the first-ever assemblage of international interstellar proponents and advocacy groups united in the common goal of interstellar accomplishment. By combining presentation, discussion, and decision, Starship Congress aims to engender and reach consensus of actionable items throughout the interstellar community. As an event, Starship Congress is open to all parties yet reserves vote in actual Congress session for member organizations and individuals of Icarus Interstellar. For registration, visit http://www.icarusinterstellar.org/congress-registration.
Founded in 2009, what distinguishes Icarus Interstellar from all organizations dedicated to promoting the dream of interstellar flight springs from that very same kernel of Boldness found in the original vision of humans taking flight: The aim of Icarus Interstellar is to build a Starship. In 2011, Icarus Interstellar became a 501c3 non-for-profit registered in the state of Alaska.
Registration for Starship Congress:
http://www.icarusinterstellar.org/starship-congress-2013
For more information,
contact Icarus Interstellar at starshipcongress@icarusinterstellar.org
or @StarshipCongrss (twitter)
or visit starshipcongress.com.