Special Aerospace Services Announces Inaugural Commercial Human Spaceflight Technical Forum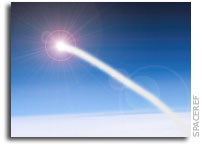 Special Aerospace Services, a leader in aerospace systems engineering solutions, announced today that it will host its first Commercial Human Spaceflight Technical Forum on January 12-14.
The forum is being held in Boulder, Colorado, and will present a focused and concentrated technical agenda created for Commercial Human Spaceflight providers and NASA. Attendees will gain insight to techniques that will be required to successfully achieve the NASA human rating certification and FAA commercial spaceflight licensing.
The forum will host recognized and sought-after subject matter experts, including N. Wayne Hale Jr., Jeffrey Ashby, Timothy Bulk and Dr. Alan Stern.
"We are about to enter an exciting phase in human spaceflight," said Heather Bulk, CEO of Special Aerospace Services. "And this is the first time that the leading commercial human spaceflight experts have come together to present a comprehensive training program for this rapidly evolving industry."
"Understanding NASA's Commercial Human Ratings Plan and how the NASA governance model will complicate a provider's application is a crucial ingredient for success in this exciting new endeavor," said N. Wayne Hale Jr., Director of Human Spaceflight Programs for Special Aerospace Services.
For more information on the Forum, go to the Forum webpage at: http://www.specialaerospaceservices.com/forum2011.htm
Special Aerospace Services (www.specialaerospaceservices.com) is a small, woman-owned, Hub Zone located, disadvantaged business with 8A certification in process. SAS began with the dream of developing and providing innovative aerospace solutions to the aerospace industry, U.S. government agencies, Department of Defense, and the emerging commercial spaceflight sector. The SAS team demonstrates our corporate motto through our products and solutions . . . Who Dreams Wins(TM).
For more information, contact:
Edith Murphy
Special Aerospace Services
emurphy@specialaerospaceservices.com
303.625.1010