Space Station Astronauts to Speak with California Elementary School Students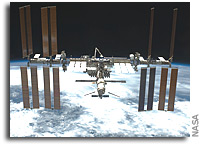 Expedition 40 Commander Steve Swanson and Flight Engineer Reid Wiseman of NASA, currently orbiting Earth aboard the International Space Station, will speak with students and educators at Elliott Ranch Elementary School in Elk Grove, California, Wednesday, Aug. 27.
The event, which begins at 1:10 p.m. EDT (10:10 a.m. PDT) will be broadcast live on NASA Television and the agency's website.
Elliott Ranch focused its 2014 science fair on NASA and encouraged exploration-related experiments. Throughout the summer, students worked to develop projects that could lead to meaningful questions for the astronauts about life, work and research aboard the space station. Students with winning projects will speak with Swanson and Wiseman during the live downlink. Prior to the event, former NASA astronaut Stephen Robinson will visit the school to share his experiences living and working in space.
Media interested in covering the event must contact Matt Hessburg at 646-942-1429 or mhessburg@gmail.com. Elliott Ranch Elementary School is located at 10000 East Taron Drive in Elk Grove, California.
Linking students directly to astronauts aboard the space station provides an authentic, live experience of space exploration, space study, the scientific components of space travel and the possibilities of life in space.
This in-flight education downlink is one in a series with educational organizations in the United States and abroad to improve science, technology, engineering and mathematics (STEM) teaching and learning. It is an integral component of NASA's Teaching From Space education program, which promotes learning opportunities and builds partnerships with the education community using the unique environment of space and NASA's human spaceflight program.
For NASA TV streaming video, schedules and downlink information, visit:
For information about NASA's education programs, visit:
For information about the International Space Station, visit:
To follow social media updates from Expedition 40 astronauts, visit:
https://twitter.com/astro_reid