Space Station Astronaut Will Answer Video Questions From Public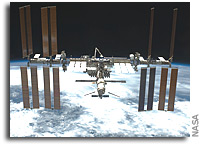 NASA has announced a unique opportunity to ask the commander of the International Space Station a question about his role on the orbiting outpost. Commander Dan Burbank will answer videotaped questions from the public during a live event tentatively set for Friday, Jan. 20 on NASA Television.
The video questions must be less than 30 seconds. Submitters should introduce themselves and mention their location. Questions must be posted as responses to a video Burbank recorded on YouTube at: http://go.nasa.gov/sDYpzP
Burbank launched to the station on Nov. 13. He will conduct a variety of science experiments and perform station maintenance during his nearly six-month stay on the outpost. Burbank's life aboard the station in near-weightlessness requires unique approaches to everyday activities such as eating, sleeping and exercising.
Burbank will answer questions during the time available. In addition to airing live on NASA TV, Burbank's answers will be posted to YouTube. To follow Burbank on Twitter, visit: http://twitter.com/AstroCoastie
For more information about the International Space Station, Expedition 30 and the exact time of the event, visit: http://www.nasa.gov/station