Space Industry CEOs Host Teleconference to Discuss President Obama's 2011 Budget Request for Expanded Role of Commercial Space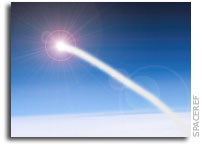 Commercial Space Leaders Will Comment, Take Questions on NASA 2011 Budget Spending Priorities, and Discuss the Increased Role of Commercial Human Spaceflight
WASHINGTON, D.C. – February 1, 2010 – The Next Step in Space Coalition and the Commercial Spaceflight Federation, two organizations representing businesses, organizations, and people working to ensure the future of U.S. human spaceflight, today will hold a joint teleconference for members of the media. Top CEOs of the commercial spaceflight industry will provide comments on the National Aeronautics and Space Administration (NASA) FY2011 Budget which plans to increase funding and investment for private space companies to send astronauts to the International Space Station (ISS).
Representatives from the media may participate in the conference call as follows:
Date: Monday, February 1
Time: 4:00- 5:00 p.m. EST
Call-In: (888) 390-3983 or (201) 604-5105 for international callers
Participating commercial space industry executives will include among
others:
* Bretton Alexander, President, Commercial Spaceflight Federation
* Eric Anderson, President and CEO, Space Adventures
* Robert Bigelow, CEO, Bigelow Aerospace
* Peter Diamandis, Chairman and CEO, X PRIZE Foundation
* Richard Garriott, private astronaut
* Elon Musk, CEO and CTO, and Lawrence Williams, Vice President, SpaceX
* Mark Sirangelo, Corporate Vice President, Sierra Nevada Corporation Space Systems
Questions will be accepted after initial comments and each question will be taken in turn.
About the Next Step Coalition
The Coalition is a group of businesses, organizations, and people working toward making commercial human spaceflight a reality. Investment in commercial space will allow for full utilization of the International Space Station, enable NASA to focus its efforts beyond low-Earth orbit, and ensure that taxpayer dollars are reinvested in the United States and not spent overseas. Visit us at: www.nextstepinspace.com.
About the Commercial Spaceflight Federation
The mission of the Commercial Spaceflight Federation (CSF) is to promote the development of commercial human spaceflight, pursue ever higher levels of safety, and share best practices and expertise throughout the industry. CSF member organizations include commercial spaceflight developers, operators, and spaceports. The Commercial Spaceflight Federation is governed by a board of directors, composed of the member companies' CEO-level officers and entrepreneurs. For more information please visit www.commercialspaceflight.org.