Space Florida Microgravity Center Named for Stephen Hawking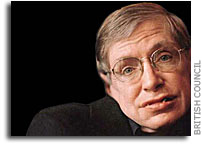 New Name Honors the Renowned Theoretical Physicist
CAPE CANAVERAL, FL – On the day of Dr. Stephen Hawking's historic zero gravity flight. Space Florida announced the renaming of its innovative microgravity center to honor the acclaimed cosmologist and theoretical physicist.  The new name will be the Stephen Hawking Microgravity Education and Research Center.
The center, which opened in 2007, is designed to facilitate Florida teacher and student space education and aerospace microgravity research.  The center is a first of its kind by any state and provides broad academic and research capability to perform microgravity research and education programs.
"Space Florida is dedicated to promoting space research and education," said Steve Kohler, President of Space Florida.  "Dr. Hawking embodies research and education, and he inspires others to learn about space.  While the new name is our gesture to honor Dr. Hawking, we are honored that he is now the namesake of our pioneering education center."
Dr. Stephen Hawking is the Lucasian Professor of Mathematics at the University of Cambridge and a Fellow of Gonville and Caius College, Cambridge.  He is highly acclaimed for his contributions to the fields of cosmology, theoretical physics and quantum gravity, all of which were topics of his lecture at the pre-flight dinner held in his honor and sponsored by Space Florida on the eve of his zero gravity flight.