Space Dynamics Laboratory Delivers James Webb Space Telescope Subsystem to NASA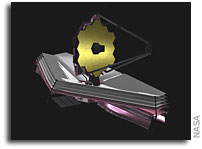 Utah State University's Space Dynamics Laboratory announced today that it has delivered the final series of 35 thermal link and composite support structure assemblies to NASA's Goddard Space Flight Center for integration onto the James Webb Space Telescope. The SDL-built thermal links will help conduct heat away from the Webb Telescope's infrared instruments.
"Delivery of the Webb Telescope heat straps represents a significant milestone for both the Space Dynamics Lab and our NASA customer as they prepare final assembly, integration, and test for a 2018 planned launch," said Jed Hancock, director of civil space at the Space Dynamics Laboratory. "For decades, SDL and NASA have partnered on important scientific missions and we are pleased that this most recent achievement will help enable Webb to focus on the known, and unknown aspects of our universe."
The flexible nature of the thermal links provides a continuous conductance path across the interfaces between the elements of the satellites flight instruments, its support structure and external radiators, allowing for integration tolerances and dynamic movement during testing and launch. "The light weight thermal links are made from high purity aluminum foils and will maximize thermal conductance from the science instruments on JWST to their radiators that will allow each of the instruments to operate at desired temperatures," said Lorin Zollinger, SDL program manager. "We are pleased to have delivered this critical part of the Webb Telescope to NASA and look forward to the important images of our universe Webb will capture in the future."
A joint project of NASA, the European Space Agency and the Canadian Space Agency, the Webb Telescope will observe the most distant objects in the universe, provide images of the first galaxies formed and see unexplored planets around distant stars.
A unit of the Utah State University Research Foundation, SDL is one of 14 University Affiliated Research Centers in the nation. Charged with applying basic research to the technology challenges presented in the military and science arenas, SDL has developed revolutionary solutions that are changing the way the world collects and uses data. SDL's core competencies are electro-optical sensor systems, calibration, thermal management, reconnaissance systems, and small satellite technologies. Headquartered inLogan, Utah, SDL has operations in Albuquerque, N.M.; Bedford, Mass.; Washington D.C.; Los Angeles, Calif.; Huntsville, Ala.; Colorado Springs, Colo.; and Houston, Texas.