Soyuz to launch Galileo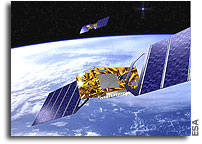 While the Mars Express mission launched by Starsem last June 2 is successfully on its way, Starsem and Arianespace announce today at Satellite 2004 the signing with the European Space Agency (ESA) of the GSTB contract (Galileo System Test Bed) for the launches of two experimental Galileo satellites by two Soyuz launch vehicles.
The first of the two launches will be performed from the Baikonur cosmodrome by the end of 2005. This marks the first step in the in-orbit validation of the Galileo system, in particular ensuring the frequencies allocated to this European satellite navigation program.
Today's contract reflects the complementary capabilities of Soyuz and Ariane 5 in meeting the strategic challenges of European space policy, as exemplified by the Galileo program. The decision by ESA's Council on February 4 to install a Soyuz launch pad at the Guiana Space Center further confirms the synergies between the Ariane 5 and Soyuz launch systems.
Galileo is the first complete civil satellite navigation system which will provide accurate and secure positioning services. Galileo is a joint initiative from the European Union and the European Space Agency. The fully deployed Galileo system consists of 30 satellites (27 operational + 3 active spares), positioned in three circular Medium Earth Orbit (MEO) planes at 23616 km altitude above the Earth, and at an inclination to the orbital planes of 56 degrees with reference to the equatorial plane
Starsem is the Soyuz Company, bringing together all key players involved in the production, operation and international commercial marketing of the world's most versatile launch vehicle. Shareholders in Starsem are Arianespace, EADS, the Russian Aviation and Space Agency and the Samara Space Center. The Starsem manifest for Soyuz missions currently includes contracted launches for the European Space Agency and Eumetsat.
Arianespace is the world's first commercial space transportation company and is in charge of marketing launch services to customers, financing and supervision of the construction of Ariane expendable launch vehicles, insuring customers for launch risks and conducting launches from Europe's Spaceport of Kourou in French Guiana. As the launch services operator, it coordinates the three launchers Ariane 5, Soyuz and Vega, which comprise the European family of launchers in the global launch services market.