Slooh to Broadcast Live Feed of Total Lunar Eclipse through Sky in Google Earth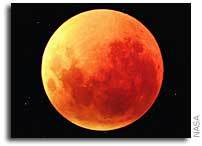 In an on going mission to provide a live view of the universe, Slooh, the online Space Camera, will deliver a live feed of tonight's total lunar eclipse through Sky in Google Earth. This will be the first total lunar eclipse in three years and will be an especially rare event, as the full moon will pass through the shadow of the Earth on the winter solstice, the first day of winter in the Northern Hemisphere. Stargazers all over the world are invited to simultaneously watch the total lunar eclipse unfold in what may be the largest ever online global star party.
The new live feed feature appears as a bubble in the Slooh Space Camera layer in Google Earth and will broadcast the entirety of the lunar eclipse over a three-hour period. The live feed can be accessed by clicking on the planets icon in the Google Earth toolbar to switch to Sky mode. In the layers panel, open the Current Sky Events folder and click on the Slooh Space Camera layer.
Launched in October 2010, the Slooh Space Camera layer in Google Earth is a live astronomy feature that brings the power of live space exploration to Google's global audience. The Slooh layer delivers a live stream of images from Slooh's worldwide network of powerful user-controlled robotic telescopes into Sky in Google Earth. Digital images of celestial objects taken by Slooh members with Slooh's patented instant imaging technology are automatically uploaded to Sky in Google Earth to share with the world.
"Slooh's powerful new live feed technology through Google Earth allows children and adults alike from around the world to share the view of the fascinating night sky through their computer screens," said Michael Paolucci, Founder of Slooh. "Viewers will not only be able to watch live coverage of tonight's total lunar eclipse, but will also encounter many other celestial events on future Slooh missions including transits, comets, and supernova discoveries, adding a totally new dimension to the Sky experience."
The live feed will be enhanced with audio narration by Slooh host and nationally renowned astronomy luminary Bob Berman. To listen to the audio narration and capture live photographic images of the lunar eclipse with the Slooh Space Camera, go to Slooh.com and sign up for a free Slooh membership.
The total eclipse of the moon will begin at 1:32 am Eastern Standard Time on December 21 and will be visible only throughout North America and Central America. The online broadcast of the eclipse will make viewing possible for people in Asia and throughout the rest of the world where it will not be visible.
In an effort to make live views of space widely available to as many people as possible, Slooh also announced today it is distributing a new live feed widget to anyone interested in helping share the view. By downloading and installing the widget, any website from personal blogs to social media profiles and online news sites can now display a live feed of space. The live feed offers web visitors the unique opportunity to watch celestial events such as eclipses, transits and comets live on-screen as they happen in real time. The widget is free and available for download at http://sharetheview.slooh.com.
To help Slooh share live views of space, the Astronomical Society of the Pacific (ASP) is promoting the widget to over 350 clubs in the Night Sky Network, a nationwide coalition of amateur astronomy clubs that bring the science, technology, and inspiration of NASA's missions to the general public. The ASP is also promoting the widget to Astronomy from the Ground Up, a nationwide network of informal science educators comprised of almost 700 individuals, representing over 450 institutions ranging from smaller science centers, nature centers, outdoor education centers, state, regional and national parks.
In addition to teaming up with Google to broadcast the total lunar eclipse through Sky in Google Earth, Slooh is also partnering with TSS Media to broadcast the eclipse on its 5,000 foot video screen in Times Square in New York City on Tuesday, December 21. Beginning at 3:13 am and ending at 3:18 am and interspersed with 30 second updates at 2:00 am and 2:40 am, the live feed will give residents and visitors the unprecedented opportunity to view the eclipse simultaneously as a group. The Digital Smart Sign is located at 1568 Broadway, between 46th Street and 47th Street. The Times Square lunar eclipse broadcast will be the first in a series of live feeds put together by Slooh and TSS Media in 2011.
About Slooh
In December 2003, Slooh launched the first Space Camera available to the public. Slooh has served more than 300,000 missions to members from 70 countries who have taken more than 1.1 million photographs to date. Slooh's patented instant imaging technology makes astronomical objects appear like Polaroid images over the course of 5-minute missions. Slooh pictures have resulted in community wide participation in several discoveries, including co-authorship with leading universities, including Cal Tech, of research regarding a recent supernova discovery.