Slooh Space Camera to Track Asteroid 2012 DA14 Skimming by Earth on Feb. 15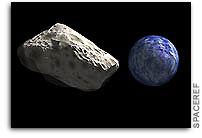 Discovered last year by amateur astronomers in Spain, 2012 DA14, a near-Earth asteroid with an estimated diameter of 150 feet (45 m), will make its close approach to Earth this week. Slooh Space Camera will cover its near-approach on Friday, February 15th, with several live shows on Slooh.com, free to the public, starting at 6 p.m. PST / 9 p.m. EST / 02:00 UTC (2/16) — international times at http://goo.gl/ythGd — accompanied by real-time discussions with Slooh Space Camera's Paul Cox, astronomer and author Bob Berman, and Prescott Observatory manager Matt Francis. Viewers can watch live on their PC or iOS/Android mobile device.
On February 15th, asteroid 2012 DA14 will only be 0.09 lunar distance away, flying between the Earth and most major weather and television satellites, which orbit Earth at approximately 22,000 miles. According to experts, this is the closest known object of this size ever to pass Earth. Nonetheless, this extremely close visit by 2012 DA14 is hardly a surprise: There are over 9,000 known near-Earth objects currently orbiting our solar system with thousands more lurking undiscovered.
It is a good thing that this asteroid will definitely miss hitting Earth on the 15th: The damage from such an impact would be equivalent to the release of about two megatons of energy, or hundreds of Hiroshima-type bombs. It would be roughly as damaging as the famous Tunguska event, which flattened trees for 50 miles in all directions over Siberia on June 30, 1908.
Slooh will track asteroid 2012 DA14 from two professional observatory locations — Canary Islands off the coast of Africa and Arizona in the United States.
"Being about half the size of a football field, this asteroid will be slightly too small to appear to the unaided eye," says Bob Berman. "It's a shame that, at seventh magnitude, it will not be seen by the public without optical aid, since it will dramatically cross the sky at the rate of about one Moon-width per second, or approximately the speed of the ISS (International Space Station). It would have been quite a sight. And although simple binoculars could theoretically see it, its rapid motion will make locating this asteroid a major challenge for all but a small coterie of dedicated, serious astronomers with good star charts and a clock providing the absolutely correct time."
Berman adds, "I looked forward not just to Slooh's live views, given the tricky tracking required for such a fast-zooming celestial object, but to the frenetically-paced 'movie' that Slooh will create for display that day, showing it hurtling crazily against the background stars."
Contact:
Patrick Paolucci
+1 877-427-5664 x707
press@slooh.com
Media Only: Embed live broadcast into your online coverage; please contact Patrick Paolucci to receive embed code 30 minutes prior to broadcast.
Slooh is the leader in live, celestial event programming with weekly shows featuring the great wonders of the universe — shown live by observatories worldwide. Slooh is powered by its members — men, women and children in 80 countries who have taken 1.8 million photos of 46,000 unique objects and events in the night sky since our launch on Christmas Day, 2003. Slooh's patented instant imaging technology makes astronomical objects appear in true color and in real time over a 5 to 10 minute time frame.