Shuttle and Space Station News Conference Set for Sunday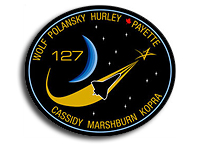 The 13 crew members aboard space shuttle Endeavour and the International Space Station will hold a news conference at 1:28 p.m. CDT on Sunday, July 26.
Reporters may ask questions in person from NASA's Johnson Space Center in Houston, NASA's Kennedy Space Center in Florida and NASA Headquarters in Washington. Media also may participate from the Canadian Space Agency Headquarters in St. Hubert, Quebec.
Journalists will need to be in place at participating locations at least 20 minutes prior to the start of the news conference.
NASA Television will provide live coverage of the 40-minute news conference. For NASA TV downlink, schedule and streaming video information, visit: http://www.nasa.gov/ntv
During Endeavour's STS-127 mission, the shuttle and station crews are working to complete construction of the Japan Aerospace Exploration Agency's Kibo laboratory.
Shuttle Commander Mark Polansky is sending updates about the mission to his Twitter account, Astro_127. He can be followed at: http://www.twitter.com/Astro_127
For more information about the STS-127 mission and its crew, visit: http://www.nasa.gov/shuttle
For more information about the space station and its crew, visit: http://www.nasa.gov/station
For information about NASA and agency programs, visit: http://www.nasa.gov