Senator John D. Rockefeller IV Statement at Hearing Highlighting Research, Discovery aboard the International Space Station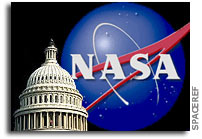 WASHINGTON, D.C.–Assembly of the International Space Station was completed last year. It took 5 space agencies from around the world to build it. While this by itself is quite an achievement, our attention has shifted from the construction phase to maximizing the scientific return on this investment. At its core, the space station is a laboratory and a classroom – a scientific and educational asset available not only to NASA, but to all Americans and the international community for research, discovery, and education. We have already seen important discoveries and progress from research conducted on the space station – such as studies of treatments for debilitating diseases like osteoporosis, creation of new materials that the automotive and aerospace industries are interested in using, development of vaccines that may one day prevent deadly infections, and fundamental studies of the nature of our universe.
The availability of half of the U.S. portion of the station for national lab managed research opens up the microgravity environment to private companies to test and develop new products and services for use on Earth. A constant American presence on the space station also presents a unique opportunity to inspire our children's interest in science, technology, engineering, and mathematics – the so-called STEM fields. We know how critically important STEM skills are for jobs of the twenty-first century, whether it is in advanced manufacturing, pharmaceuticals development, new computing technologies, or designing the next generation of spacecraft.
Astronauts on the space station reach students around the world. Elementary school children can talk to and interact with astronauts via communication links through NASA, asking questions and watching the astronauts conduct experiments live 220 miles above the Earth. Just a few months ago here in Washington, D.C., I met with the student finalists from the YouTube Space Lab Challenge, an international contest for high school students to design an in-space science experiment. More than 2000 project ideas were submitted from students in more than 80 countries. Experiments from the two winning teams – one from Michigan and one from Egypt – lifted off for the space station just last Friday on board a Japanese robotic cargo spacecraft that is scheduled to berth with the space station this Friday. The students' experiments will be conducted by a NASA astronaut onboard the station. This is an unparalleled opportunity for these aspiring young scientists that I hope will encourage them and their peers to continue to pursue degrees and careers in science and engineering.
Our time with the International Space Station is limited and I want to see this nation look back on our investment as both a great achievement and a stepping stone toward our continued scientific leadership, both here on Earth and in space. I look forward to the testimony from our witnesses today and to their perspectives on how we make the most of this unique national asset.