Republicans Send Deficit Reduction Recommendations to Select Committee (NASA excerpts)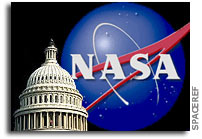 Washington DC – Today, Science, Space, and Technology Committee Chairman Ralph Hall (R-TX), along with several GOP Committee members, sent a letter to the Joint Select Committee on Deficit Reduction, offering recommendations on areas within the Committee's jurisdiction.
In the letter, the lawmakers wrote:
"Like you, we recognize the necessary task of controlling our nation's ballooning deficit and getting our citizens back to work. We also understand that the long term health of our country depends on our global competitiveness and the ability to continue to innovate. With that in mind, we are recommending over $1.5 billion in savings in FY12 alone. We believe that the attached recommendations prioritize research and development programs that protect our national security and leadership, allow private investors and the marketplace to thrive without undue Federal influence, and have the most potential for sustained long-term growth."
Along with Chairman Hall, the following Committee Republicans signed the letter: Vice Chairman Jim Sensenbrenner (WI), Rep. Lamar Smith (TX), Rep. Judy Biggert (IL), Rep. Todd Akin (MO), Rep. Michael McFaul (TX), Rep. Paul Broun (GA), Rep. Steven Palazzo (MS), Rep. Andy Harris (MD), and Rep. Randy Hultgren (IL).
A full copy of the letter can be found HERE
National Aeronautics and Space Administration
NASA is the nation's civil space and aeronautics research and development agency, carrying out a diverse set of missions and projects designed to expand our understanding of Earth, the Solar System, and the universe. NASA operates the International Space Station (ISS) and a number of satellites in orbit around Earth and throughout the solar system. It also undertakes activities in technology development and transfer, education, outreach, and participates in a number of interagency initiatives such as nanotechnology, information technology, climate change research, and the Next Generation Air Transportation (NextGen) program.
NASA was last authorized by Congress during the fall of 20 10 (PL 111-267); the authorization for FY12 is $19.450 billion. Under the CR for FY11, NASA received $18.448 billion. The FY12 House CJS Subcommittee mark provides $16.810 billion.
Human Space Flight Program
As of this summer, with the retirement of the Space Shuttle program, NASA no longer has a domestic launch system able to take our astronauts to and from low Earth orbit, which would include trips to the ISS.
Since 2005, two different Congresses passed legislation – signed by the President – that endorsed a new launch system development program as a successor to the Space Shuttle that would enable human exploration beyond low Earth orbit. The resulting Constellation program was to be comprised of a launcher and crew capsule for low-Earth orbit missions, and a larger heavy-lift launcher for deep space destinations such as the Moon. Last year the Obama Administration cancelled Constellation, claiming it was unsustainable. In its place, NASA proposed a public private partnership for the federal government to seed development of several commercial crew launch companies with the goal that the agency could then buy seats on their rockets to take astronauts to ISS. These same companies are expected to market their launch systems to other interested customers (e.g., space tourists, foreign astronauts funded by their home governments) with the goal that per-launch costs would be significantly reduced since NASA would not have to bear the full cost of owning and operating its own system. While we are supportive of innovative, commercial options, we have concerns that this proposal may not be viable or less expensive than a traditional development program. NASA still has many issues to work through before proceeding forward, and we would urge caution with expenditures until more questions are answered and technologies demonstrated.
We concur with the funding levels called out in the FY12 House CJS Subcommittee mark for commercial crew development, $312 million (same as the authorized level). We also strongly support proposed funding levels for the Space Launch System and Multi-Purpose Crew Vehicle. Overall savings within the Exploration program account included as part of the CJS Subcommittee mark is $300 million in FY12, compared to the FY11 levels.
Science Mission Directorate
The Science Mission Directorate (SMD) plans, develops and manages NASA's space and Earth exploration missions. These include deep space probes, space observatories, and Earth orbiting satellites. SMD is comprised of four disciplines: Planetary Sciences; Earth Science; Astrophysics; and Heliophysics. SMD generally receives about one-quarter of NASA's budget allocation.
We propose reductions of $177 million (based on the FY12 request) by taking the following actions:
* Cancellation of OCO-2 mission (received $89.0 million in the FYI 1 CR; $91 million savings in FY 12; $149 million savings over five years). Life cycle cost savings could be higher as NASA struggles to define a launch vehicle to carry OCO-2 to orbit.
* Reduce by 20% "Other Missions and Data Analysis" account within the Earth Systematic Missions (received $274 million in the FY11 CR; $74 million in savings in FY 12; $584 million in savings over five years). The FY12 request represents a 66.8% increase over FY2010 enacted, with an average annual increase thereafter of 32%.
* Reduce by 20% "Venture Class Missions" account within the Earth System Science Pathfinder Missions (received $32 million under the FY11 CR; $12.4 million savings in FY12; $144 million savings over five years). Venture Class Missions is a new activity for NASA, begun in response to a recommendation from the National Academy of Sciences. It is, in essence, a new start. While we support the program's goals, we simply propose that growth in the spending profile be moderated.
Finally, we note that the FY12 budget includes a new program first proposed last year: Space Technology. The FYI2 request seeks $1.024 billion to manage and develop a portfolio of technologies needed to ensure the success of future missions, as well as enabling the spinoff of NASA technologies to the private sector. We support this endeavor generally, but believe these tough budgetary times argue for a smaller initial start and support the House CJS subcommittee mark of $375 million