Reporters Invited to NASA Glenn's Mars Landing Social Media Event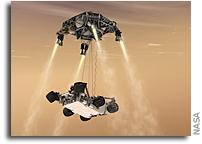 CLEVELAND – News media representatives are invited to participate in a NASA Social on Friday, Aug. 3, at NASA's Glenn Research Center. Thirty social media followers will attend and preview the Aug. 6 EDT landing of the Mars Science Laboratory's (MSL) Curiosity rover and learn more about Glenn. NASA Socials are in-person meetings with people who engage with the agency through Twitter, Facebook, Google+ and other social networks.
NASA Social participants will learn about the center's current and historic contributions to Curiosity, tour facilities and meet with Glenn scientists and engineers who have been instrumental with this Mars mission. Tour stops will feature the center's research in rover technology; sensors; the air bag landing system; Multi-Mission Radioactive Thermoelectric Generator; payload fairing; and the flexible canopy parachute that will slow down Curiosity in the upper atmosphere as it lands on Mars.
In the afternoon, attendees will be part of a seven-center NASA Television simulcast with NASA's Jet Propulsion Laboratory in Pasadena, Calif. JPL is the lead NASA center for the MSL's two year mission. The Social will conclude with an opportunity to ask questions of Dr. Geoffrey Landis, one of Glenn's leading scientists knowledgeable about Mars.
NASA TV will broadcast the afternoon portion of the Social from 12:30 to 2:30 p.m. at: http://www.nasa.gov/ntv
Reporters interested in attending the Glenn Social should contact Lori Rachul at 216-433-8806 or Katherine Martin at 216-433-2406 by 4 p.m. on Thursday, Aug. 2, in order to be cleared through security.
To follow the conversation with the Glenn participants as they experience the day's events, use hashtag #NASASocial or follow @NASASocial and @NASAGlenn on Twitter. To join the conversation for the mission, use hashtag #MSL and follow @MarsCuriosity on Twitter, or like NASA's Curiosity Mars Rover on Facebook.
To following NASA Glenn on Twitter, visit: https://twitter.com/NASAglenn
For more information about the NASA Social, visit: http://www.nasa.gov/social
For more information about the Mars Curiosity landing, visit: http://www.nasa.gov/mars
For more information about Glenn, visit: http://www.nasa.gov/glenn