Report on the Space Economy Symposium Finds Space an Essential Part of Global Economic Infrastructure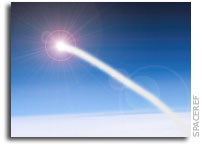 Government Funding Still Critical to Future Development
WASHINGTON, D.C. – June 5, 2009 – The Space Economy Symposium, an initiative of George Mason University in collaboration with Phillips & Company and the Space Enterprise Council, was held March 13, 2009, at the U.S. Chamber of Commerce in Washington, DC.
The goals of this half-day Symposium were to make space a central part of the national economic policy discussions and to ensure that space is recognized as an essential component of national competitiveness in a global economy.
Through presentations, panel discussions, and participant interaction, the Symposium promoted new perspectives and insights about the present and future impacts of space on the economy, the roles of government, industry and entrepreneurs in developing the Space Economy, and trends in commercial space that are driving economic growth.
The resulting report provides an executive summary, conclusions and an overview of the presentations and panel discussions. The report can be found at http://spaceeconomy.gmu.edu.
Media Contact:
Robert Hopkins
(301) 254-8135
rphopkins@phillipscompany.com