Rep. Hall Questions Implications of NASA Commercial Crew Announcement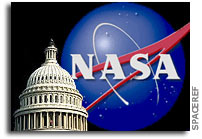 Washington DC – Today, following an announcement by NASA that it plans to change its acquisition strategy for the design phase of its commercial crew program to utilize Space Act Agreements, Science, Space, and Technology Committee Chairman Ralph Hall (R-TX) questioned the implications of such a move. Chairman Hall released the following statement:
"Today's announcement by NASA to continue using Space Act Agreements for the upcoming design phase acknowledges the difficulties confronting the Agency as it attempts to stay the course on stimulating development of a commercial crew industry. This approach should allow the Agency to continue engaging two or more companies to design crew transportation systems.
"The disadvantage of using Space Act Agreements is that NASA cannot impose its safety requirements as would be possible under a normal acquisition. Therefore, it is vitally important that NASA and its industry partners work cooperatively to ensure the highest level of crew safety, even in the absence of safety requirements.
"Given current federal budget constraints, I continue to be concerned about NASA's ability to afford contracting with two or more companies to ferry our astronauts to and from the International Space Station. Time is of the essence. We need to be able fully utilize our Space Station until the end of this decade, and we also need to end our reliance on other countries to ferry our astronauts. In order to reduce risk and cost, and to minimize further schedule slips, it would be my hope that two commercial companies would team together to jointly develop a cost-effective and safe launch system.
"Early next year, the Committee will closely examine the logic and implications of NASA's new strategy on the program's budget and timeline."