Rep. Edwards to Deliver Remarks on Future of Civil Space Exploration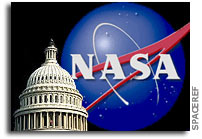 (Washington, DC) – On Monday, July 8, 2013, Congresswoman Donna F. Edwards (MD-4), Ranking Member of the Subcommittee on Space, will deliver remarks on the future of civil space exploration at the Center for Strategic and International Studies. The Congresswoman's remarks will highlight the need for a unifying vision for deep space exploration, outlining the challenges and benefits of a mission to Mars. She will also discuss the important role of federal investment in NASA as a global leader in research and innovation.
Following remarks, she will participate in a moderated discussion with James A. Lewis, Senior Fellow and Director of the Technology and Public Policy Program at the Center.
What: Edwards to Deliver Remarks on the Future of Civil Space Exploration and Manned Mission to Mars, moderated discussion with James A. Lewis to follow
Who: Congresswoman Donna F. Edwards (MD-4), Ranking Member Subcommittee on Space, House Committee on Science, Space, and Technology
When: Monday, July 8, 2013
9:00AM – 10:00AM
Where: Center for Strategic and International Studies
B1 Conference Center
1800 K Street NW
Washington, DC 20006
Please visit our website: http://democrats.science.house.gov