Rep. Boehlert Statement on Retirement of Astronaut Eileen Collins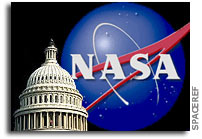 WASHINGTON – House Science Committee Chairman Sherwood Boehlert (R-NY) today praised Colonel Eileen Collins – an Astronaut and fellow New Yorker – for her distinguished career and service to our nation.  Col. Collins announced earlier today that she will be leaving the National Aeronautics and Space Administration (NASA).
"Colonel Eileen Collins has been a source of pride for all of us, not just in her home area of Upstate New York, but throughout the nation as we have watched her remarkable success as a pioneer in human exploration," Boehlert said.  "Throughout her distinguished career as an Air Force pilot and NASA astronaut, Col. Collins has served her nation with class, honor and valor.  And she has been an inspirational role model for young girls throughout America, demonstrating to them – as well as to the boys – that there is no career, no goal, no dream beyond their reach. 
"She has been an inspiration not just to the young, but to me and my generation because of her significant contributions to science and humanity.  Who says we don't have heroes?  She's one of mine.  Her service to our country will be sorely missed."
"Eileen Collins is a living, breathing example of the best that our nation has to offer," said NASA Administrator Michael Griffin. "She is, of course, a brave, superb pilot and a magnificent crew commander. Beyond those qualities, she is both very bright and modestly self-effacing about that fact. And above all, she is possessed of a quiet determination to attain the very highest levels of accomplishment. I am proud to know her and will greatly miss her at NASA."
Col. Collins, a native of Elmira, New York and a graduate of Syracuse University, is a veteran of four shuttle flights.  Since joining NASA's astronaut corps in 1990, she has led a pioneering career.  She was the first woman to serve as a shuttle pilot (mission STS-63 in February 1995).  That flight was the first to dock with the Mir Space Station.  In July 1999, she made history again when she became the first woman to command a space shuttle mission (STS-93).
Last July, Col. Collins drew international media attention when she commanded the space shuttle Discovery during the first – and to this day only – shuttle mission (STS-114) since the tragic loss of Columbia on February 1, 2003.